Mitt Romney Is Convinced Trump Will 'Accept the Inevitable' Once 'All Remedies Have Been Exhausted'
On Sunday Mitt Romney discussed President Donald Trump's response to his projected loss in the presidential election. In a conversation with CNN's Jake Tapper on State of the Union, the Utah Republican senator acknowledged the ways in which Trump's claims about voter fraud—and related legal proceedings backed by his re-election campaign—work to undermine civic processes and, more broadly, American democracy.
However, Romney, a former Republican presidential candidate, suggested Trump will ultimately "accept the inevitable" once all options to challenge Joe Biden's win have been pursued.
"You're not going to change the nature of President Trump in these last days, apparently, of his presidency. He is who he is, and he has a relatively relaxed relationship with the truth," Romney said. "And so, he's going to keep on fighting until the very end."
"But I'm convinced that once all remedies have been exhausted, if those are exhausted in a way that's not favorable to him, he will accept the inevitable," the senator continued. "But don't expect him to go quietly in the night. That's not how he operates."
Romney went on to describe Trump's false claims of voter fraud and corruption on the part of Democrats as "destructive to the cause of democracy." His remarks echoed echoed criticisms from many—including other Republican figures—who decried the president's attempts to invalidate votes supporting Biden and spread inaccurate information about the U.S. election system, as well as those tasked with overseeing it.
Since polls closed on Tuesday, Trump has prematurely declared himself winner of the election, alleged some votes were cast illegally when they were not, and initiated multiple lawsuits aiming to halt ballot counting across several swing states. The president has endeavored to paint voting by mail in a negative light for months, despite an absence of existing evidence to inform his perspective.
As election workers continued to collect and tabulate ballots—many of which they received by mail, given the increased use of absentee ballots nationwide during the coronavirus pandemic—in the days following November 3, a handful of battleground states where initial reporting indicated Trump's lead began to shift toward Biden. In turn, the president aired a barrage of unsubstantiated claims about unlawful voting practices, and went so far as to accuse Democrats of trying to "steal" the presidency.
On Saturday, the Associated Press named Biden the election's projected winner.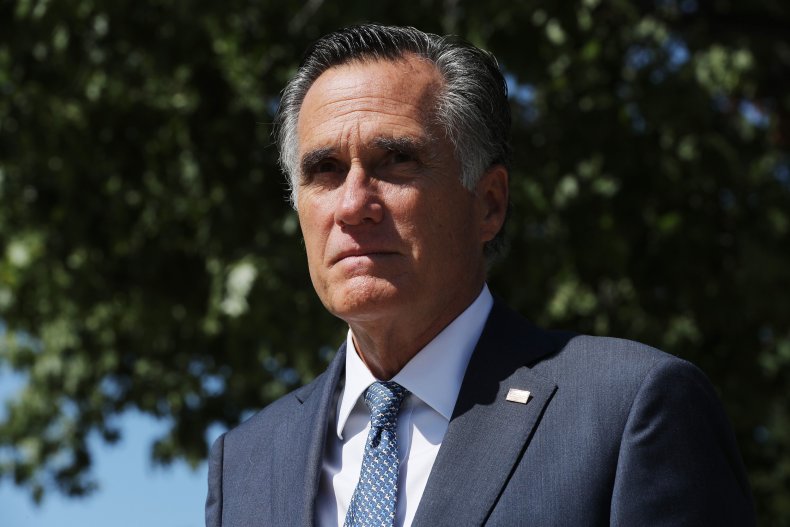 Romney said he "would prefer to see a more graceful departure" from Trump in his remarks Sunday morning, but noted doing so is "just not in the nature of the man" during his conversation with Tapper. The senator did not vote to elect Trump in 2016, nor did he cast a ballot supporting the president's reelection this year.
After the AP called Biden's win, Romney congratulated the president-elect and Vice President-elect Kamala Harris in a message shared to Twitter.
"We know both of them as people of good will and admirable character," Romney wrote, offering the celebratory message on behalf of himself and his wife Ann Romney.
Newsweek reached out to Romney's office for further comment, but did not receive a reply in time for publication.
Updated 10:42 PM ET, with additional information.