Mitt Romney Defends Paul Ryan From Trump Attacks, Praises 'Selfless Leadership' of Former Speaker
Senator Mitt Romney on Friday morning defended former House Speaker Paul Ryan from President Donald Trump's string of Twitter insults by praising the retired Republican's "selfless leadership."
Romney, the 2012 Republican nominee who chose Ryan as his running mate, was responding to Trump's tweets Thursday night slamming Ryan after the former speaker's criticisms of the president came to light in a forthcoming book.
Ryan said that Trump is worse off since he and other Republican leaders left government because they stopped him from going with "knee-jerk reactions" and "helped him make better decisions." Ryan also said he "wanted to scold" Trump all the time, according to an excerpt of American Carnage: On the Front Lines of the Republican Civil War and the Rise of President Trump by Politico Magazine chief political correspondent Timothy Alberta, obtained by The Washington Post Thursday.
Trump called Ryan "the failed V.P. candidate" and said his "record of achievement was atrocious (except during my first two years as President)." The president said Ryan "ultimately become a long running lame duck failure" and left the GOP "in the lurch" as a fundraiser and leader.
"When Mitt chose Paul I told people that's the end of that Presidential run," Trump continued in another tweet. "He quit Congress because he didn't know how to Win. They gave me standing O's in the Great State of Wisconsin, & booed him off the stage."
Trump also said that Ryan "promised me the Wall, & failed (happening anyway!)" The book, to be released July 16, states that Trump rebuked Ryan because a 2018 spending bill did not include border wall funding but then made a deal to sign it if Ryan allowed him to make it suspenseful on Twitter. Ryan agreed and afterward praised Trump.
In his last tweet on Ryan Thursday, Trump said he had the House "Majority & blew it away with his poor leadership and bad timing" and "never knew how to go after the Dems like they go after us." Trump concluded, "Couldn't get him out of Congress fast enough!" a change of heart from his April 2018 tweet stating, "Speaker Paul Ryan is a truly good man, and while he will not be seeking re-election, he will leave a legacy of achievement that nobody can question."
Romney tweeted that the fault for the 2012 election loss to President Barack Obama and Vice President Joe Biden "is mine alone," that Ryan was a "tireless campaigner, fundraiser, and conservative champion." Romney added that, "as the sole person who could unite the House," Ryan "acquiesced to be Speaker as a service to the country."
"His selfless leadership and lifelong policy work were critical to the tax and regulatory reform that have helped propel the economy," Romney continued. "A man like Paul Ryan does not often come along."
As of early afternoon Friday, Ryan had not comment on Twitter, and has not tweeted since mid-May.
According to the book, Ryan decided not to run for re-election in the 2018 midterm election because he could not stand the thought of two more years with Trump and used retirement as an "escape hatch."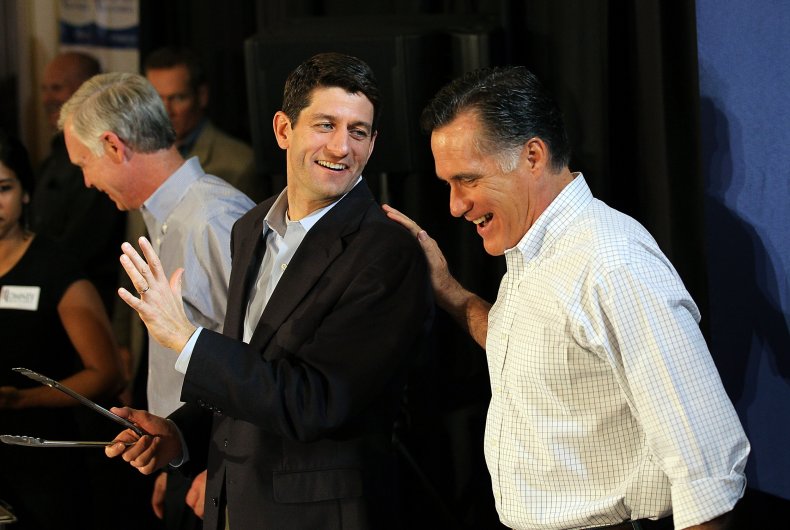 Mitt Romney Defends Paul Ryan From Trump Attacks, Praises 'Selfless Leadership' of Former Speaker | Politics