Mitt Romney Says Donald Trump Will Coast to 2020 Re-Election Because His Opponent Won't Be 'Mainstream'
Mitt Romney has predicted that President Donald Trump will "easily" grab the Republican Party's nomination and win re-election in 2020.
Romney's comments were made to a group of GOP donors Thursday evening in Utah, according to a Politico report, where he was hosting his annual E2 Summit that brings together politicians and donors. This year the guest list included House Speaker Paul Ryan, former New York City Mayor Michael Bloomberg and former Starbucks CEO Howard Schultz.
"I think President Trump will be renominated by my party easily, and I think he'll be reelected solidly," Romney said.
To back up his claims, Romney pointed to Trump's biggest political accomplishment to date: the rapidly growing economy. Unemployment hit an 18-year low in May, falling to 3.8 percent with black and Hispanic unemployment reaching record lows.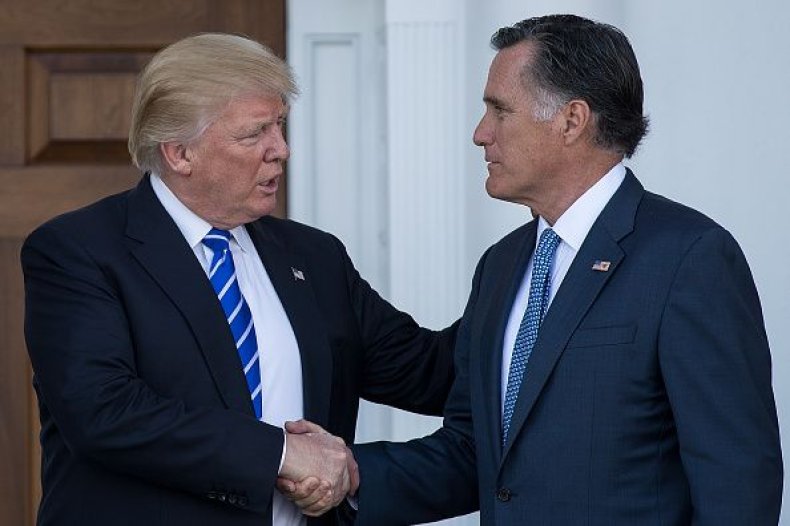 Trump was so enthusiastic about these numbers that he tweeted about them prior to their release, which breached a federal rule barring members of the executive branch from commenting on the Bureau of Labor Statistics report until one hour after their publication to the public.
Romney also speculated that another reason Trump will most likely win a second term is because he believes that the Democratic Party will select a presidential candidate that is not a mainstream figure.
"I think our Democrat friends are likely to nominate someone who is really out of the mainstream of American thought and will make it easier for a president who is presiding over a growing economy," Romney said to the group.
Right now, the Democrats are aspiring for a national blue wave that can flip House and Senate seats to help the party regain some control in Washington. However, the party's fragmentation and lack of an official leader could prove to be major roadblocks come November.
Romney was the Republican Party's failed 2012 candidate going up against President Barack Obama. The former Massachusetts governor lost the race by over 100 electoral votes. He is currently seeking election to the United States Senate in Utah, but initially failed to secure the GOP nomination and now faces a primary race later this month.
Romney was starkly against Trump running for president and securing the party's nomination in 2016, repeatedly referring to him as a "fake" or a "phony." Just a few months ago, Romney made headlines for saying in an interview that he doesn't think the president is a "role model" for his grandchildren due to his bombastic, personal style.
But along with predicting Trump will stay in the White House for another six years, Romney also told donors on Thursday that he believes that the Republican Party will be "just fine" and will remain the majority in Congress after the 2018 midterm elections.
Mitt Romney Says Donald Trump Will Coast to 2020 Re-Election Because His Opponent Won't Be 'Mainstream' | U.S.