Senator Mitt Romney of Utah appeared to forget that the Federal Bureau of Investigation (FBI) exists as he proposed a system to report foreign election interference.
In an interview with a reporter tweeted by The Hill on Tuesday, Romney said, "There should be a reporting system that if a government or agents of a government are trying to provide value of some kind, either financial or perhaps campaign material, to a campaign, that ought to be reported."
The senator added it was "something that we don't want to have happen and we don't want to have interference in our election process." He said the new safeguard "has to be carefully defined."
Many Twitter users sought to point out to Romney what they thought was obvious.
"The FBI, bozo," broadcast journalist Soleded O'Brien commented, quote tweeting the video. "Jesus. These are our elected officials."
Former FBI agent and CNN analyst Josh Campbell replied: "1-800-CALL-FBI."
Another Twitter user wrote, "Did Mitt Romney just invent the FBI?"
Romney's comment on Tuesday was especially surprising because the senator last Thursday responded to President Donald Trump's remark that he could consider taking information from a foreign country possibly trying to interfere in a U.S. election—and mentioned the FBI several times.
"It's not an interference, they have information, I think I'd take it. If I thought there was something wrong, I'd go maybe to the FBI," Trump told ABC News' George Stephanopoulos, "If I thought there was something wrong."
Trump continued: "But when somebody comes up with oppo research, right, they come up with oppo research, 'Oh let's call the FBI.' The FBI doesn't have enough agents to take care of it. When you go and talk, honestly, to congressmen, they all do it, they always have, and that's the way it is. It's called oppo research."
Romney told Politico that he didn't agree with Trump's take.
"Accepting the work product of a foreign government or the effort of a foreign government to try and influence an election of one candidate or another? It simply strikes at the heart of our democracy," Romney said. "It's wrong. It's antithetical to our democratic principles."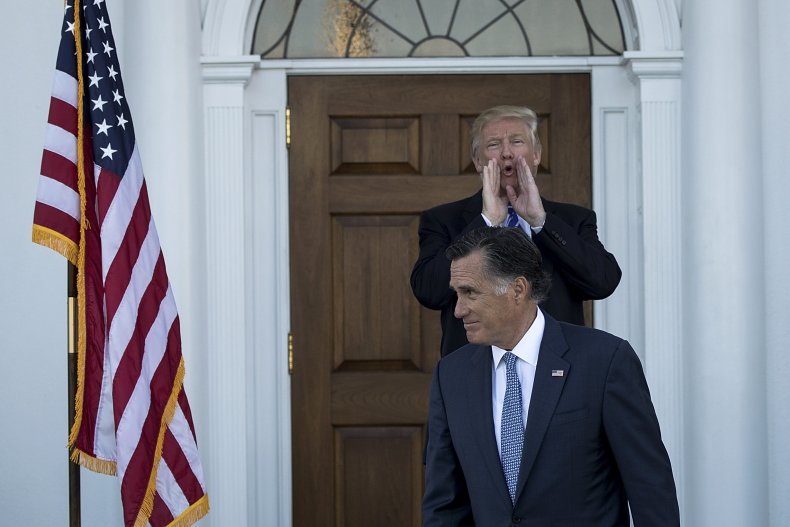 As of mid-afternoon Tuesday, Romney had not addressed what he said in the Tuesday interview on either his work or personal Twitter account. Romney's office did not immediately respond to a request for comment from Newsweek.
Election interference has been a major concern since U.S. intelligence agencies and Russia probe special counsel Robert Mueller determined that meddling did occur in the 2016 presidential election.