Mitt Romney Praises Liz Cheney for 'Refusing to Lie,' Offers GOP Support
Senator Mitt Romney of Utah voiced support for fellow Republican Representative Liz Cheney of Wyoming for saying she "refuses" to perpetuate former President Donald Trump's baseless claims of fraud in the 2020 Presidential Election.
"Every person of conscience draws a line beyond which they will not go: Liz Cheney refuses to lie," Romney wrote in a tweet Tuesday afternoon. "As one of my Republican Senate colleagues said to me following my impeachment vote: 'I wouldn't want to be a member of a group that punished someone for following their conscience.'"
Romney's comments aren't the first time he has taken a stand against the GOP's de-facto leader. Romney did not vote for Trump in 2016 or 2020 and was the only Republican lawmaker to support both of Trump's impeachments.
The Utah GOP did not vote to censure Romney following his impeachment votes, but he has received continued rebuke from Trump's supporters. Romney faced boos and insults on Saturday at a GOP convention in Utah. Some attendees referred to the senator as a "traitor" and a "communist" for his criticism of Trump.
"I understand that I have a few folks that don't like me terribly much and I'm sorry about that," Romney said to the crowd. "But I express my mind as I believe is right and I follow my conscience as I believe is right."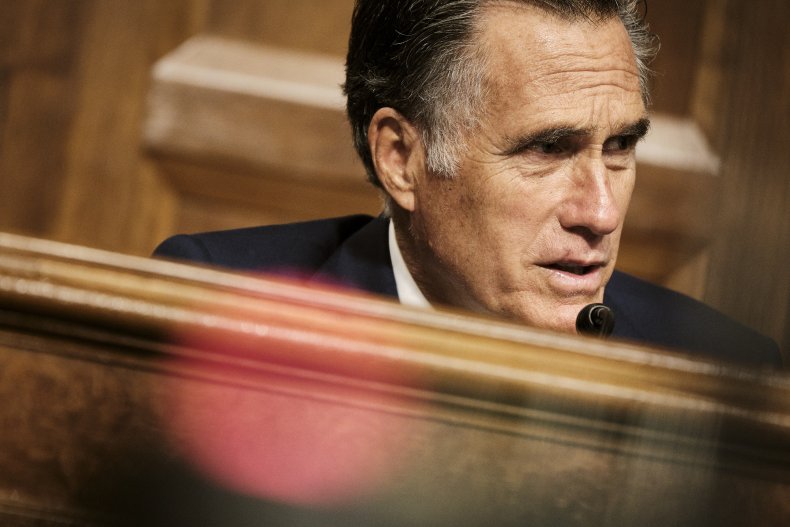 Trump continues to peddle a false narrative that his loss to President Joe Biden was the result of election fraud, using this messaging as a form of coalition-building that pushes away members of the GOP who disagree with his claims but brings supporters even closer.
In the latest instance of his rhetoric surrounding the election, Trump said in statement released Monday that "The Fraudulent Presidential Election of 2020 will be, from this day forth, known as THE BIG LIE!"
Cheney immediately rebuked Trump for giving the election the unsubstantiated moniker, tweeting: "The 2020 presidential election was not stolen. Anyone who claims it was is spreading THE BIG LIE, turning their back on the rule of law, and poisoning our democratic system."
Trump then pushed back against Cheney, who has become one of his top targets since she was one of 10 House Republicans to vote to impeach him earlier this year. After her impeachment vote, Trump persuaded her colleagues to vote to remove her from her position as the third-ranking House Republican. His effort failed by a large margin.
"Heartwarming to read new polls on big-shot warmonger Liz Cheney of the great State of Wyoming. She is so low that her only chance would be if vast numbers of people run against her which, hopefully, won't happen," Trump said in a statement. "They never liked her much, but I say she'll never run in a Wyoming election again!"
According to a CNN poll conducted in April, 70 percent of Republicans said they don't think Biden legitimately won the Oval Office. And the staying power of Trump's messaging could mean a shake-up for longtime party leaders like Cheney. One GOP congressman predicted that Cheney will be ousted from her leadership role by the end of May.
House Minority Leader Kevin McCarthy (R-Calif.) helped Cheney keep her position the first time it was challenged, but the two have divergent approaches to the future of the GOP, and his support isn't guaranteed. McCarthy recently told Fox & Friends that he "heard from members concerned about her ability to carry out the job as conference chair."
Romney is joined by Senator Susan Collins, a Maine Republican who also defended Cheney in an interview on CNN's State of the Union on Sunday.
"Liz Cheney is a woman of strength and conscience. And she did what she felt was right and I salute her for that," Collins said. "We need to be accepting of differences in our party. We don't want to become like too much of the Democratic Party, which has been taken over by the progressive left.
"We are not a party that is led by just one person."
Newsweek reached out to Romney and Cheney for comment.