Mitt Romney Pushes Back on Giving Some States COVID Relief, 'It Doesn't Make Any Sense'
Senator Mitt Romney is pushing back on giving all states COVID relief as the Senate prepares to begin voting on President Joe Biden's $1.9 trillion coronavirus stimulus package.
The Utah senator argues the states that did not suffer any revenue loss or deficit as a result of the coronavirus pandemic should not be receiving the money allocated for them in the American Rescue Plan.
"The amount of excess in the Administration's $1.9 trillion #COVID19 plan is outrageous," Romney tweeted on Friday. "States that are doing well financially will get billions of dollars. California had a record surplus last year, but would still get $27 billion. It just doesn't make any sense."
The bill before the Senate currently includes $195.3 billion for states and the District of Columbia. Counties and cities would share $120 billion in aid, while tribes would get $20 billion and territories $4.5 billion.
Additional funding for states has been among the most controversial provisions in the congressional relief bills, with Republicans resisting efforts to provide sweeping financial aid.
"I'm concerned that in the current plan, there's a lot of excess that is going to just add to the debt without creating a benefit to our economy or helping people that are in need," Romney said.
Shalanda Young, who Biden has nominated as deputy director of the Office of Management and Budget, told the senator that the money in the stimulus package is not only used to offset states' debt but also to allow them to expand their COVID-19 relief activities.
"I've always looked at that fund as not just a revenue loss fund, but one that is meant to and designed to provide fiscal relief," Young explained. "So those states who are doing increased vaccine distribution, they have increased costs—this fund is also to ensure that they provide needed services so I've looked beyond revenue losses."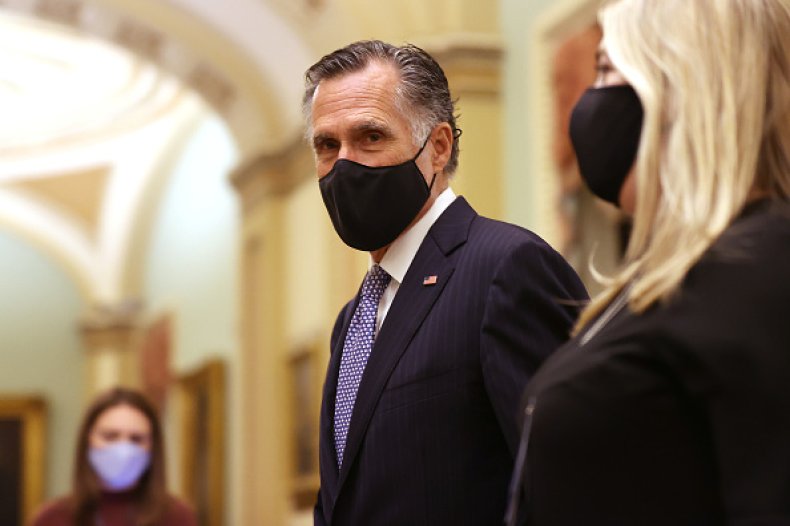 But Romney pointed out that 21 states across the country have seen a revenue increase every year, including last year during the coronavirus pandemic.
"We have reimbursed all their excess COVID expenses, and we raised the FMAP so we provide a greater support for their Medicaid, so these are states that are in fine financial shape," he pushed back. FMAP is the Federal Medical Assistance Percentage that is calculated by taking into account the average per capita income for each state.
"All the COVID relief activities were reimbursed the CARES Act and anything not reimbursed is appropriately to be reimbursed," Romney continued. "I'm saying if the federal government agrees to provide all the funding necessary to reimburse COVID expenses that the state has, and it fills their budget gap from loss of revenue, I don't see a reason to give even more money to that state."
The Coronavirus Aid, Relief and Economic Security Act (CARES Act), which was passed in March, provided $150 billion to be distributed to states and local governments.
Young defended the data provided by states to the Biden administration, saying that governors and state officials have argued they need additional aid in order to help their constituents.
But Romney, who previously served as the governor of Massachusetts from 2003 to 2007, cautioned that some may be asking for more aid whether or not they may actually need it.
"As a former governor, if the federal government is going to be handing out billions of dollars, I'm going to have my hand out to get as much as I can," he said. "But these are dollars that are going to be paid for by our kids and our grandkids."
"[Some] states are not seeing the kind of pain that [other] states are. The states that feel pain? Got to help them. States that don't feel pain? We shouldn't be sending them billions of dollars that we're borrowing for our kids to have to pay back," he added.
Newsweek reached out to the White House for comment but did not hear back before publication.