Republican Senator Mitt Romney reiterated that he is "interested" in hearing from President Donald Trump's former national security adviser John Bolton and other potential witnesses as the Senate's impeachment trial moves forward.
Romney, who represents Utah, made the comment to CNN on Tuesday while also criticizing Democrats for expressing "outrage" at the changes the Senate's GOP majority leader, Mitch McConnell, had made to the rules governing the trial. Democrats had strongly criticized some of the changes, which were notably different from those used in President Bill Clinton's impeachment trial.
"The changes are pretty modest, and I don't think are significant in any dramatic way," Romney said in brief comments to CNN senior congressional correspondent Manu Raju.
"I think Democrats make a mistake when they call it outrage time and time again," the lawmaker said. "If everything is an outrage then nothing is an outrage."
He went on to note that the "big issue" is witnesses. While Democrats want an amendment to include witnesses in the rules, Romney argued that this was unnecessary because there would be a vote on the matter after opening arguments from Trump's legal team and the House impeachment managers.
"I've already indicated that I'm interested to hear from John Bolton, perhaps among others," he said. "But I'm not going to be making that vote today. I'm going to make that vote after the opening [arguments]."
Senate Minority Leader Chuck Schumer, a Democrat from New York, had strongly criticized the rules released by McConnell earlier on Tuesday. "Everything in these rules is rigged," he said in an interview with MSNBC. He also told reporters that he would force a vote on bringing in additional evidence and witnesses when the rules were discussed on the Senate floor.
Bolton is seen by many as a key witness who might shed additional light on Trump's dealings with Ukraine, which led to his impeachment by the House of Representatives in December. The House decided to impeach Trump for abuse of power and obstruction of Congress in votes that passed nearly entirely along partisan lines.
The first article of impeachment concerns Trump's efforts to pressure Ukraine to announce investigations that he allegedly believed would be damaging to his political opponents. He and his personal lawyer Rudy Giuliani repeatedly urged Ukraine's president to announce a probe into unfounded claims that former Vice President Joe Biden acted corruptly to benefit his son Hunter's business dealings in that nation. Trump and Giuliani also wanted Ukraine to investigate a debunked conspiracy theory that Ukrainians, not Russia, worked to interfere in the 2016 election.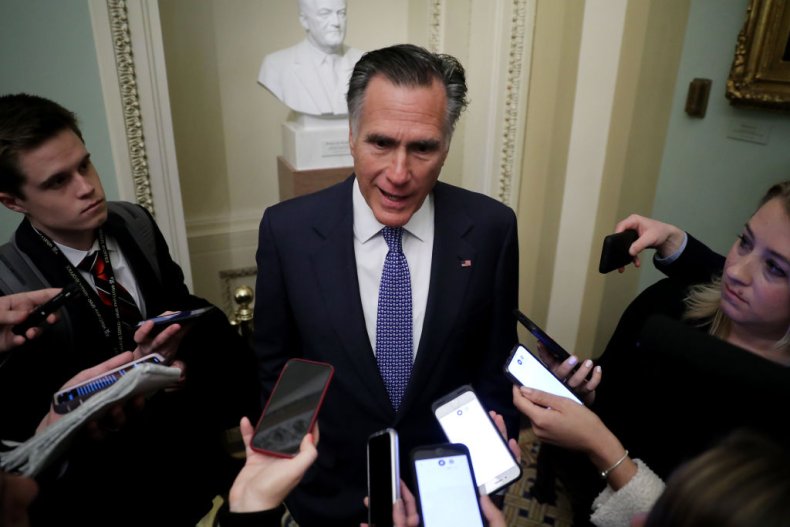 Democrats argue that this amounted to soliciting a foreign power to interfere in a U.S. election; Biden is the national front-runner for the Democratic presidential nomination. The second article concerns Trump's decision to allegedly stonewall the House inquiry by blocking evidence and ordering administration witnesses not to testify.
Bolton, who was fired by Trump in September, reportedly called the Ukraine pressure campaign a "drug deal" and has significant knowledge of how the events transpired. The former national security official has already said that he will testify before the Senate if called to do so.
Calling additional witnesses requires a simple majority in the Senate, but it is unclear if such a measure could garner enough votes to pass. At least four Republicans, all 45 Democrats and the legislative body's two independents would have to vote in favor of calling additional witnesses to reach the required threshold of 51 votes. Romney and several other GOP senators have suggested they would support the vote.
Back in September, Romney was an early critic of Trump's actions toward Ukraine.
"If the President asked or pressured Ukraine's president to investigate his political rival, either directly or through his personal attorney, it would be troubling in the extreme," the senator wrote in a September tweet as Democrats moved toward launching an impeachment inquiry. "Critical for the facts to come out."