Mitt Romney Weighs in on GOP Candidates, Says Trump Won't Be the Nominee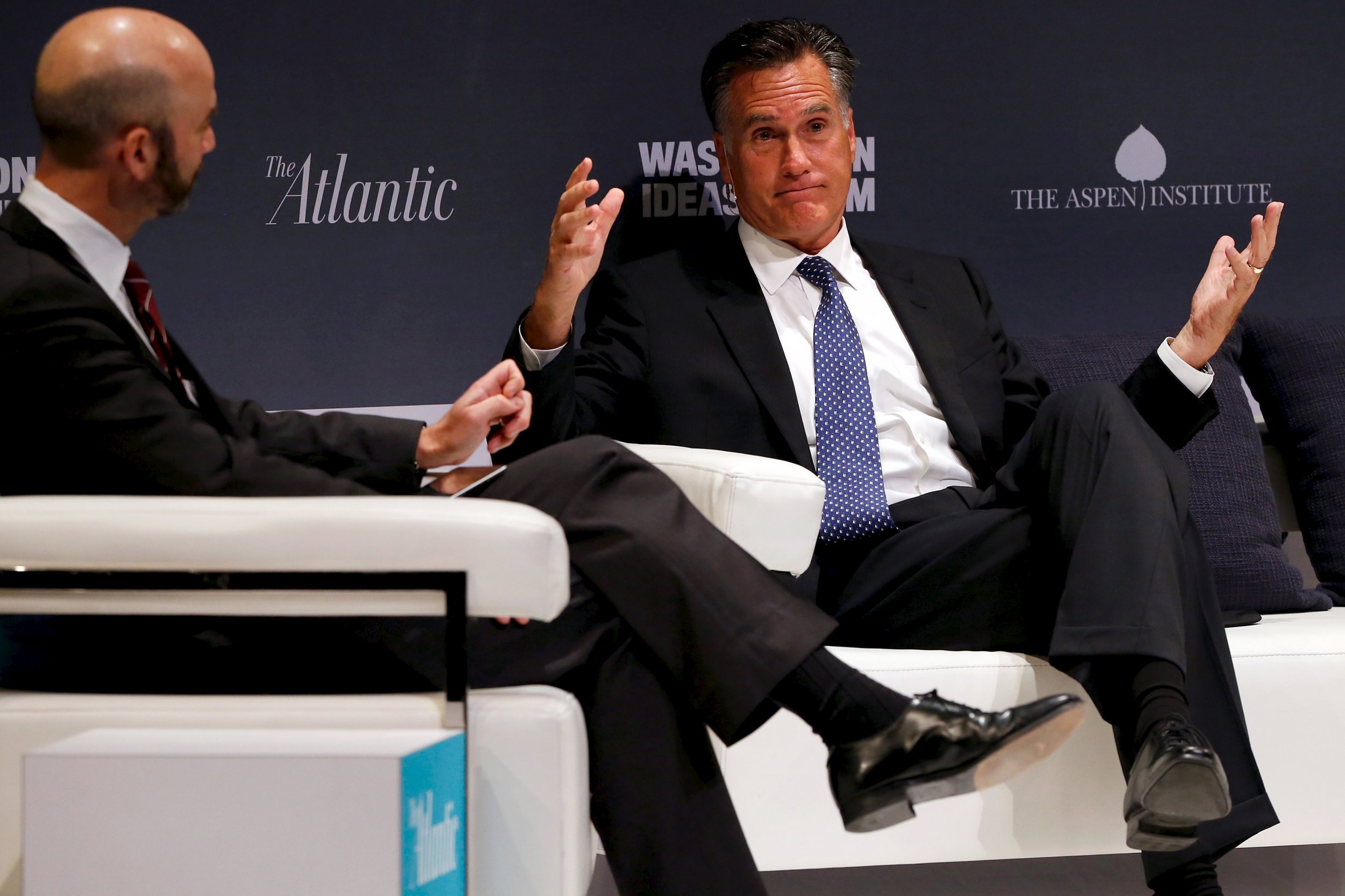 During the second Republican presidential debate, Mike Huckabee called the 11 main stage candidates "the A-Team" and praised Donald Trump for his straight-talking. But according to the GOP's 2012 standard bearer, former Massachusetts governor Mitt Romney, the A-Team is fighting ugly.
"I think it's unfortunate to have had the kind of personal attacks that we've seen in the process...I think the 11th commandment was quickly lost in this race, and that I think makes it harder for us in the general," Romney said Wednesday at the Washington Ideas Forum. He was referring to Ronald Reagan's famous dictum "Thou shalt not speak ill of a fellow Republican."
The candidates have all but ignored Reagan's principle, in no small part due to the changing nature of campaign polemics spurred by Donald Trump, who has jabbed Jeb Bush ("low energy") Carly Fiorina ("Look at that face") and Ben Carson ("not that great a doctor").
"For a long time a lot of the candidates said, 'I'm just gonna ignore it and not respond,'" Romney noted. "And I think they found out that did not help them."
Even refusing to respond to Trump involves a degree of retaliation. A surging Marco Rubio has mostly tried to keep his distance, but recently told NPR that he didn't want to be a part of the Donald's "freakshow."
Rubio and Bush are the current leaders among the "establishment" candidates. Romney thinks that the nomination will come down to a fight between one of the more mainstream conservatives and one of the outsiders.
"I will support the Republican nominee," he said. "I don't think that will be Donald Trump." He couldn't resist criticizing Trump, calling the candidate's recent statements about letting ISIS take over Syria "absurd and dangerous."
"My party has historically nominated someone who's a mainstream conservative, and someone who has a foundation in foreign policy that gives people the confidence they can guide the ship of state over troubled waters."
Romney has firsthand experience of the aftereffects of intense primary infighting. During the 2012 election, he moved farther to the right during the nomination process, especially on immigration. His poor performance with minority voters and Latinos in particular was a significant reason that he lost the general election, by his own concession.
Appealing to minorities is "clearly one of the things we have to do differently as a party," he said.
He added that failing to court minorities effectively was one of his biggest regrets from the 2012 cycle.
"Darn it, I wish I could do that properly!"