Mitt Romney Says He'll 'Likely' Vote in Favor of Witnesses Following Trump Defense Team's Opening Arguments
Donald Trump's attorneys were commended by senators on both sides of the aisle for civility in opening arguments Saturday at the president's impeachment trial. But responses from Republican Mitt Romney and moderate Democrats revealed their statements may have had the unintended result of making the case in favor of calling more witnesses.
Senate Minority Leader Chuck Schumer of New York held a press conference after the trial's opening arguments, saying White House counsel Pat Cipollone and personal attorney Jay Sekulow "did something they did not intend: they made a really compelling case for why the Senate should call witnesses and documents."
Democratic senators, who need at least four Republicans to join them in voting in favor of introducing new evidence, appeared to garner the support of at least one GOP senator who had previously remained quiet about his vote on the introduction of new evidence: Mitt Romney.
"I think it's very likely I'll be in favor of witnesses but I haven't made a decision finally yet and I won't until both sides' opening arguments are done," Romney said Saturday in statements to CNN and NBC News.
In their opening statements Saturday at the Senate trial, Trump's legal team argued that the Democrats want to overturn the 2016 presidential election. "They're asking you to tear up all the ballots across this country on your own initiative, take that decision away from the American people," said Cipollone.
Trump's attorneys continue to deny any quid pro quo with Ukraine took place last year over military aid, and House Intelligence Committee Chairman Adam Schiff responded to the White House arguments by saying they provided nothing that serves as a defense of Trump's actions.
CNN reported Friday that Romney was overheard telling other Republican senators he was bored with the proceedings and complained "no one's watching" the trial. Other moderate Republican senators including Alaska's Lisa Murkowski and Maine's Susan Collins — who have both previously expressed optimism about voting in favor of new witnesses — would be needed in order for Democrats to get the simple majority needed to introduce new evidence through a vote likely to place this week.
Moderate Democratic Senator Joe Manchin said that House Democrats did not produce a single witness who had direct contact with the president, and said he wants to "hear from [acting White House Chief of Staff Mick] Mulvaney and [former national security adviser John] Bolton. Bolton has publicly stated he is open to testifying before Congress.
Democratic Connecticut Senator Chris Murphy told CNN the Trump team "didn't engage in some of the personal attacks and political sideshows that many of us are worried about."
Other Republican senators continued to defer questions about whether or not they will support new witnesses and documents.
"We are going to make that determination — we are going to have that vote," West Virginia Republican Shelley Moore Capito responded to reporter questions about witnesses.
Tennessee GOP Senator Lamar Alexander, who is not seeking reelection after his current term concludes at the end of the year, is another senator whom Democrats are hoping to persuade in favor of hearing from new witnesses.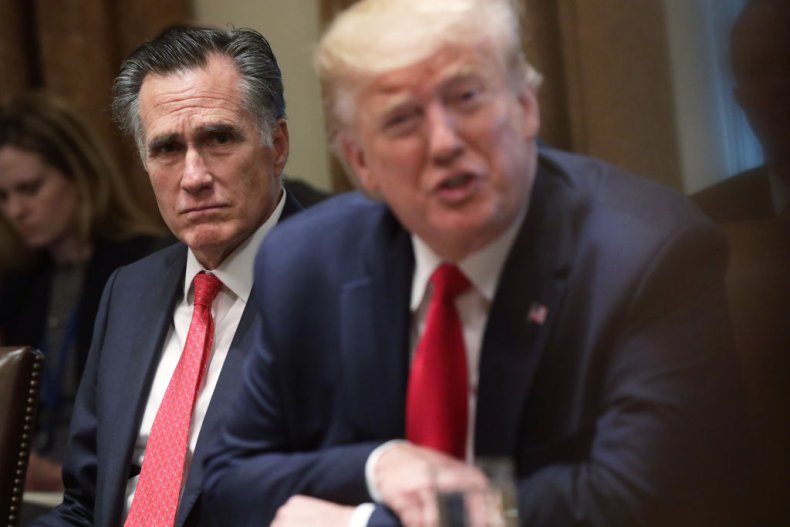 In a January 21 statement at the beginning of the Senate impeachment trial, Romney issued a statement reiterating his belief in an impartial Senate trial: "Last week, I and all senators swore an oath to 'do impartial justice according to the Constitution and laws: so help me God' in determining whether the president has committed impeachable offenses that merit his removal from office. Deciding whether or not a sitting president should be removed from office is perhaps the most solemn matter that can ever come before the United States Senate. I enter this task with an open mind and a recognition of my solemn responsibility to fulfill my oath."