Mitt Romney's White House Would Have Been 'Very Similar' to Trump's, He Says
President Donald Trump appears to have something of a fan in the form of Senate candidate Mitt Romney, who said Trump's first year had been "very similar to things I'd have done my first year."
The former GOP presidential nominee, who ran in 2012, said President Trump had done things better than he'd expected—which comes as quite a U-turn on his comments in 2016 when he described Trump as a "fraud" who was "playing the American public for suckers."
Speaking with voters in Utah, The Washington Examiner reported Romney praising the president and informing people of the personal relationship he has with Trump.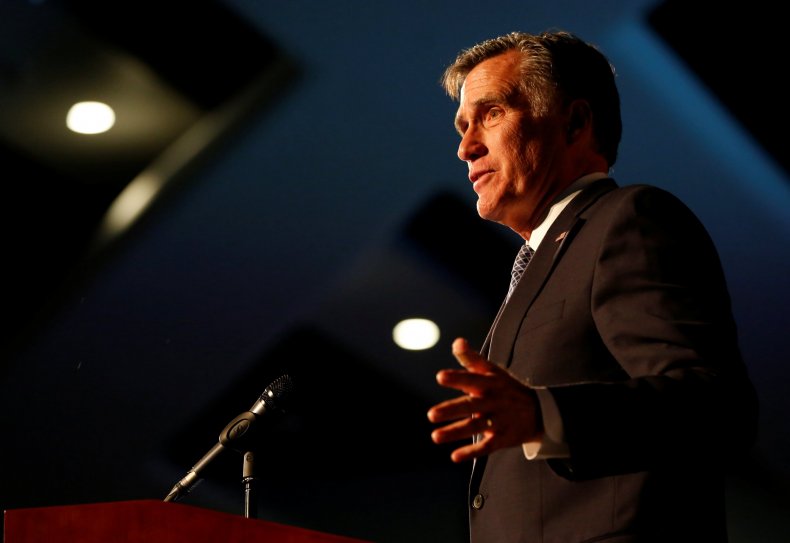 Answering a question about how he would get on working with Trump, Romney, who is running for retiring Senator Orrin Hatch's seat, suggested they were not such different people.
"His first year is very similar to things I'd have done my first year," Romney told the voter. "The things he's actually done have been better than I expected."
However, Romney added he would not stand with the president in the instance that he disagreed with his actions or words, The Hill reported.
"If he says something which I believe is racist or divisive and serious, then I'll point out that I disagree with that," he said.
"But I'm an honest enough person that if he does something right—and by the way he's done a number of things right—I'll be fully supportive of those things. I will support the president's agenda when it's good for Utah, and good for the country, and so far that's been the case," he added.
As well as speaking out in favour of the president, Romney has also stressed his allegiance with other high-profile Republicans, arguing he could get things done as a senator. Romney has been endorsed by both Trump and Hatch, but came in second at Utah's GOP convention to State Representative Mike Kennedy, with a runoff to be held next month.