How to Watch 'Mixed-Ish' Midseason Premiere: Live Stream Season 1, Episode 11—'When Doves Cry'
It's been nearly 34 years since the space shuttle Challenger's flight ended in tragedy, just 73 seconds after taking off into the sky. In honor of the upcoming anniversary of the catastrophic event, Mixed-ish will pay homage to the shuttle's crew in its midseason premiere on Tuesday.
The 11th episode of the first season, "When Doves Cry," will see the Jackson family excitedly preparing to watch the 10th mission of the Challenger on January 28, 1986.However, a young Bow Johnson, played by Arica Himmel, and her relatives will be rocked to the core when the takeoff ends in an explosion.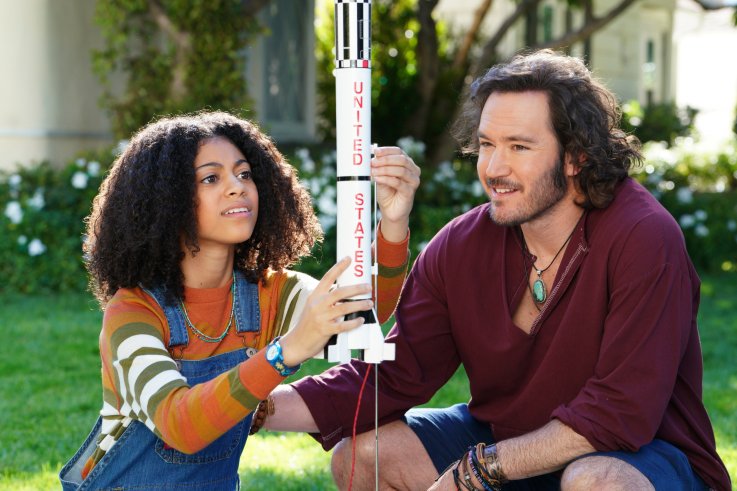 While the family will spend much of the episode dealing with the many faces of grief, the sudden tragedy forces one member of the Jackson clan to re-evaluate the many things she's taken for granted after she realizes just how short life is, according to a synopsis of the show.
Bow's aunt Denise, played by Christina Anthony, hasn't been the easiest person for the Jacksons to deal with since they fled their hippie commune for life in the suburbs. But in light of the Challenger tragedy, Denise will have an awakening of sorts and attempt to right her wrongs.
"This idea of feeling your own mortality is what happens. I liken it to now, how the celebrity dies and people start to post on Instagram and Twitter about the first time they heard that person's album or the first time they went to their concert," Anthony said in an interview with TVLine released Monday.
"[They] somehow [want to] connect with other people about how this tragedy affects you," she continued. "And then also wanting to live life to its fullest from this day forward and be better. I don't think that's anything new. That's what Denise is going through. She just doesn't have social media, so she has to literally go out and start contacting people individually, one by one, being better."
Despite the heaviness of the topic, fans should still expect some laughs throughout the episode, especially as Denise works her way down her apology list in the most peculiar of ways. "Interestingly enough, it's a good example of how not to properly give an apology," Anthony said.
"I don't want to get too much into it, but she doesn't get reactions. She just dumps emotionally and then leaves, but isn't that the nature of Facebook? Isn't that the nature of Twitter? Like, aren't we just output, output, output and not looking at the comments if we don't feel like it?" she said.
Challenger crew members Sharon "Christa" McAuliffe, Gregory Jarvis, Judy Resnik, Dick Scobee, Ronald McNair, Michael Smith and Ellison Onizuka died in the explosion. The horrific event was captured live by TV cameras as the launch was being broadcast nationwide.
NASA made major changes to the shuttle program following the tragedy. Although another version of the spacecraft was back in orbit two years later, it would be 22 years before the U.S. space program would send another human into space, with the Endeavor in 2007.
The first season of Mixed-ish returns Tuesday at 9 p.m. EST on ABC. Viewers can live stream the episode on ABC's website and app with a cable provider login. Hulu Live TV and YouTube Live TV subscribers can watch the show via live stream on those platforms as well.
How to Watch 'Mixed-Ish' Midseason Premiere: Live Stream Season 1, Episode 11—'When Doves Cry' | Culture