Mixed Messaging Persists as House Democrats Can't Decide Whether They're Conducting an Impeachment Inquiry
House Democrats continued to muddy the water Wednesday on the party's ongoing investigations into President Donald Trump, offering conflicting messages as to whether the Judiciary Committee is in the midst of an impeachment inquiry.
The party's top members denied the notion that Democrats are conducting such an inquiry, directly contradicting recent remarks by the panel's chairman, who has said for months they've been conducting an impeachment inquiry.
The mixed messaging comes as Congress returned from a six-week summer recess this week and allows Democrats the opportunity to play the party's stance on impeachment as they see fit. It gives more moderate members the ability to claim the party is holding off on taking such a consequential step while more liberal members point to the committee's work as evidence they're taking one step closer to forcibly removing Trump from office.
"No," Rep. Steny Hoyer (D-MD) told reporters in his office when prompted whether Judiciary Democrats were conducting an impeachment inquiry, "because the delineation ought to be whether or not they're considering a resolution of impeachment." He explained his belief that in order for the committee's work to be considered as such, an impeachment resolution would need to be under consideration by the committee and/or voted to proceed by the House.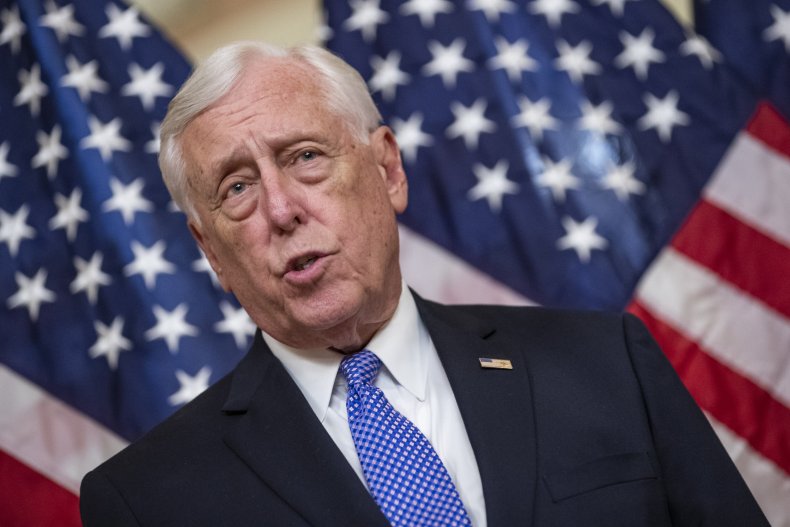 Neither is currently happening, and no formal vote has ever taken place to declare the committee is opening an impeachment inquiry. But the panel will vote Thursday on a set of guidelines regarding its ongoing "impeachment hearings," which has drawn further confusion and mixed messaging among the party. It's the first formal move to set parameters and further define Judiciary Democrats' investigation.
On Monday, Judiciary Chairman Jerrold Nadler (D-N.Y.) told reporters that since a court filing earlier this summer, in which they sought to enforce witness subpoenas to former administration officials for testimony, he and his committee colleagues have been conducting "an investigation looking toward the possibility of voting on articles of impeachment. You can call that an impeachment inquiry, you can call that an investigation. It's the same thing."
In a statement issued after speaking with reporters, Hoyer walked back his comments about an impeachment inquiry not occurring. He stated that he misunderstood the question to be whether the "full House is actively considering articles of impeachment, which we are not at this time."
"I strongly support Chairman Nadler and the Judiciary Committee Democrats as they proceed with their investigation 'to determine whether to recommend articles of impeachment to the full House,' as the resolution states," Hoyer stated.
Rep. Hakeem Jeffries (D-N.Y.), the No. 5 Democrat as chairman of the Democratic Caucus, declined twice on Wednesday to call it an impeachment inquiry but said he also agreed with the work Nadler has been doing.
"I agree with the chairman, that we're in the midst of the Judiciary Committee investigation, which is appropriate, that will consider the obstruction of justice, abuse of power and culture of corruption that has come out of 1600 Pennsylvania Avenue," Jeffries told reporters. "And as part of that investigation, of course, as Jerry Nadler has said, at some point in the future, we're going to have to determine whether the recommend charges that the president has engaged in high crimes and misdemeanors."
Pressed further on whether the caucus was already conducting an impeachment inquiry, Jeffries, who also sits on Judiciary, stated he did not "want to get caught in semantics."
"The committee should be allowed to do their work without getting caught up in semantical distinctions," he added.
House Foreign Affairs Committee Chairman Eliot Engel (D-NY), whose Democratic-led panel is one of six, along with Judiciary, that is investigating the Trump administration, made a similar argument to reporters, saying "to a large degree, it's semantical."
"I think there, frankly, are a lot of members who feel strongly that the Mueller report indicates that there is culpability and at the very least, we should push forward," he said, leaving it unclear as to how he would describe the current state of affairs regarding impeachment.
Since returning from summer recess, some pro-impeachment inquiry Democrats have acknowledged there may be misconceptions among members of the public.
"I think there's definitely some confusion because people are using different language," Rep. David Cicilline (D-R.I.), a Judiciary member, told Newsweek on Tuesday. The Rhode Island Democrat is also in charge of policy messaging for the caucus.
"I think one of the objectives of [Thursday's committee vote] is to make it very clear that the Judiciary Committee is actively engaged in a proceeding to determine whether or not to recommend articles of impeachment to the president of the president to the full House," he said. And whether people want to call it an impeachment "investigation," "inquiry" or "proceeding" shouldn't matter, Cicilline added.
An aide to House Speaker Nancy Pelosi has said the California Democrat supports the committee's resolution that will set the parameters for future proceedings looking into the possibility of impeachment. However, Pelosi remains dead set against impeachment due to public sentiment.
Pelosi told Fox News earlier this week that House Democrats continue to "all work together" and that the resolution was a "continuation of what we have been doing," rather than it being a declaration of an official impeachment inquiry.
But while pro-inquiry Democrats, such as Nadler, agree it's a continuation of their current work, it's clear that not everyone has the same definition for what that means.
"What we're doing is very clear. It's been very clear. It continues to be very clear," Nadler said Monday. "We're taking another step in our investigation as to whether we should recommend articles impeachment to the House, which you can call an impeachment investigation, an impeachment inquiry, whatever term you want as shorthand."