MJ Hegar Wins Primary to Oust John Cornyn—Next Stop, Turn Texas Blue
Texas Democrats have chosen M.J. Hegar to go up against Senator John Cornyn as the party attempts to win its first statewide election in 26 years.
Hegar won the Democratic nomination in the Lone Star State's runoff election Tuesday with a narrow victory over Royce West. If Hegar is successful in November, her election will mark the first time a liberal has represented the state in Congress since 1994.
Hegar first arrived on the scene in 2018 when she narrowly lost her congressional bid against Republican Representative John Carter. Before wading into politics, she was a pilot in the Air Force and was awarded a Purple Heart after she was wounded on her third tour to Afghanistan.
She emerged as an early favorite in the Senate primary, earning the endorsement of the national Democratic establishment in December 2019. She won the 12-way primary in March and was consistently polling above West in the weeks leading up to the July 14 runoff.
Before the runoff, her campaign took aim at Cornyn's record in a statement to Newsweek: "After spending almost 20-years in Washington failing to address Texas' health care crisis, broken immigration system, horrific racial injustice, and now the surge in the COVID-19 pandemic, it is no wonder that Senator Cornyn's approval rating is one of the worst in the country and Texans are excited to tell him to pack it up in November."
Hegar will face an uphill challenge against Senator Cornyn, a three-term incumbent and the second-ranking Senate Republican. The latest campaign finance filings show he has more than $14 million in the bank to put toward his re-election effort.
But Democrats see an opening, citing Cornyn's low approval ratings in the state. A June Texas Tribune poll found that 37 percent of voters approved of his job as a senator, 34 percent disapproved of his performance and 29 percent had no opinion.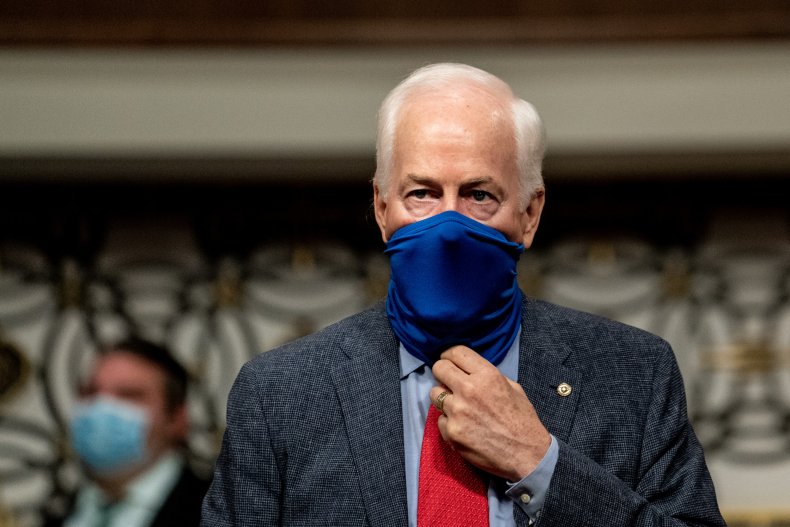 Experts have also warned that President Donald Trump's rising unpopularity across the board could be a drag on Cornyn and other down-ballot GOP candidates this fall. Trump won Texas and its 38 electoral votes by 9 points against Hillary Clinton in 2016. Now, polling shows him in a tight race with Democratic nominee Joe Biden.
Plus, the state's shifting political landscape was on full display in the 2018 midterm elections when Beto O'Rourke's challenge against Senator Ted Cruz became one of the most-watched races of the year. Cruz, the Republican incumbent, narrowly defeated O'Rourke by 200,000 votes.
A flip in Texas would be huge for Democrats as they seek to regain control in the Senate, where Republicans currently hold a 53-to-47 majority. In order to win back the upper chamber, Democrats need to flip four or five seats in November.
As of Tuesday, the Senate race in Texas was favored to go to Cornyn. Election forecasters such as Sabato's Crystal Ball and the Cook Political Report rated the contest as "likely Republican." Polling of the race from the University of Texas at Tyler in June found Cornyn ahead by double-digits.