MLB 2019 Opening Day: When is it, TV Schedule, Where to Watch, Live Stream
Less than five months have passed since the Boston Red Sox clinched the World Series, but it's already time for the Major League Baseball to roll back into town.
The 2019 regular season technically got underway last week in Japan, but Opening Day is scheduled for Thursday when all 30 teams will be in action.
Here's everything you need to know ahead of one of the most eagerly-awaited days in the U.S. sporting calendar.
When is MLB Opening Day 2019?
Opening Day is scheduled for Thursday, March 28, making it the earliest Opening Day in MLB's history. The previous record was set 12 months ago, when Opening Day was held on March 29.
The regular season got underway in Japan last week, as the Oakland Athletics and the Seattle Mariners played a two-game series in Tokyo, but all 30 teams will be in action on Thursday. It marks the second consecutive year all MLB franchises will be playing on Opening Day.
The curtain raisers are the New York Yankees' home game against the Baltimore Orioles and the New York Mets' road game against the Washington Nationals, both scheduled for 1:05 p.m. ET.
Where to watch MLB Opening Day
As part of its Opening Day package, ESPN will air three games live nationwide, beginning with the Orioles' trip to New York at 1:05 p.m. ET.
The Los Angeles Dodgers' home game against the Arizona Diamondbacks follows at 4:10 p.m. ET, before the Boston Red Sox's visit to the Seattle Mariners at 7:10 p.m. ET.
While ESPN will broadcast the three games nationwide, the first two will be subject to local blackouts. Every out-of-market regular season game will also be live on MLB.TV.
MLB Opening Day TV schedule (all times ET)
New York Mets @ Washington Nationals, 1:05 p.m. (SNY, MASN, MLB TV)
Baltimore Orioles @ New York Yankees, 1:05 p.m. (YES)
St Louis Cardinals @ Milwaukee Brewers, 2:10 p.m. (FSMW, FSWI, MLB TV)
Atlanta Braves @ Philadelphia Phillies, 3:05 p.m. (FSSO, NBC 10, MLB TV)
Detroit Tigers @Toronto Blue Jays, 3:37 p.m. (FSD, SNET, MLB TV)
Houston Astros @ Tampa Bay Rays, 4 p.m. (ATTH, FS SUN, MLB TV)
Chicago Cubs @ Texas Rangers, 4:05 p.m. (WGN, FSSW, MLB TV)
Los Angeles Angels @ Oakland Athletics, 4:07 p.m. (FSW, CSCA, MLB TV)
Pittsburgh Pirates @ Cincinnati Reds, 4:10 p.m. (ATTP, FSO, MLB TV)
Colorado Rockies @ Miami Marlins, 4:10 p.m. (ATTR, FSFL, MLB TV)
Cleveland Indians @ Minnesota Twins, 4:10 p.m. (STO, FSNO, MLB TV)
San Francisco Giants @ San Diego Padres, 4:10 p.m. (NBCSBA, FSSD, MLB TV)
Arizona Diamondbacks @ Los Angeles Dodgers, 4:10 p.m. (ESPN)
Chicago White Sox @ Kansas City Royals, 4:15 p.m. (CSC, FSKC, MLB TV)
Boston Red Sox @ Seattle Mariners, 7:10 p.m. (ESPN)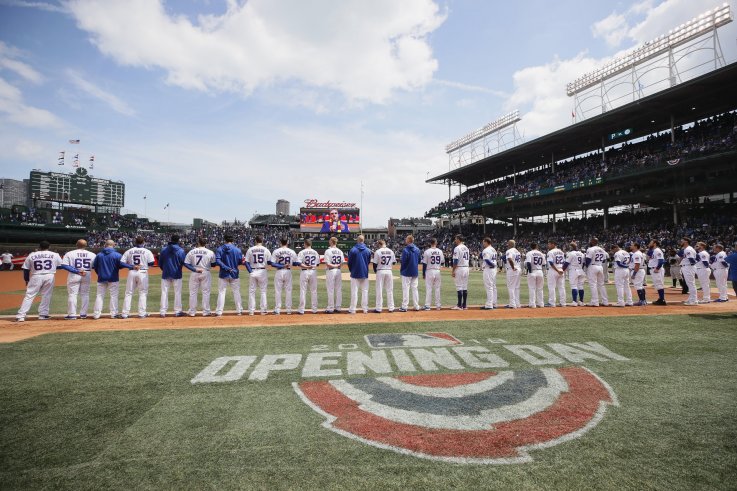 MLB 2019 Opening Day: When is it, TV Schedule, Where to Watch, Live Stream | Sports