MLB All-Star Game 2019: How to Watch, Start Time, TV Schedule, Updated Rosters
For the first time in five years an American League team will host the MLB All-Star Game, which takes place in Cleveland, Ohio, on Tuesday.
While American League ballparks have not staged the annual extravaganza since 2014, an American League team has won the contest for the last six years straight. The most recent success came last year, with an 8-6 win over the Nationals League All-Stars thanks to Alex Bregman's go-ahead homer in the 10th innings.
Here's everything you need to know ahead of Tuesday.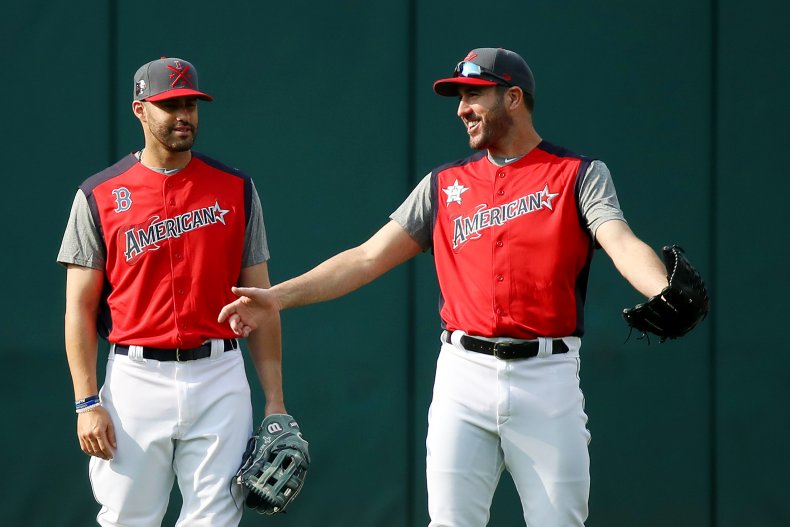 When and where is the MLB All Star Game?
The 90th annual Midsummer Classic takes place on Tuesday, July 9 at Progressive Field in Cleveland, home of the Cleveland Indians. It's the first time since 1997 the All-Star Game is played in Cleveland and the sixth overall, which will make the Indians the franchise to have hosted the event the most.
The annual extravaganza marks the 25th anniversary of Progressive Field and the second time the ballpark has hosted the All-Star Game.
First pitch is scheduled for 7:30 p.m. ET.
TV coverage
As has been the case since 2001, FOX will broadcast the event in its entirety from 7:30 p.m. ET on Tuesday.
Joe Buck will call the game play-by-play flanked by John Smoltz, with Ken Rosenthal and Tom Verducci as on-field reporters.
Kevin Burkhardt will cover his usual role of pre-game hosts alongside Alex Rodriguez and Frank Thomas.
The game will also be broadcast by MLB Network in selected markets outside the U.S.
Live stream
Coverage of the All-Star game will be available online on FOX Sports website and via FOX Sports digital platforms. A live stream will also be available on MLB.com and on fuboTV.
Rosters
Boston Red Sox manager Alex Cora will manage the American League team, while his Los Angeles Dodgers counterpart Dave Roberts will take charge of the National League team.
The full rosters can be found here.
American League lineup
RF—George Springer, Houston Astros
2B—DJ LeMahieu, New York Yankees
CF—Mike Trout, Los Angeles Angels
1B—Carlos Santana, Cleveland Indians
DH—J.D. Martinez, Boston Red Sox
3B—Alex Bregman, Houston Astros
C—Gary Sanchez, New York Yankees
LF—Michael Brantley, Houston Astros
SS—Jorge Polanco, Minnesota Twins
RHP—Justin Verlander, Houston Astros
National League lineup
LF—Christian Yelich, Milwaukee Brewers
SS—Javier Baez, Chicago Cubs
1B—Freddie Freeman, Atlanta Braves
RF—Cody Bellinger, Los Angeles Dodgers
3B—Nolan Arenado, Colorado Rockies
DH—Josh Bell, Pittsburgh Pirates
C—Willson Contreras, Chicago Cubs
2B—Ketel Marte, Arizona Diamondbacks
CF—Ronald Acuna Jr., Atlanta Braves
LHP—Hyun-Jin Ryu, Los Angeles Dodgers
Notable absentees
Both teams have been hit by a number of injury-related withdrawals. For the American League team, Los Angeles Angels second base Tommy La Stella and Texas Rangers designated hitter Hunter Pence both miss, with the former replaced by Tampa Bay Rays second base Brandon Lowe and the latter by Boston Red Sox second stop Xander Bogaerts.
Lowe then suffered an injury himself and has been replaced by New York Yankees second base Gleyber Torres, while Minnesota Twins pitcher Jose Berrios replaced teammate Jake Odorizzi.
Meanwhile, among the National League all-stars, Los Angeles Dodgers infielder Max Muncy was called in to replace Washington Nationals third baseman Anthony Rendon, while Pittsburgh Pirates pitcher Felipe Vazquez has replaced Arizona Diamondbacks pitcher Zack Greinke.
Two more pitchers miss out due to injury, with Milwaukee Brewers' Josh Hader replaced by club teammate Brandon Woodruff and Washington Nationals' Max Scherzer replaced by Cincinnati Reds pitcher Sonny Gray.
Injuries had nothing to do with the omissions of Bryce Harper and Manny Machado. The duo both hit the $300-million jackpot as free agents this off season but missed out on selection as did Cleveland Indians infielder Jose Ramirez, who finished third in the MVP voting the past two seasons.