MLB Season Update: Commissioner Rob Manfred Expects Baseball to Be 'Gearing Back up in May'
MLB commissioner Rob Manfred is hopeful the league could be "gearing back up" at some point in May, after the coronavirus outbreak forced it to be postponed.
Opening Day was scheduled for Thursday, but earlier this month the MLB decided to postpone the season with the U.S. in the midst of the COVID-19 pandemic. Just as is the case with the NBA, NHL and MLS, the league stated it will follow guidelines issued by the U.S. Centers for Disease Control and Prevention two weeks ago, which suggested events drawing crowds bigger than 50 people should be canceled or postponed until mid-May at least.
While that timeline isn't set in stone, Manfred is optimistic the league's wheels could start turning again in around two months.
"The one thing I know for sure is baseball will be back," he said on Wednesday night in a wide-ranging interview on ESPN's SportsCenter.
"Whenever it's safe to play, we'll be back. Our fans will be back. Our players will be back. And we will be part of the recovery, the healing in this country, from this particular pandemic.
"Look, my optimistic outlook is that at some point in May, we'll be gearing back up. We'll have to make a determination, depending what the precise date is, as to how much of a preparation period we need."
Significantly, however, Manfred stopped short of suggesting he expect the season to be back up and running by May. More probably, "gearing back up in May" means resume operations, which would in all likelihood include a shortened training period for players.
The MLB commissioner added teams are "probably not going to be able to" play all 162 games, but suggested the league could "be creative" with its schedule and that it was considering a number of contingency plans.
"I think the goal would be to get as many regular-season games as possible, and think creatively about how we can accomplish that goal," he added.
"We're probably not gonna be able to do [an entire 162-game season]", he acknowledged, suggesting the league could "experiment" in a bit to "make sure we provide as many games as possible and as entertaining a product as possible."
Like other major sports leagues across the world, the enforced lockdown is expected to cost the MLB billions of dollars in revenue, which explains why players and teams are looking to resume operations as quickly as possible.
While Manfred did not shy away from the financial implications of the lockdown, he suggested players and teams were keeping an open mind and were working together to find the best way out of an unprecedented crisis.
"Nothing's off the table for us right now," he said. "I think we are open, and we've had some really positive conversations with our players' association about relaxing some of the rules that govern our schedule.
"They're very focused on returning to play and playing as many games as possible. And when you have that kind of positive dialogue, it creates an opportunity to do things that are a little different."
The coronavirus outbreak has ground sports to a halt across the world, forcing the suspension of the NBA and NHL seasons, with the major European soccer leagues meeting a similar fate.
The soccer European Championships originally scheduled for this summer have been postponed to 2021 and earlier this week the International Olympic Committee took the unprecedented decision of postponing the 2020 Olympic Games by 12 months.
As of Thursday morning, more than 69,000 cases have been reported in the U.S., with 1,050 deaths and 619 people recovered, according to Johns Hopkins University, which has been tracking the outbreak using combined data sources.
Over 21,300 people have died since the outbreak of coronavirus began in Wuhan, a city located in China's central Hubei province, late last year. There are over 472,000 cases globally, with almost 115,000 recovered.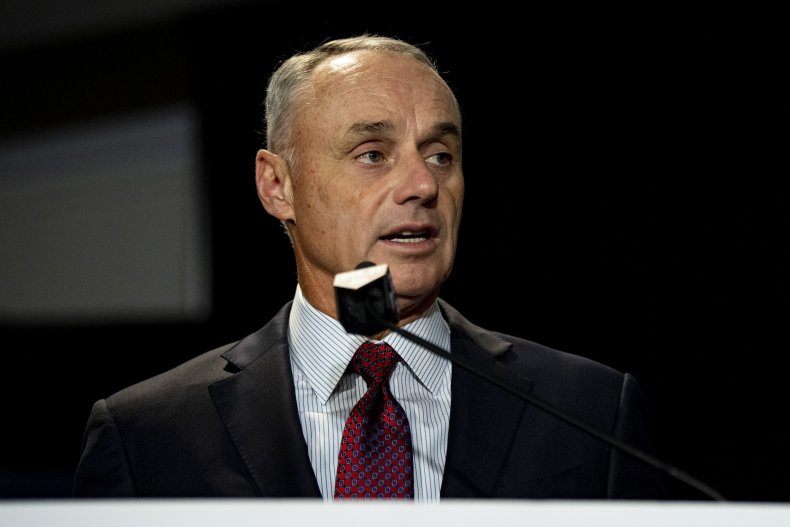 World Health Organization advice for avoiding spread of coronavirus disease (COVID-19)
Hygiene advice
Clean hands frequently with soap and water, or alcohol-based hand rub.
Wash hands after coughing or sneezing; when caring for the sick; before, during and after food preparation; before eating; after using the toilet; when hands are visibly dirty; and after handling animals or waste.
Maintain at least 1 meter (3 feet) distance from anyone who is coughing or sneezing.
Avoid touching your hands, nose and mouth. Do not spit in public.
Cover your mouth and nose with a tissue or bent elbow when coughing or sneezing. Discard the tissue immediately and clean your hands.
Medical advice
If you feel unwell (fever, cough, difficulty breathing) seek medical care early and call local health authorities in advance.
Stay up to date on COVID-19 developments issued by health authorities and follow their guidance.
Mask usage
Healthy individuals only need to wear a mask if taking care of a sick person.
Wear a mask if you are coughing or sneezing.
Masks are effective when used in combination with frequent hand cleaning.
Do not touch the mask while wearing it. Clean hands if you touch the mask.
Learn how to properly put on, remove and dispose of masks. Clean hands after disposing of mask.
Do not reuse single-use masks.
MLB Season Update: Commissioner Rob Manfred Expects Baseball to Be 'Gearing Back up in May' | Sports