MLB Donated $5k to Cindy Hyde-Smith Campaign—Now It Wants Its Money Back
Major League Baseball (MLB) has asked Mississippi Republican Senate candidate Cindy Hyde-Smith to return a $5,000 donation it made to her campaign, in the wake of the controversy surrounding her comments about attending a public hanging.
The donation was made to Hyde-Smith's campaign on November 23, according to online Federal Election Commission records, nearly two weeks after footage emerged of Hyde-Smith saying—jokingly, she claimed—"If he invited me to a public hanging, I would be on the front row." The comments were made in Tupelo, Mississippi, in reference to cattle rancher Colin Hutchinson, who had shown support for the candidate.
MLB requested that Hyde-Smith return the money, which caused outrage in a state that has a dark history of lynching. Hyde-Smith's Democratic rival in the election, Mike Espy, is black.
"The contribution was made in connection with an event that MLB lobbyists were asked to attend," the league said in a statement, reported The Daily Beast. "MLB has requested that the contribution be returned."
Several other companies also requested a refund of their donations after the clip of Hyde-Smith emerged.
"Hyde-Smith's recent comments clearly do not reflect the values of our company and associates. As a result, we are withdrawing our support and requesting a refund of all campaign donations," Walmart wrote on Twitter after donating $2,000 to the campaign.
Hyde-Smith, who has been backed by President Donald Trump in the hotly contested election, apologized for the comments during a debate alongside Espy on November 20.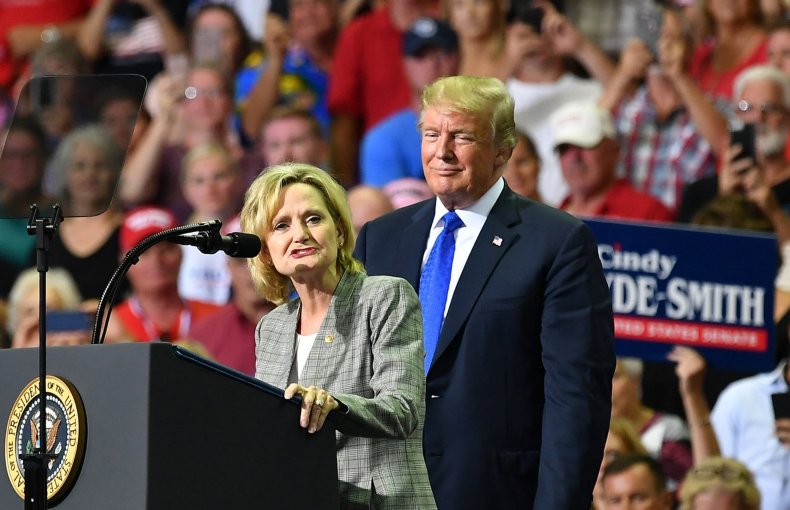 "For anyone that was offended by my comments, I certainly apologize. There was no ill will, intent whatsoever in my comments," she said.
Elsewhere, Hyde-Smith was also found to have posed with for a photograph wearing a Confederate soldier's hat and holding a rifle.
The photo, which was uploaded onto Facebook in 2014, carried the caption: "I enjoyed my tour of Beauvoir. The Jefferson Davis Home and Presidential Library located in Biloxi," reported Politico.
"This is a must see. Currently on display are artifacts connected to the daily life of the Confederate Soldier including weapons. Mississippi history at its best!"
Trump has continued to show his support for the GOP candidate in the run-up to the election, despite the controversies.
"I will be in Gulfport and Tupelo, Mississippi, on Monday night doing two Rallies for Senator Hyde-Smith, who has a very important Election on Tuesday," Trump tweeted. "She is an outstanding person who is strong on the Border, Crime, Military, our great Vets, Healthcare & the 2nd A. Needed in D.C. "