MLB Fans Irate Over Stephen A. Smith Calling Shohei Ohtani 'Dude That Needs an Interpreter'
MLB fans became irate on Monday after ESPN host Stephen A. Smith referred to Los Angeles Angels superstar Shohei Ohtani as a "dude that needs an interpreter."
While speaking about the upcoming MLB Home Run Derby with his First Take co-host Max Kellerman, Smith said "I understand that baseball is an international sport itself in terms of participation...But when you talk about an audience, gravitating to the tube, or to the ballpark, I don't think it helps that the number one face, is a dude that needs an interpreter so you can understand what the hell he's saying, in this country!"
"In other sports...like basketball, you know Dirk Nowitzki was German and Manu Ginobili and others were from other places and guess what Max [Kellerman], they spoke fluent English," Smith continued. "You understood what they were saying when somebody was interviewing them. They didn't need an interpreter...for some reason with Major League Baseball, you got these guys that need those interpreters."
Smith comments' came as Ohtani has continued to shine as a batter, pitcher and outfielder for the Angels, with many suggesting that he could become the "face" of MLB. Ohtani is set to become the first MLB player to hit and pitch during the league's All-Star Game in Denver on Tuesday.
Shortly after Smith made his comments, he was met with backlash from many social media users.
"I've supported @StephenaSmith when he's been big at @espn and when he hasn't, and when he's been right and when he's been wrong," Former ESPN host Keith Olberman wrote in a tweet. "But this, about Shohei Ohtani, is straight-up racism at a time of dangerous anti-Asian violence."
"This requires an apology, and a suspension. Now," Olberman's tweet continued.
"I mean, imagine something even vaguely like this, said about any black athlete or female athlete or even an athlete who doesn't speak to the media, by anybody else. The commentator would have been fired by now," Olberman wrote in a subsequent tweet.
Twitter user Eric Fisher of the Sports Business Group wrote, "This is just ugly and xenophobic. This what ESPN is paying $10 million a year for?"
Andrew G. Haubner of KEZI News in Oregon wrote, "The NFL has really bent the collective brain of how we think about international athletics. People legit can't fathom an international star being the face of an American League."
Shortly after the criticism, Smith posted a video on Twitter attempting to explain his previous comments.
"My segment on Ohtani this morning on First Take, people are misinterpreting what I'm saying. I'm not talking about the state of the game," Smith said. "Some of the greatest players in the world are foreign players."
"I'm talking about the marketability and the promotion of the sport...if you are a sport trying to ingratiate yourself with the American public the way Major League Baseball is because of the problems you've been having to deal with, in terms of improving the attractiveness of the sport, it helps if you spoke the English language," Smith continued. "It doesn't mean anything more than that. Baseball is a great game but baseball's audience is significantly older than the NBA, the NFL audience, etc., etc., nothing more. That's what I was talking about. Nothing more...We know it's an international sport, we know that that's great and baseball having the global appeal that it is, fine. But in the United States, all I was saying is that when you're a superstar, if you can speak the English language then guess what? That's gonna make it that much easier and less challenging to promote the sport."
Despite Smith's most recent comments, just last week he was critical of MLB for the lack of marketing of Ohtani.
"Shohei Ohtani is arguably the greatest force the sport of baseball has ever since Babe Ruth," Smith said. "Baseball has a damn modern-day Babe Ruth on their hands and what are they doing about it?"
He continued, "How many Shohei Ohtani commercials have you seen? How many people are wearing Ohtani jerseys outside of Angels Stadium in Anaheim?"
Newsweek reached out to ESPN for comment but did not receive a response in time for publication.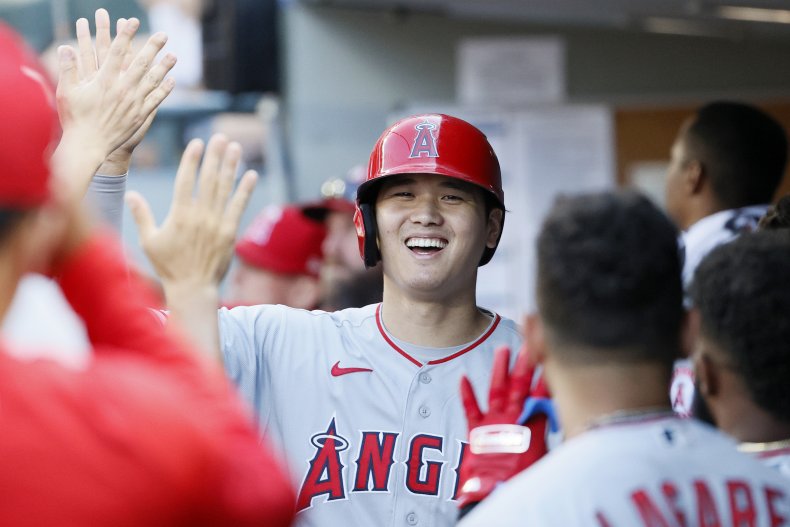 Updated July 12, 2021, 3:35 p.m. ET, to include a statement from Stephen A. Smith.