MLB Fans Outraged Astros' Yuli Gurriel Is Not Suspended From World Series After Racist Gesture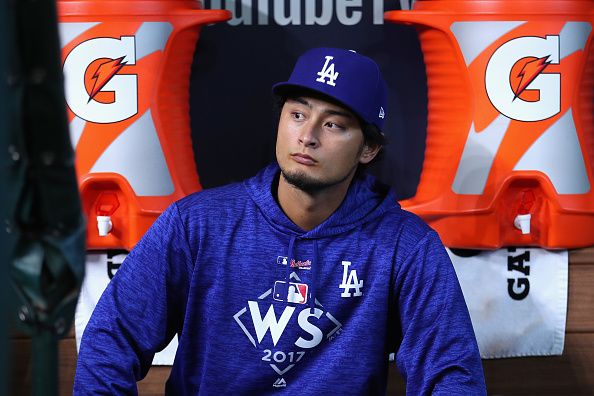 Updated | Fans are angry after Major League Baseball said it would allow Houston Astros' infielder Yuli Gurriel to serve his five-game suspension for an anti-Asian gesture next season rather than during the remainder of the World Series.
On Friday night, the Astros first baseman, Gurriel, celebrated a home run off Los Angeles Dodgers pitcher Yu Darvish by putting his fingers next to the side of his eyes and saying "chinito," a derogatory term in Spanish that translates to "little Chinese." The gesture earned Gurriel the suspension, which he will serve next season, but the reprieve outraged many fans, who pointed out that Gurriel has made his racist gesture on baseball's biggest stage, so he should pay for it there, too.
"Nobody was calling for Gurriel to be suspended for the next four World Series games. But sitting him [Saturday night] would have sent a message," said Twitter user Molly Knight, referring to Game 4 in Houston.
Rebekah Watley also had a problem with the MLB decision regarding the 33-year-old Cuban.
"I am an Astros fan but wouldn't it make more of an impact to suspend him for the rest of the World Series?" she posted.
Others pointed out the hypocrisy of Major League Baseball allowing the suspension to be served when far fewer people would care.
"Racism is not tolerated in our league," tweeted Gerry Dee. "But, it is kind of not tolerated when we are in the playoffs". -MLB #Gurriel
Gurriel may have earned leniency from MLB for saying he did not mean to offend the pitcher.
"I didn't try to offend nobody," Gurriel said through a translator after the game. "I was commenting to my family that I didn't have any luck against Japanese pitchers here in the United States."
Darvish, whose 1 2/3-inning debacle in Game 3 was his shortest appearance in his MLB career, had turned the other cheek towards Gurriel, who had 62 games in the Japanese leagues in 2014.
"No one is perfect," Darvish tweeted. "What he had done today isn't right, but I believe we should put our effort into learning rather than to accuse him. If we can take something from this, that is a giant step for mankind."
The Astros said the team will donate Gurriel's salary during the five-game suspension to charity.
"The Houston Astros were surprised and disappointed by the behavior displayed by Yuli Gurriel during (Friday's) game," the team said in a statement on Saturday. "The Astros and Major League Baseball pride ourselves on the diversity of our sport and in showing great respect to all cultures represented by our players, front office staff, fans and members of the media."
This is not the first time a players has been suspended for a racial remark. Last September, the Seattle Mariners suspended Steve Clevenger for the remainder of the 2016 season after he tweeted that protesters rallying against the fatal police shooting of Keith Lamont Scott should be "locked behind bars like animals."
"BLM (Black Lives Matter) is pathetic again! Obama you are pathetic once again! Everyone should be locked behind bars like animals!" one of his tweets read.
Clevenger apologized, but ended up playing the 2017 season for the minor league Lancaster Barnstormers.
This story was amended on October 29 to correct the spelling of Yuli Gurriel 's name.