MLB Pitching Ace Blake Snell Refuses to Play for Reduced Pay During COVID-19 Shortened Season
Blake Snell, the ace pitcher for the Tampa Bay Rays, said he loves baseball to death. But Snell also said he doesn't love it enough to play it for a reduced salary while having a chance to catch a virus that has caused more than 300,000 worldwide deaths so quickly.
Snell, the 2018 American League Cy Young Award winner for the league's best pitcher, made his comments Wednesday night through a video on social media.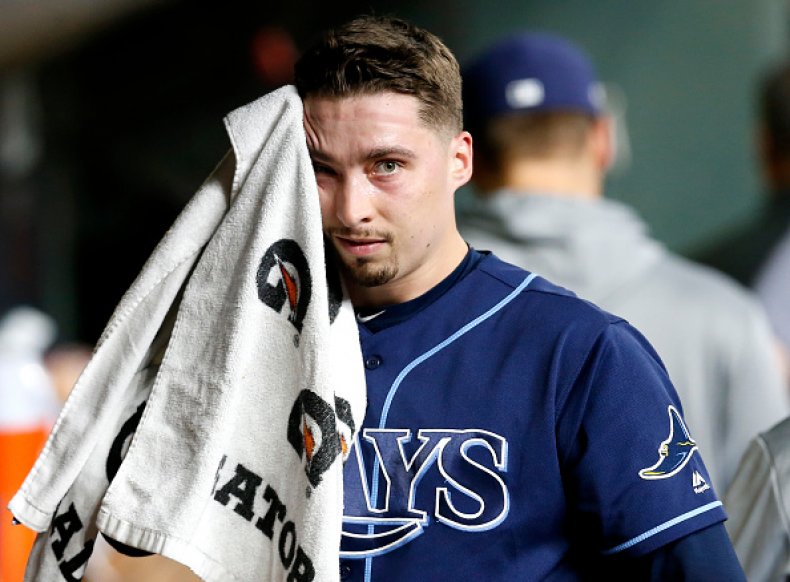 The rant came after Major League Baseball proposed a 50-50 split of revenue during a shortened season.
For Snell, it means not earning the full potential of his $7 million for the 2020 season.
"Y'all gotta understand, man, for me to go—for me to take a pay cut is not happening, because the risk is through the roof," Snell said through his Twitch channel. "It's a shorter season, less pay.
"No, I gotta get my money. I'm not playing unless I get mine, OK? And that's just the way it is for me. Like, I'm sorry you guys think differently, but the risk is way the hell higher and the amount of money I'm making is way lower. Why would I think about doing that?"
Though the 50-50 split is a proposal, it still must go before the Major League Baseball Players Association (MLBPA), which is expected to to nix the split proposal and counteroffer with a deal made in March that guaranteed players a prorated salary.
Baseball shut down indefinitely on March 12 with the growing COVID-19 pandemic, also known as coronavirus. Spring training was canceled with two weeks remaining, and the scheduled Opening Day of March 26 and start of the season has since been postponed.
MLB has stated it hopes to start back by July 4, and that a season would be reduced to 82 games—about half of a 162-game typical season.
Snell, 27, is entering the second season of his five-year contract that's worth $50 million. Snell said he "loves baseball to death," but not enough to "risk my life."
"Bro, I'm risking my life," the pitcher said. "What do you mean it should not be a thing? It should 100 percent be a thing. If I'm gonna play, I should be getting the money I signed to be getting paid. I should not be getting half of what I'm getting paid because the season's cut in half, on top of a 33 percent cut of the half that's already there—so I'm really getting, like, 25 percent.
"On top of that, it's getting taxed. So imagine how much I'm actually making to play, you know what I'm saying?"
There is no state income tax in Florida, but federal income tax would still apply.
Snell later acknowledged his comments made him appear extremely greedy, but clarified his statements with a text to the Tampa Bay Times.
"I mean honestly it's just scary to risk my life to get Covid-19 as well as not knowing and spreading it to the others,'' Snell told the Times. "I just want everyone to be healthy and get back to our normal lives cause I know I miss mine!"