Which Players Have Opted Out of MLB Season Restart?
The novel coronavirus pandemic that forced the MLB to indefinitely postpone Opening Day in March will keep a number of players away from the diamond, when ballparks eventually reopen in July.
After months of discussions between the MLB and the players' union, the baseball season is at long last set to get underway by the end of the week, with Spring Training beginning by the end of the week and Opening Day on the calendar for July 23, almost exactly four months to the day since the 2020 regular season was originally scheduled to start.
A host of players, however, will sit out the 60-game shortened regular season.
On Monday, Colorado Rockies outfielder Ian Desmond announced he would not join his teammates when the season resumes, citing concerns over the ongoing COVID-19 outbreak.
"The COVID-19 pandemic has made this baseball season one that is a risk I am not comfortable taking," the two-time All-Star wrote in a lengthy and heartfelt Instagram post, in which he also addressed the social impact of the protests that followed the killing of George Floyd on May 25, baseball's labor struggle and its lack of diversity.
"With a pregnant wife and four young children who have lots of questions about what's going on in the world, home is where I need to be right now. Home for my wife, Chelsey. Home to help. Home to guide. Home to answer my older three boys' questions about coronavirus and civil rights and life. Home to be their dad."
Desmond is not the only player who has chosen to sit the season out. On Monday, Washington Nationals first baseman Ryan Zimmerman and pitcher Joe Ross both announced they will not play this summer.
Like Desmond, Zimmerman also cited family concerns as the motivating factor behind his decision to skip the regular season.
"Given my family circumstances—three young children, including a newborn, and a mother at high risk—I have decided not to participate in the 2020 season," the 35-year-old said in a statement.
The MLB last week said it would not force players to take part in the season if they didn't feel comfortable and the Nationals expressed support for the duo.
"We are one-hundred percent supportive of their decision to not play this year," general manager Mike Rizzo said in a statement.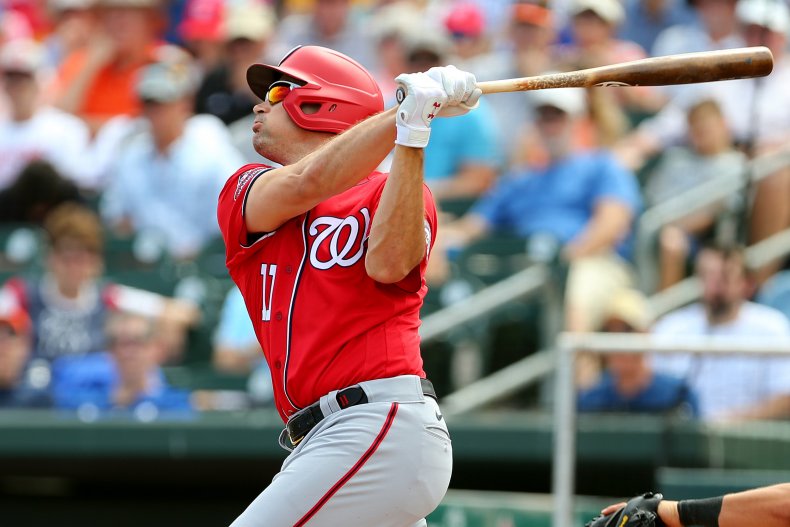 Like Desmond and Zimmerman, Arizona Diamondbacks pitcher Mike Leake has also opted to withdraw on family grounds.
"They took countless factors into consideration, many of which are personal to him and his family," Leake's agent Danny Horwits told MLB.com on Monday.
After MLB owners last week voted unanimously in favor of implementing the terms of the agreement they made with the MLB Players' Association on March 26, the regular season will consist of 60 games instead of the usual 162-game slate, with the postseason featuring 10 teams as it has done since 2012.
Players will earn full pro-rated salaries for every game they play, meaning that on a 60-game regular season basis players stand to earn approximately 37 percent of their full-season salaries.
That means that unless the MLB determines them as "high-risk" players in terms of health, those who opt to sit out the season will relinquish part of their salaries.
In Desmond's case, the prorated portion of his 2020 salary amounts to approximately $5.5 million, while according to Spotrac figures Zimmerman was set to make $740,000 in the shortened regular season and Ross will forfeit just over $550,000. Leake will miss out on approximately $5 million by sitting out.
While the MLB season is finally set to get underway next month, at least 15 states have either paused or reversed plans to reopen after the lockdown as coronavirus cases are again spiking in some parts of the U.S.
As the graphic below provided by Statista shows, by Tuesday morning over 2.54 million cases of coronavirus had been reported in the U.S., by far the highest tally of any country in the world.
Of the over 509,700 deaths recorded worldwide so far, more than 129,500 have been recorded in the U.S., according to Johns Hopkins University, which has been tracking the outbreak using combined data sources.