MLB Won't Pay Unvaccinated Players For Canadian Games As Lockout Ends
Major League Baseball players have just successfully negotiated higher minimum salaries, but unvaccinated players will have to forgo their pay for any games played in Canada this season.
The MLB Players Association reached an agreement with the league on Thursday, officially ending the second-longest work stoppage in the game's history, bumping up minimum player salaries to an unprecedented 23 percent increase from last year.
However, due to Canada's travel requirements, players who haven't been fully vaccinated will have to sit out any games against the Toronto Blue Jays at the Rogers Centre. And, according to a policy included in the new collective bargaining agreement, any unvaccinated player who is forced to miss games in Canada will not be paid for those games.
According to Boston's WCVB-TV, the policy said unvaccinated players won't be paid for games or service time for the entirety of a series played up north. Players receive service time, which determines when a player is eligible for free agency or salary arbitration, for each day spent on the roster or injured list.
Under the Canadian federal mandate, anyone entering the country must have received their second vaccine dose—or a single dose of the Johnson & Johnson vaccine—14 days before entry.
While athletes used to have special status when traveling to Canada, that exemption was revoked earlier this year on January 15.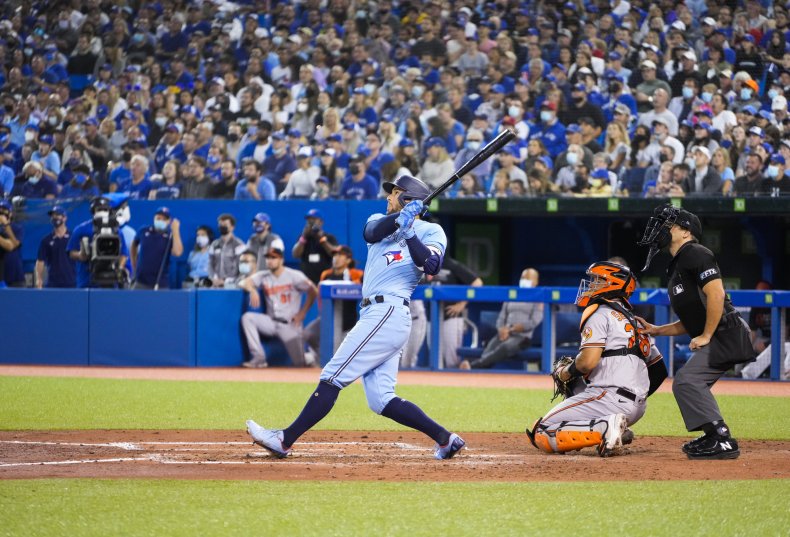 The other teams who are in the American League East with the Blue Jays, the Boston Red Sox, the Baltimore Orioles, the Tampa Bay Rays and the New York Yankees, will be most impacted by the policy since they play the Blue Jays more times than teams outside of the division.
The end of the lockout paved the way for teams to begin negotiating with the league's top free agents, but those talks could be shaped up by these caveats.
At the end of 2021, 88 percent of the MLB's tier-one individuals, which includes players as well as top managers and coaches, were fully vaccinated.
"It's a concern," MLBPA executive director Tony said on Friday. "I think as everyone knows — appreciate and respect the decisions that are made, particularly in regard to player health and community health. But that is an issue, as one in the pandemic itself, that we're navigating domestically, that we're going to have to continue to try to work through here moving forward."
The Blue Jays are anticipating playing a full season in Toronto in 2022 after being forced to play outside of Canada for the entirety of the 2020 season due to COVID restrictions, and only returning to play in Toronto in late July last year. The Jays are anticipating playing to a full capacity stadium at their home opener against the Texas Rangers on April 8.
This season, minimum salaries will begin at $700,000 thanks to the new collective bargaining agreement that was reached after the 99-day lockout. Players will see that figure rise to $780,000 by 2026.
"Our union endured the second-longest work stoppage in its history to achieve significant progress in key areas that will improve not just current players' rights and benefits, but those of generations to come," Clark said in a Thursday statement. "Players remain engaged and unified from beginning to end, and in the process reenergized in our fraternity."