Martin Luther King III: Boycotting Sporting Events Would See 'Overnight' Changes on Racism
Boycotting sporting events would lead to "overnight" change in the fight against racism, Martin Luther King III has said.
Speaking to British broadcaster Sky Sports News on the anniversary of George Floyd's death on Tuesday, the eldest son of Martin Luther King Jr. said players and athletes refusing to take the field would put team owners and leagues under unsustainable pressure.
That, in turn, would lead to meaningful changes reaching beyond sports' traditional boundaries.
"If athletes decide we're not going to play, you will have a major backlash in terms of what these [team] owners will change overnight," he said.
"They'll flip overnight because sport is such a huge industry in our nation and world. And so players have a lot more influence than maybe they even have considered."
The conversation around players' political and social activism has been a key theme of the U.S. sports landscape for the last 12 months following Floyd's death.
Floyd, a Black man, died on May 25, 2020, in Minneapolis after being apprehended on suspicion of passing a counterfeit $20 bill at a store.
His arrest was caught on camera by a bystander, whose video showed then-police officer Derek Chauvin, who is white, kneeling on Floyd's neck for almost nine minutes. On April 20, Chauvin was found guilty of second-degree unintentional murder, third-degree murder and second-degree manslaughter.
Following Floyd's death, several NBA players joined demonstrations in support of the Black Lives Matter movement (BLM). The NBA was at the forefront of social justice campaigns, allowing players to wear social justice messages on their jerseys and take a knee during the national anthem.
The NFL, meanwhile, drastically changed its stance four years after former San Francisco 49ers quarterback Colin Kaepernick first knelt during the anthem to protest against police brutality and racial inequality.
League commissioner Roger Goodell, in June 2020, condemned racism and acknowledged the league had not done enough to heed black players' calls for justice.
The NBA also displayed the BLM's logo on the courts during the postseason and stood by the Milwaukee Bucks' decision to postpone Game 5 of their playoffs series against the Orlando Magic, following the shooting of Jacob Blake.
Blake, a Black man, was left paralyzed after he was shot seven times in his back by a white police officer in Kenosha, Wisconsin on August 23.
The Oklahoma City Thunder and the Houston Rockets also postponed Game 5 of their playoff series, as did the Los Angeles Lakers and the Portland Trail Blazers.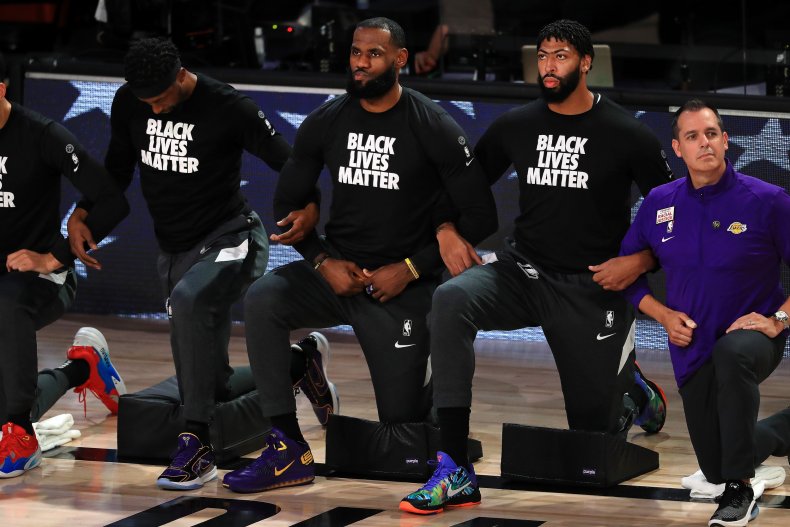 The MLB, MLS and WNBA all followed suit postponing games after players refused to play in protest.
A similar scenario unfolded in April, when all three teams based in the Minneapolis area opted to put sports on hold following Daunte Wright's shooting.
A 20-year-old Black man, Wright was shot dead by a white police officer on April 11 in Brooklyn Center, Minnesota.
Wright's vehicle was stopped over an alleged traffic violation, before he died as a result of what Brooklyn Center Police Department chief at the time, Tim Gannon, described "an accidental discharge."
The Minnesota Timberwolves postponed their home game against the Brooklyn Nets, while the Minnesota Twins matchup against the Boston Red Sox and the game between the Minnesota Wild and the St. Louis Blues met the same fate.
King, admitted calling for players to boycott events was a "sacrifice for the community," but insisted it was crucial high-profile athletes made the most of their platforms.
"If NFL ballplayers said, 'OK, until you have a five or 10-point plan that shows me how are we going to address these issues that impact my community—we're not going to play now,'" he added.
"They'll try to salvage the league. But it's a very bold, very profound, it's a very extreme point of view. We may be at that point where athletes have to use their platforms to say, 'OK you know what, I'm going to make a sacrifice for my community.'"