On Martin Luther King Day, Police Reform Advocates Take Message to United Nations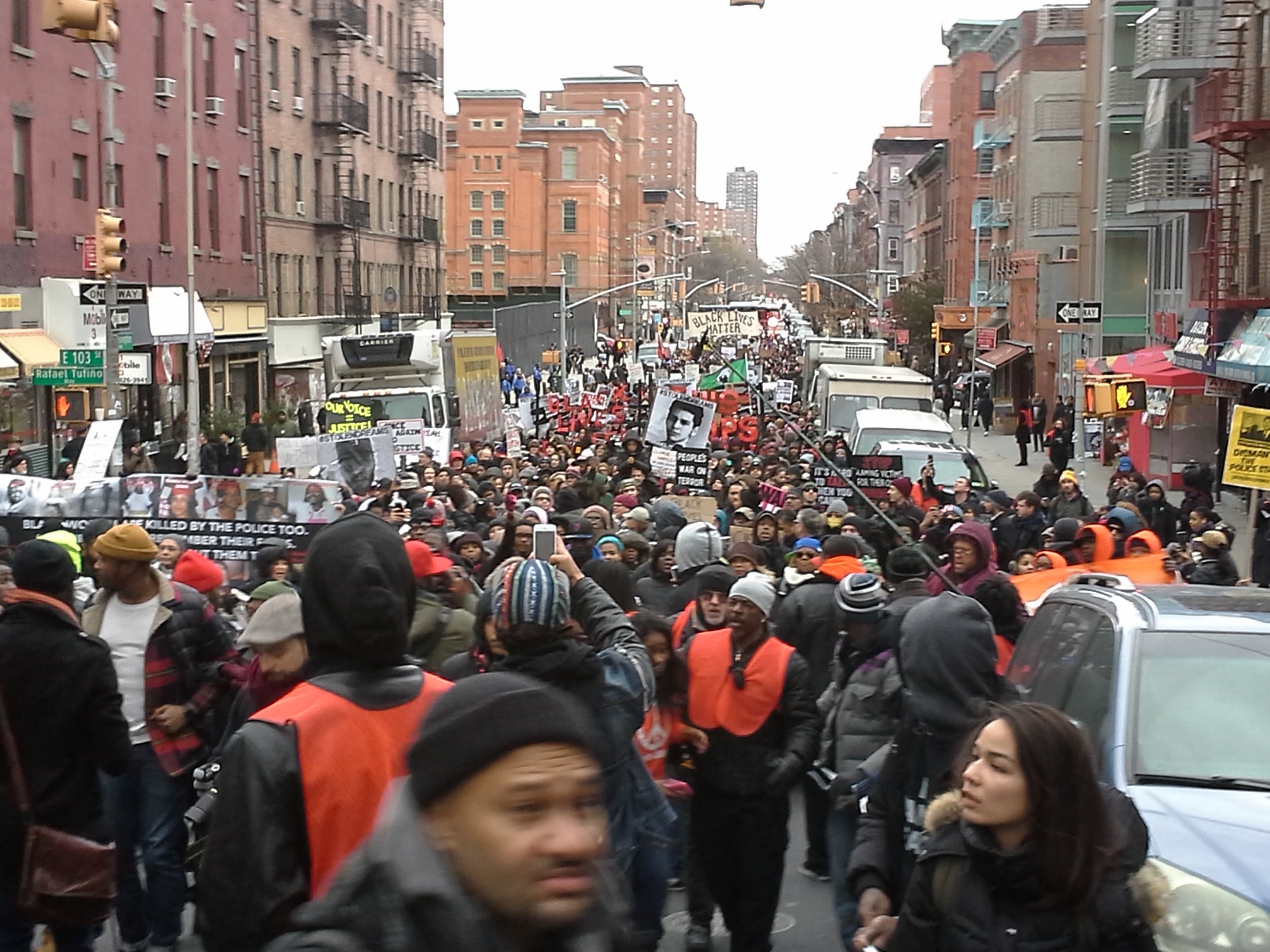 Al-Tariq Shabazz, a 33-year-old New Jersey resident, has already started teaching his sons, 8 and 10 years old, to be careful in their interactions with police. Shabazz taught them to be firm, respectful and very mindful, he says.
Even so, he's still concerned about how vulnerable they are. "You could be right but still get hurt by them," Shabazz says of the police.
Shabazz was one of approximately 1,500 participants marching in the #Dream4Justice March, an anti-police brutality protest that took place in New York City on Monday to coincide with Martin Luther King Day. Chanting "I can't breathe!" as they walked, demonstrators demanded reforms to the New York Police Department and law enforcement agencies nationwide.
The protesters, who set out at approximately 1:15 p.m., walked some four miles from Harlem to the United Nations to draw attention to police brutality worldwide. When they arrived at Dag Hammarskjold Plaza, located across the street from the U.N. on 47th Street between First and Second Avenues, protest organizers again demanded police reform.
The #Dream4Justice March was organized by Justice League NYC, which describes itself as "a task force of juvenile and criminal justice advocates, artists and experts, and formerly incarcerated individuals."
Protesters against excessive use of police force also convened in Union Square, DNAinfo.com New York's Ben Fractenberg reported via Twitter.
Advocates have become increasingly vocal in their demands that the NYPD end tactics that they believe disproportionately impact minorities, such as "broken windows" policing. The premise of "broken windows" is that police pursuit of minor, quality-of-life crimes might stave off more serious offenses. Police reform advocates maintain, however, that the policy antagonizes minorities.
The marches come in the wake of tension between communities of color and police that came to a head this summer in New York City and across the country. On July 17, NYPD Officer Daniel Pantaleo put Eric Garner in a choke hold while arresting him for selling loose cigarettes. Garner, who was unarmed, died shortly after the incident. On Aug. 9, Ferguson, Missouri Police Officer Darren Wilson fatally shot 18-year-old Michael Brown. He was also unarmed. Both events sparked weeks of intense protests over the use of police force, which flared up again after two grand juries decided not to indict the officers involved in both cases. Related protests popped up around the globe.
After the protests, public statements by New York mayor Bill de Blasio on the use of force by police led to intense criticism by the police officer's union and worsened a rift between police and public officials. This was exacerbated by the December shooting of two police officers by a man allegedly seeking revenge for Garner and Brown's deaths. Police officers turned their backs on Mayor De Blasio at subsequent events and embarked on an unofficial slowdown.
The NYPD did not respond to Newsweek's requests for comment at press time.
Mayor De Blasio, speaking at Reverand Al Sharpton's National Action Network, called for continued social change in New York City, but implored activists to do so respectfully, quoting King: "Darkness cannot drive out darkness; only light can do that. Hate cannot drive out hate; only love can do that."
De Blasio said people who "spew hate" toward police officers are preventing social change.
"You're holding us back. Change the policies. Change the practices. Change the laws. But respect the people who protect us," he said, according to an official transcript of his remarks.
At the Justice League rally, Dino Dunnom, a 49-year-old resident of Hollis, Queens, said he hopes the recent deaths of Garner and Brown will prompt people and policies to become more respectful of life.
Dunnom says he gave his son "the other talk, the prevention piece," with regard to the police, telling him how to dress to avoid conflict with cops, for example. But he wishes it was a talk he didn't have to have.
"We should be free to wear and dress and do as we please," he laments, later adding that his son saw the talk as "as a shift from young adulthood to adulthood."