MLK Jr.'s Niece Says Kamala Harris 'Nothing Like Him' After Plagiarism Allegations
Dr. Alveda King, the niece of civil rights leader Martin Luther King, Jr., took Vice President-elect Kamala Harris to task during a Tuesday television appearance for allegedly plagiarizing one of Martin Luther King, Jr's anecdotes.
In an October interview with Elle Magazine, Harris told the story of being a toddler at a civil rights protest. While attempting to stop Harris from being fussy, her parents asked her what she wanted. "Fweedom," Harris allegedly said. Social media users quickly pointed out that Harris's story bore a strong resemblance to an incident described by Martin Luther King, Jr. in a 1965 interview in Playboy.
Alveda King told Fox Business host Lou Dobbs on Tuesday that Harris was making a "big stretch" by referring back to her uncle's remarks.
"Kamala knows that her world view is totally different than the world view of Martin Luther King, Jr. so it's a big stretch for her to compare herself or to sound like him or to use some of his some analogies," Alveda King said.
"For instance, Kamala believes that it's okay to abort babies up to 9 months. And if you meant to abort the baby and the baby lives, then let the baby die. Martin Luther King Jr. served the public. He did not kill the public, and that would include babies in the womb."
"He said, 'Injustice anywhere is a threat to justice everywhere,'" Alveda King continued. "So she's nothing like Martin Luther King, Jr. but she still—there she is, playing on those emotions again."
The transition team of Harris and President-elect Joe Biden declined to comment to Newsweek for this story. Newsweek reached out to Dr. Alveda King for further comment.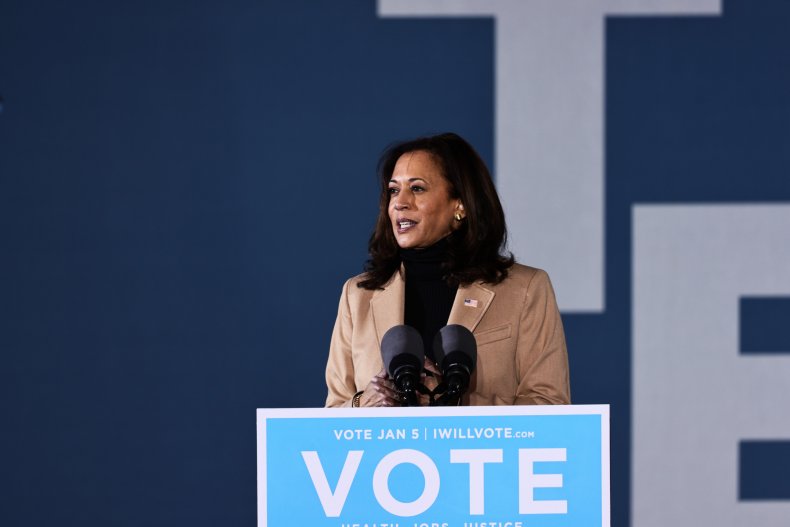 In the version of the story told by Martin Luther King, Jr., he described a Black girl of approximately seven or eight years of age being spoken to by a white police officer at a civil rights protest in Birmingham.
"'What do you want?' the policeman asked her gruffly, and the little girl looked him straight in the eye and answered, 'Fee-dom,'" read Martin Luther King, Jr.'s 1965 interview. "She couldn't even pronounce it, but she knew. It was beautiful! Many times when I have been in sorely trying situations, the memory of that little one has come into my mind, and buoyed me."
Harris had previously detailed her version of the story numerous times, including in her 2010 book Smart on Crime and her 2019 book The Truths We Hold: An American Journey. In her Elle interview, Harris said the story was told to her by her mother.
Vice President Mike Pence alleged during the vice-presidential debate in October that both Biden and Harris supported "taxpayer funding of abortion all the way up to the moment of birth, late term abortion," but Harris has not specifically voiced support for that practice.
"I will always fight for a woman's right to make a decision about her own body," Harris said during the debate. "It should be her decision and not that of Donald Trump and the vice president, Michael Pence."