Martin Luther King's Daughter Responds to Denver GOP Chair Who Said MLK 'Wishes He'd Had a Sniper': 'Don't Use Him for This'
A Republican official has defended herself over a social media post in which she said that Martin Luther King would have wanted a sniper to protect him on the day he was shot dead.
An image shared on social media showed the chairwoman of the Denver Republican Party, Kristina Cook, holding a rifle, with the words underneath "I bet Dr. King wishes he'd had a sniper on his side that day," KUSA-TV reported.
King was assassinated by James Earl Ray on April 4, 1968.
But Bernice King, the activist's daughter, responded on Twitter by saying: "Listen to his speech, 'I've Been To The Mountaintop,' delivered the evening before he was assassinated.
Newsweek subscription offers >
"My father knew his time on earth was short. He stood by his nonviolent philosophy. He would not have wanted a gun battle on his behalf. Don't use him for this.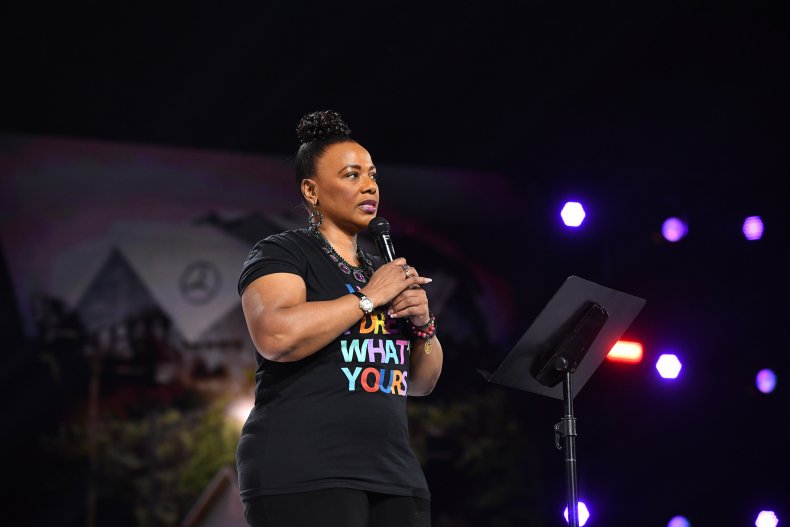 King's tweet widely circulated and sparked much comment. One person tweeted criticism of Cook by saying, "my understanding of the late Dr. King was that he would stand bravely for what he believed was right, without advocating violence or armed conflict."
Cook did not deny making the statement, but said the meme combining her words with an image of her holding a gun was created by political opponents to misrepresent her.
Newsweek subscription offers >
The Colorado Times Recorder reported that Cook had made the comment after another Facebook commenter posted an old photo of Cook with a gun.
In a written statement, Cook said: "Regardless of the context of the conversation, my comment about Dr. Martin Luther King, Jr. drew the attention of Dr. Bernice King.
"Her tweet helped me understand that while I wish that he'd had a protective detail on that day so that he'd still be with us, that would not have been her father's wish.
"I have reached out privately to Dr. King to thank her for helping me understand her father's perspective. I will also be issuing a public response to her tweet following an opportunity to speak with her further.
"We could use Dr. Martin Luther King's presence in this divided world. Doctored memes like the one being circulated of me only serve to increase the division, when in a case like this both sides share the same ultimate respect for Dr. King," she added.
Cook is a renowned talk radio host in Denver and has defended conservatives and their causes. On September 18, she is scheduled to give a speech to Douglas County Republican Women about "Being an Effective Republican in an Unaffiliated World," the Colorado Times Recorder reported.
Martin Luther King's Daughter Responds to Denver GOP Chair Who Said MLK 'Wishes He'd Had a Sniper': 'Don't Use Him for This' | U.S.