MLK's Youngest Daughter Calls NASCAR 'Family' After Racing Circuit Bans Confederate Flag and Promises Change
NASCAR made major headlines Wednesday after announcing it would prohibit Confederate flags from being flown or displayed at any of its events or properties. As the news made laps around social media, the youngest daughter of Martin Luther King Jr. chimed in and called NASCAR "family."
The tweet was short, and very much to the point.
"#NASCAR, family...," Bernice King tweeted Wednesday night, about an hour after NASCAR's announcement and 30 minutes before the Wednesday night race in Martinsville, Virginia.
Bernice King is the youngest child of the late Martin Luther King Jr. and Coretta Scott King. She was just 5-years-old when her father was assassinated in 1968.
Her father became one of the historical faces of the civil rights movement in the U.S., and his legacy is not only commemorated with a federal holiday, but resurrected during almost every modern-day civil rights and social justice movement.
NASCAR has been a predominantly-white sport in North America, and mostly male at that. During the aftermath of the May 25 killing of George Floyd in the hands of the Minneapolis police, there have been protests of the death that sparked change around the country.
NASCAR, being one of the few sports even competing during the current COVID-19 pandemic (coronavirus), the racing league took it upon themselves to implement some social justice changes.
Last week, NASCAR ended its requirement of all racing teams/drivers/crew chiefs to stand during the national anthem. And on Wednesday, NASCAR issued a statement that said it will prohibit the Confederate flag from being flown or displayed at its events.
"The presence of the confederate flag at NASCAR events runs contrary to our commitment to providing a welcoming and inclusive environment for all fans, our competitors and our industry. Bringing people together around a love for racing and the community that it creates is what makes our fans and sport special. The display of the confederate flag will be prohibited from all NASCAR events and properties."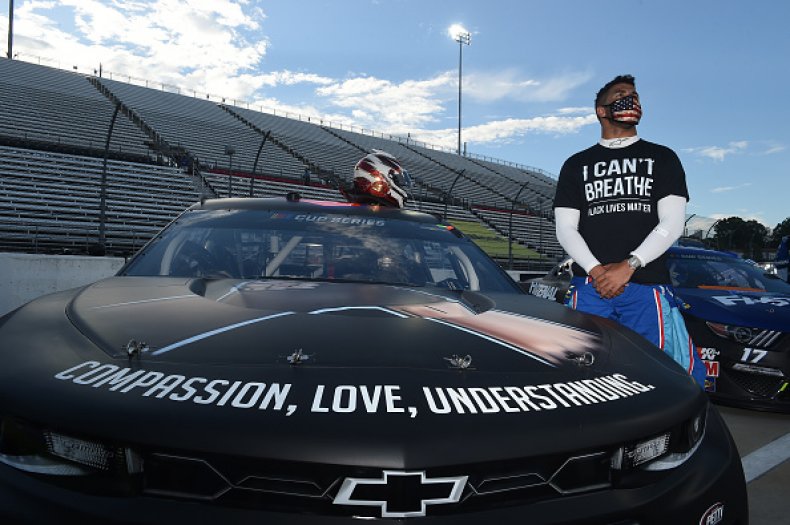 The move comes just a couple of days after NASCAR's only top-tier black driver, Bubba Wallace, who drives the No. 43 McDonald's Chevrolet, said he wanted to see the Confederate battle flag banned from NASCAR events, and that he will have "Black Lives Matter" on his car, that will be painted black—with all of his sponsors still on there, of course.
It also comes after NASCAR last weekend lifted its policy requiring teams to stand during the national anthem. NASCAR official Kirk Price, who previously served three years in the U.S. Army, knelt on the track and raised his fist, which drew praise from Wallace.
"If I would have seen it, I would have went there and stood next to him, kneeled next to him because it's such a powerful move," Wallace said. "A man, an incredible man, who has served our country, kneeling down. People think it's disrespecting the flag and going against our military, and it's definitely not.
"I was so uneducated what the kneeling meant when it started but now reading about it and what it stands for," Wallace continued. "I'm still doing a lot of learning myself, don't get me wrong, I don't know everything about what's going on in the world but that's what we are trying to deliver the message. Listen and learn to be able to better educate ourselves."
During the hour-long pre-race show on Wednesday, every announcer and many of the race car drivers pledged to change how they view social justice issues, particularly to those in the black community.