MLS Player Says It's 'Baffling' That Fans Don't Support Players Kneeling for Anthem
Enhanced security was expected for Sunday night's Major League Soccer match between FC Dallas and Nashville SC after an incident between the teams earlier this week in Dallas involved fans throwing objects onto the field. The reason? The players kneeled for the national anthem as a way to support the Black Lives Matters movement, and some fans reportedly got unruly.
There were incidents before, during and after the 1-0 Nashville SC win that led to a fan getting ejected, and the teams vowed to not enter the field Sunday prior to the national anthem.
During last week's game, there were boos during the anthem, and one fan who threw a water bottle at the players while kneeling was removed from the stadium. Among the players riddled with insults was FC Dallas defender Reggie Cannon, who called the acts "absolutely disgusting."
"You can't even have support from your own fans in your own stadium," Cannon said. "It's baffling to me.
"As a team we try to give the best possible product on the field, and these last six months have been absolute hell for us. Absolute hell."
The teams on Wednesday played before an announced attendance of 2,912 fans, the FC Dallas website stated on its stat sheet. Sunday night's attendance was unknown at time of publication.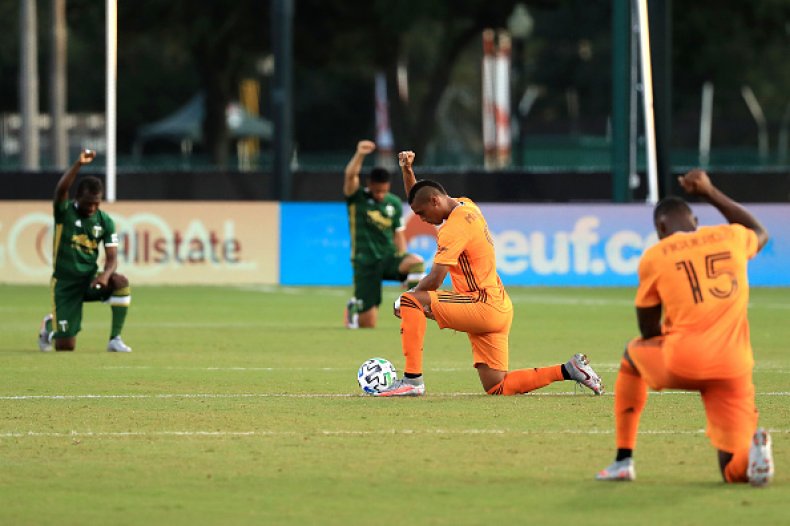 Dallas and Nashville are the only two teams not playing the MLS is Back Tournament in Orlando, after both teams reported high numbers of positive COVID-19 cases. Therefore, they're playing a series of games against each other. Wednesday was the first official game back for either team since the abrupt postponement last March.
Now that both teams are ready to continue this budding rivalry, it has a new twist. FCD issued a statement this week that said neither team would be on the field for the national anthem before Sunday's match in Frisco, a suburb north of Dallas.
"FC Dallas supports our players and fans in their right to express themselves in a peaceful manner," the statement read. "The National Anthem was played before last night's match while the players were on the field which Major League Soccer requires when fans are in attendance. While we understand the decision to stand or kneel for the National Anthem is a polarizing issue, we hope that FC Dallas can be a leader in helping our community accept diverse viewpoints in a respectful way as we all work together in the ongoing fight for racial equality."
Since Cannon, the aforementioned Dallas defender, was central to the game last week, he has allegedly received "death threats." The FC Dallas brass issued a statement that defended him.
"We want to be clear: We love and support Reggie Cannon. The racist comments and death threats he has received are repulsive and unacceptable. There is no place in our sport, or in our country for that matter, for the kind of horrific vitriol Reggie has had to endure today. Hateful or violent threats are never warranted – especially when they are directed toward a member of our FC Dallas family. We will continue to work together – with our players, our coaches and our fans – against racism and in the cause of equality for all.
-Clark Hunt, FC Dallas Chairman and CEO
-Dan Hunt, FC Dallas President"
This is the same Hunt family who own the Kansas City Chiefs, which earlier this year won their first Super Bowl in 50 years.