Major League Wrestling's Future Begins With Saturday Night SuperFight Pay-Per-View
It's a great time to be a wrestling fan.
There's so much content to digest from all around the world. Mainstays like WWE and New Japan Pro Wrestling continue to produce content while fresh brands like All Elite Wrestling have given wrestling fans, realistically, something to watch every day of the week. But there's one promotion that is looking to increase its visibility and throw its hat in the metaphorical ring, and that's Major League Wrestling (MLW).
"Major League Wrestling. There's a lot of comparisons made to AEW who is compared to WCW, and MLW is being compared as a new ECW. That's because we showcase a lot of next-gen talent and a lot of crazy matches," MLW owner and promoter Court Bauer told Newsweek. "It's a more aggressive show."
The Westchester-based promotion is getting ready for its first-ever pay-per-view, Saturday Night Superfight on November 2. Headlined by the MLW World Heavyweight Championship match between current title holder Jacob Fatu (the nephew of former WWE star Rikishi) and famed luchador LA Park, Bauer hopes Saturday's show positions the promotion for bigger and better things.
But the journey to Saturday Night Superfight has been a long one for Bauer and the MLW crew.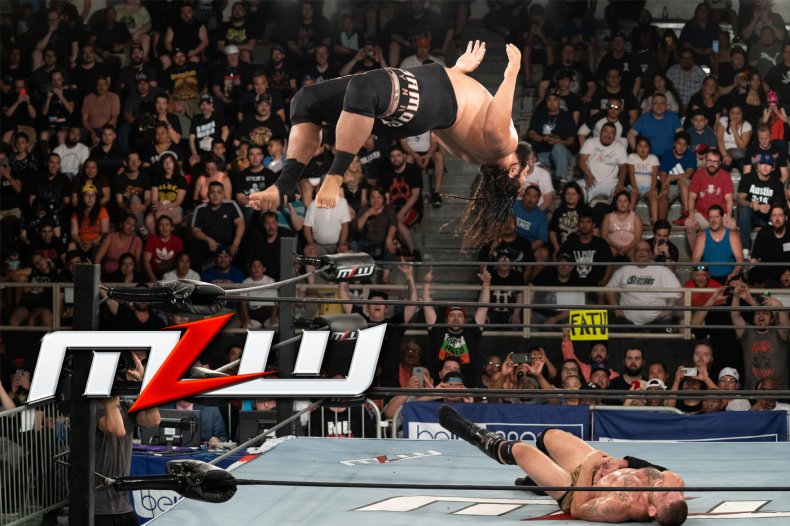 MAJOR LEAGUE BEGINNINGS
Bauer started MLW in 2002, and for two years he put on and promoted shows under his new League. However, the promotion was put on "pause" in 2004 and Bauer would temporarily find himself working in the WWE.
"When I started MLW I was 20 [or]21, and everyone who is that age thinks they have the whole world figured out until they get out in the world," Bauer recalls.
At the time, MLW was on regional television in big markets like Dallas and Philadelphia while also appearing internationally in the United Kingdom and Japan. But Bauer felt he was missing a piece that could bring MLW together, something he found working in the WWE.
"It's like getting your Masters at the heart of pro wrestling and learning from the greatest promoter outside of PT Barnum," Bauer said. "And I was able to harness all these new skills. Learning how he runs a company and the tenants that he used to hold people accountable. [Vince] runs his company with ruthless efficiency. If you screw up he wants you to man up to it, and if you do he wants to teach you."
Bauer offers World Championship Wrestling (WCW) as an example of a company that had no accountability and was "blase" and lackadaisical backstage before its demise. And while Bauer believes at 75 Vince McMahon's micromanagement is hurting the WWE's growth and profits, the promotion has stayed on top for so long because of how he ran it.
In 2011, MLW COO Jared Saint Laurent suggested Bauer start a podcast to promote the DVDs of the first incarnation of the promotion. Bauer had a warehouse full of matches from the first run of the company that he needed to sell, so what was supposed to be a short-term project ballooned into the MLW podcast network, the home for more than 20 shows starring Konan, Bruce Prichard, Tony Schiavone and more.
From there, rapper and wrestling fan Wale approached Bauer in 2014 to put together a crossover event for his album. The two worked together to produce a rap/wrestling podcast. That relationship would lead to the rapper telling Bauer in 2017 after WaleMania - an event that blends wrestling and entertainment - in Orlando that he should bring back MLW.
"[Wale] along with my COO, who twisted my arm, told me to have one more go," Bauer said. "And that was in October 2017, and surprisingly [the show] did very well. Media has changed in how wrestling was covered since I last promoted. The hunger for wrestling has changed, the landscape has changed, social media was now here, and so there was a lot of energy around this."
Three to four weeks later, Bauer found himself in meetings with networks shopping an MLW weekly series. Eventually the promotion landed at BeIN Sports.
"Without BeIN Sports, I don't think we would have done more than one show," Bauer revealed. "It opened us up to over 50 million households in the U.S., allowed us to do two shows a week - one in English and one in Spanish - and that really had been the stabilizing factor in how we could make all this happen and see growth in 2019."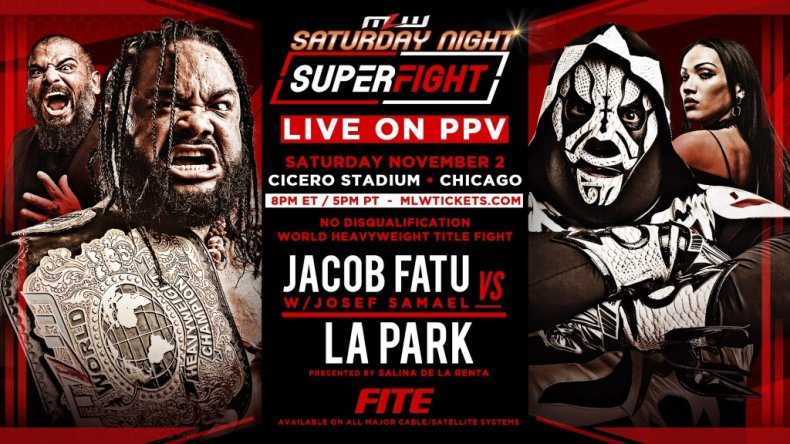 SATURDAY NIGHT SUPERFIGHT
MLW's Saturday Night SuperFight will act like the typical wrestling promotion pay-per-view in that storylines and feuds will end, and titles will be on the line. But unlike others, Major League Wrestling is embracing what makes its roster and shows special: the variety.
"[Saturday Night Superfight] is a real nice mixture of everything for everyone," Bauer said. "You have a great brawling main event [with] two of the greatest brawlers you'll find. Fatu is a freak with his agility and his athletic ability, and then LA Park is a hall-of-fame-caliber luchador. He can brawl, fly and still rock and roll."
Bauer recaps the card for Saturday Night Superfight, and many feature wrestlers that fans might recognize. MLW has the trademark to the Hart Foundation, so the next generation of that family resides in Bauer's promotion.
Teddy Hart will take on Austin Aries, a veteran wrestler who has appeared in just about every promotion. Davey Boy Smith Jr, the son of the British Bulldog in WWE, left New Japan Pro Wrestling and will take on Alex Hammerstone in what Bauer describes as a "power versus power" match.
And then we have Brian Pillman Jr., the son of the former WWE superstar taking on Low Ki, a former MLW champion and renowned MMA fighter in a fight for respect.
AEW fans will get to see Jimmy Havoc take on Mance Warner in a Stairway to Hell match to scratch that itch hardcore fans need. They'll also be able to see MJF along with his partner Richard Holliday in tag-team action as they defend the MLW Tag Team Championships against the Von Erichs, the next generation of the famous wrestling family.
"For us to do something this big, we wanted to make sure there were some dream matches. Every title is on the line and everything feels like a super fight," Bauer said. "It's going to be a lot of fun. There will be some thrills, some chills, some spills [and] some wild stuff."
Having your promotion's first-ever pay-per-view is nerve-wracking enough, but Bauer is confident his team can put on a great show. The MLW crew have put on these specials for almost a year, and Bauer believes that has given them enough reps to make Saturday Night Superfight the best it can be.
"I'm so glad that we started to do monthly live network specials because that was the training wheels for a live three-hour show," Bauer explained. "It's easier to do and prep for a pay-per-view than a live show, because you don't have to figure in commercial breaks or standards and practices on networks."
Bauer is also not looking to compete with the other promotions. He wants MLW to succeed by continuing to keep Major League Wrestling what has made it an underdog success.
"We've been able to create our own sandbox. We don't try to compete in the same crowded sandbox as our competition because you can't outdo WWE in being WWE," Bauer said. "It's large, it's loud, it's the Disney of pro wrestling. And then you have this great competition coming up against them in AEW. I have to create my own lane. It would be a fool's errand to go down that path."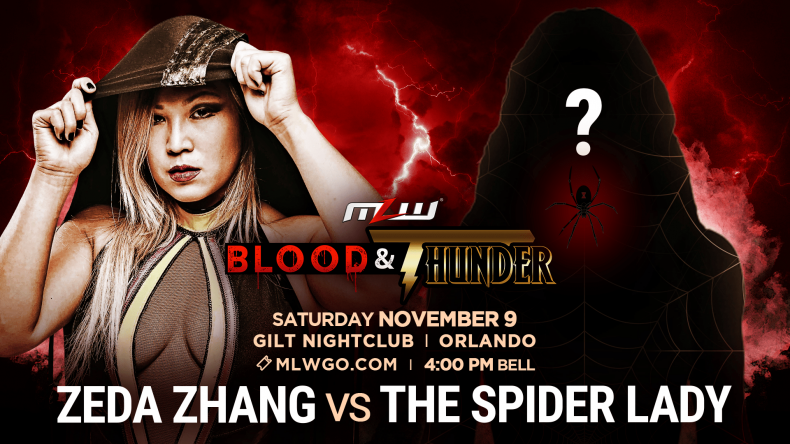 LOOKING TOWARDS MLW'S FUTURE
The second incarnation of MLW is about to hit a new era in its history. After Saturday Night Superfight, the promotion will continue to push for growth and get a piece of the wrestling pie that has come to flourish with the rise of new promotions and media rights deals.
MLW is currently aired in 14 countries and Bauer hopes to expand that reach even further. He says his team was in Europe talking distribution, while Court was on his way to Los Angeles to attend television meetings.
Bauer wouldn't comment on whether MLW was on the verge of something bigger, but he did describe the situation as "fluid."
"There's a time that if you wait long enough that the right deal could come along. If you go too early it could be to your detriment because you are seeing that as [the] only going to get stronger," Bauer explained. "We're the only ones in that space where we could do something. WWE and AEW are locked down, Impact just bought a network. Ring of Honor by design are broadcasting on their own networks. We are the only ones in the hunt, so it's a precious moment for us. Timing is everything, and it's working out for us right now."
What isn't fluid, however, is MLW's future on YouTube. The promotion has prided itself in uploading its weekly programming for nearly 79 thousand subscribers after it's aired, but YouTube doesn't seem like a viable option anymore.
"The problem with YouTube is the ad dollars are soft. You can put 30 ads in there, and it's super soft," Bauer explained. "For us [YouTube] is kind of a puddle jumper for us to a more meaningful streaming deal, and, by design, if we're going to leave YouTube we're going to a place where it's not going to be an issue to find us."
As for talent, MLW signs its wrestlers to 1-2 and 4-5 year contracts, so many of the athletes you see on Saturday will be there for the weekly show afterward.
MLW just acquired Gino Medina, who trained in Booker T's school in Houston. He's a second-generation luchador, whose father was in AAA's Los Gringos Locos faction with Konan and a young Eddie Guerrero in the 1990s.
Bauer describes Medina as having the body of Alberto del Rio with the charisma and athleticism of Eddie Guerrero. He's someone Court is looking to build around, similar to how he signed a 21-year-old MJF.
"I think the key to how MLW succeeded in this space is because we play moneyball. We find undiscovered or undervalued talent, put them in our system, let them work and go from there," Bauer said. "Davey Boy Smith is a good example of that. He started in MLW when he was 18 along with TJ Wilson (Tyson Kidd) before they went on to the WWE. Then he's in New Japan and all these places, but how can nobody find a way to showcase this guy? He's a freak, he's amazing and yet here he's found a home. We let him be a mad scientist and do his catch wrestling playing off his cousin Teddy and Brian Pillman."
While Bauer begins to build and sustain his roster for life after Saturday's pay-per-view, the next big leap is to create an MLW Women's Division. The promotion's first signee was Zeda Zhang, a former prospect of WWE, who trained all over Asia in various fighting styles. She will be wrestling on November 9 to kick off the new division, but Court sees something bigger for the women.
"My goal is to have Major League Women, an entire spin off of MLW, that's my end goal" Bauer said. "There's Major League Wrestling and then there's Major League Womens and that's their own full-hour of programming and they go out and don't have to share the stage. In terms of programming it's a different kind of presentation that would be fun to do, so that's our longterm strategy."
As MLW begins to create weekly content, the promotion only has one hour of programming with a full roster of talent vying for a spot. Creating a spinoff that features only women like Women of Wrestling or Stardom in Japan can help give the women of MLW time to shine.
But that's the future, and MLW's present is now with Saturday Night Super
"When you see MLW it's going to feel as real as it gets," Bauer said. "The talent isn't going to wink wink to let you in on the joke you feel was very real. It's a special connection with the fans that is very interactive, and that's what's been a problem for the WWE. With us you dont know whats going to hit you next. We are totally mad scientists, showcasing different talent and styles. It's eclectic as hell and as real as it gets."
MLW Saturday Night Superfight airs live Saturday, November 2 on traditional pay-per-view through cable providers and on Fite TV.