Conor McGregor Tosses Embarrassingly Awful First Pitch at Cubs Game
Conor McGregor, a star of mixed martial arts (MMA) and recent contestant of the Ultimate Fighting Championship (UFC), threw the ceremonial first pitch at the Chicago Cubs home game Tuesday. McGregor tossed the pitch somewhere between the catcher and the on-deck circle, which made social media land a series of body blows against fighting phenom.
One outlet called it the worst first-pitch in the storied history of Wrigley Field.
Here's the ceremonial pitch Tuesday night at Wrigley Field in Chicago before the Cubs took on the Minnesota Twins for an interleague contest.
McGregor took the mound in a light, checkered suit, did a wind up, tapped his feet on the ground and launched an errant throw from his left hand. The wild throw toward the third-base line even caught the catcher off guard. The ball sailed to the left of the catcher, clunking the brick wall lining the field.
Social media poked fun of McGregor while taking their Twitter jabs at him.
"Holy 50 cent," one follower wrote.
"​​Honestly his best performance in a sports setting for a while now," another wrote.
SBNation called it the "Worst First Pitch Ever" at the Cubs game.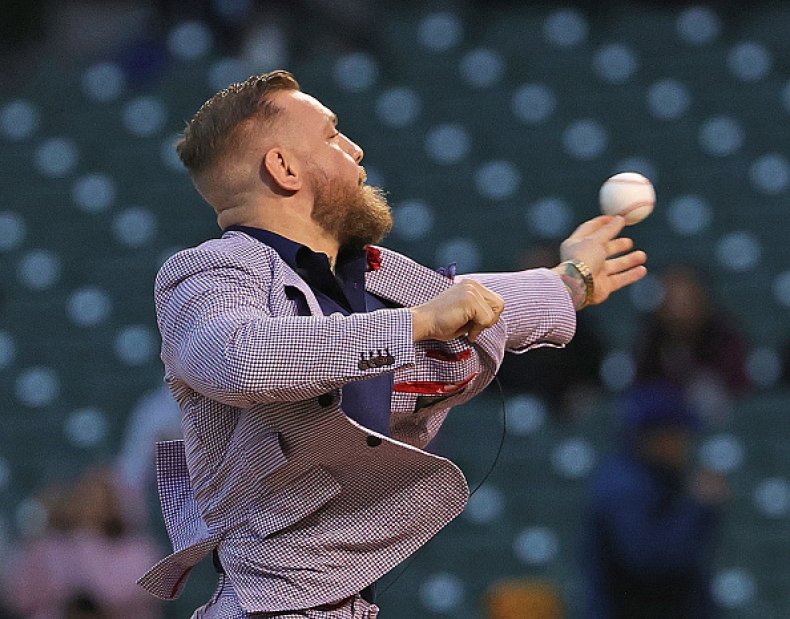 The awkward throw from McGregor had people questioning whether or not the MMA star had ever thrown a baseball, or if he even warmed up before the pitch.
McGregor recently broke his leg in the first round of UFC 264 against Dustin Poirier, in which the fight was stopped in that opening round.
Not many Cubs fans probably saw the pitch. Not only did it look empty behind home plate at Wrigley on Tuesday evening, but the Cubs are so far out of first place in the NL Central that there's no way they can win their division. Heck, they've also been eliminated from contention as a playoff wild card.
That might be a good thing for McGregor, but there's social media circulating his erratic throw already.
McGregor, who's from Ireland and began a boxing career at age 12, is one of the wealthiest athletes in the world. However, he has run into legal troubles the last few years in Ireland, Corsica and the United States. They range from traffic violations to punching people in pubs to alleged sexual assault.
McGregor the last few years has donated more than $1 million to local charities.
Maybe he can find some pitching lessons before taking a professional baseball mound again.
Newsweek reached out to McGregor.