Mnuchin Blames Unemployment on Democratic States Not Reopening
Treasury Secretary Steve Mnuchin suggested COVID-19 regulations, and their effects on business activity in "certain" U.S. states, are responsible for the nation's high unemployment numbers this week.
Mnuchin aired the claims to Congress Tuesday afternoon in a testimony delivered to members of the Select Subcommittee on the Coronavirus Crisis.
"I believe there is no question that the reason we have unemployment is that certain states are not opening up and that there are issues," Mnuchin said, responding to a question from Ohio Congressman Jim Jordan, a Republican, about whether a broader push by Democratic governors to allow residents' return to work would lower unemployment rates.
"Obviously, some of that has to be balanced with the medical issues, appropriately," Mnuchin continued, in reference to reopening protocols, which are generally determined in coordination with state health authorities and based on coronavirus outbreak data.
"But yes, we would expect unemployment to drop significantly between now and the end of the year [with fewer reopening restrictions in states with Democratic leaders]," he finished.
More than 1 million Americans filed job loss claims during the week ending in August 22, according to the latest data released by the U.S. Department of Labor. Its most recent report marked the 22nd week where national unemployment filings exceeded 1 million, although figures published earlier during the pandemic significantly surpassed that number.
Nationwide unemployment reached a record high in May, totaling at least 14.7 percent. Stay-at-home orders enacted across the country to curb the spread of COVID-19, and widespread business closures mandated under those protocols, drove the initial surge in job losses. While some argue that looser restrictions will solve the unemployment crisis, many public health experts say reopening too quickly poses greater risks to societal functioning without a legitimate COVID-19 treatment or vaccine.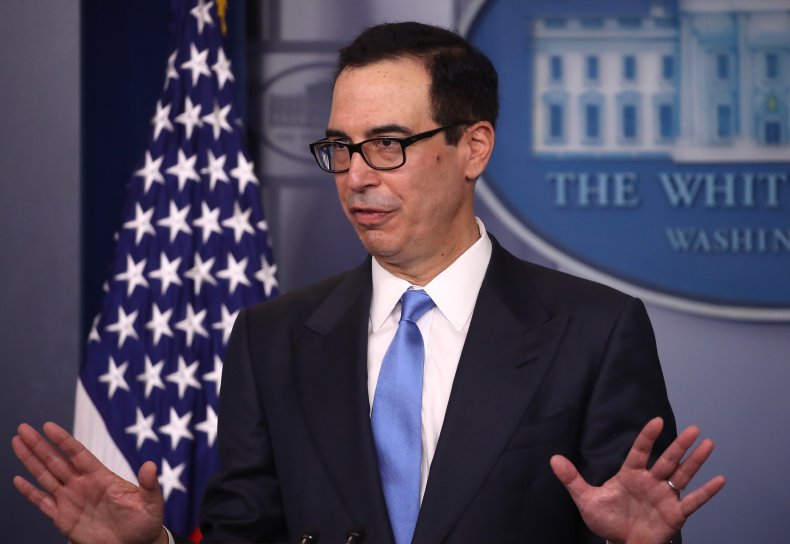 Mnuchin's appearance at Tuesday's Select Subcommittee hearing came amid stalled congressional negotiations related to the next coronavirus relief package. Although congressional Republicans and Democrats found common ground on a handful of measures to include in the legislation, there are several points remaining where the two parties have been unable to come to an agreement. The Treasury secretary acknowledged that the expiration of additional unemployment insurance benefits "is something that we're concerned about."
"More fiscal response is needed," he told the committee, echoing comments from House Speaker Nancy Pelosi in advocating for a prompt bipartisan agreement.
"I believe that Republicans and Democrats need to work together to have additional support," Mnuchin said. "Again, I want to emphasize the president and I do support additional fiscal response, and we've been working hard to try to get a negotiated agreement on a bipartisan basis."
Newsweek reached out to the Treasury Department for comments but did not receive a reply in time for publication.