Government Shutdown: Mnuchin Calls U.S. Bank Chiefs After Worst Weekly Market Fall for a Decade
Treasury Secretary Steve Mnuchin spent the weekend calling the heads of the six largest banks in the U.S. after a week that saw stock markets dive amid a looming government shutdown, an interest rate hike and an ongoing trade war with China.
In a statement on Sunday, Mnuchin said the banking chiefs told him "they have ample liquidity for lending to consumer, business markets and all other market operations."
Read More: Shutdown: Trump rejects responsibility, blames Democrats, stokes fears of drugs, gangs and migrants
Mnuchin said he had spoken to the heads of Bank of America, Citibank, Goldman Sachs, JP Morgan Chase, Morgan Stanley and Wells Fargo.
Mnuchin said that during the government shutdown—which began Friday and affects a quarter of government agencies—the Treasury would maintain "core operations."
"We continue to see strong economic growth in the U.S. economy with robust activity from consumers and business," Mnuchin said. "With the government shutdown, Treasury will have critical employees to maintain its core operations at Fiscal Services, IRS, and other critical functions within the department."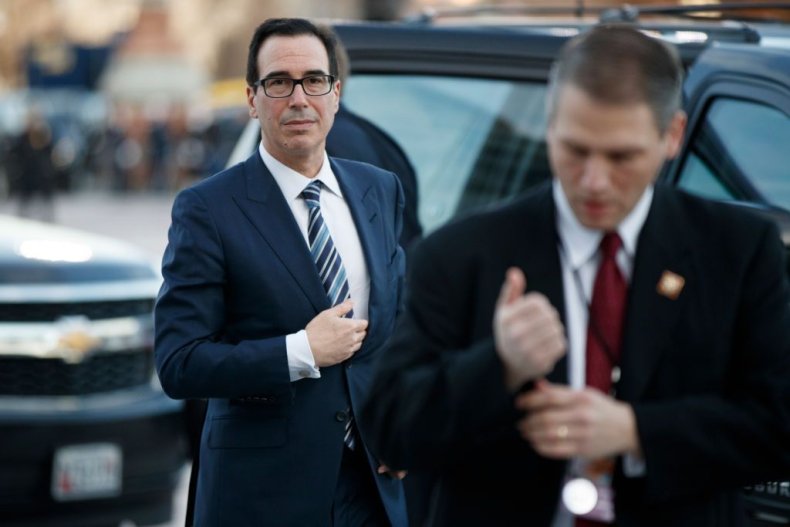 Mnuchin also dismissed a Bloomberg story from Friday that reported that President Donald Trump had sought to dismiss Federal Reserve Chairman Jerome Powell, after the U.S. central bank increased interest rates last week.
"I have spoken with the President @realDonaldTrump and he said 'I totally disagree with Fed policy. I think the increasing of interest rates and the shrinking of the Fed portfolio is an absolute terrible thing to do at this time, especially in light of my major trade negotiations which are ongoing, but I never suggested firing Chairman Jay Powell, nor do I believe I have the right to do so,'" tweeted Mnuchin on Saturday.
Experts warned that Mnuchin's extraordinary announcements could worry rather than reassure investors.
"More than anything else right now, Washington and politics are absolutely driving investor sentiment and market direction, and that can turn on a dime," Oliver Pursche, a board member at Bruderman Asset Management, told the BBC.
The Dow saw its worst weekly plunge since the 2008 financial crisis last week, with the technology focused Nasdaq ending on 20 percent below its peak, placing it in bear market territory.
Among issues rattling investors are the ongoing U.S. trade dispute with China, the interest rate rise and the Friday's partial government shutdown, which followed Congress's failure to agree on a budget over funding for Trump's border wall.
The Treasury said Mnuchin would on Monday meet with the president's Working Group on Financial Markets, which includes Washington's main U.S. financial system officials, and is sometimes called the "Plunge Protection Team."
The group, which was also convened in 2009 during the latter stage of the financial crisis, includes officials from the Federal Reserve, as well as the Securities and Exchange Commission. They will discuss "coordination efforts to assure normal market operations," the statement said.