Mnuchin and Pelosi Revive Stimulus Talks as Democrats Call for Compromise Bill Before Election
As Democrats begin drafting a new scaled-back stimulus proposal in an attempt to break the months-long partisan stalemate, House Speaker Nancy Pelosi and Treasury Secretary Steve Mnuchin on Thursday agreed to revive relief talks.
"I've probably spoken to Speaker Pelosi 15 or 20 times in the last few days on the CR and we've agreed to continue to have discussions about the CARES Act," Mnuchin said during a hearing before the Senate Banking Committee.
"We'll be hopefully soon at the table with them," Pelosi later told reporters on Capitol Hill. "We're ready for a negotiation. That's what we're ready for."
Her remarks came as top Democrats on Thursday confirmed that they were creating a fresh stimulus proposal to break the deadlock. The measure is expected to be roughly $2.4 trillion—a compromise between the $3 trillion Democrat-proposed HEROES Act and the $1 trillion Republican-proposed HEALS Act.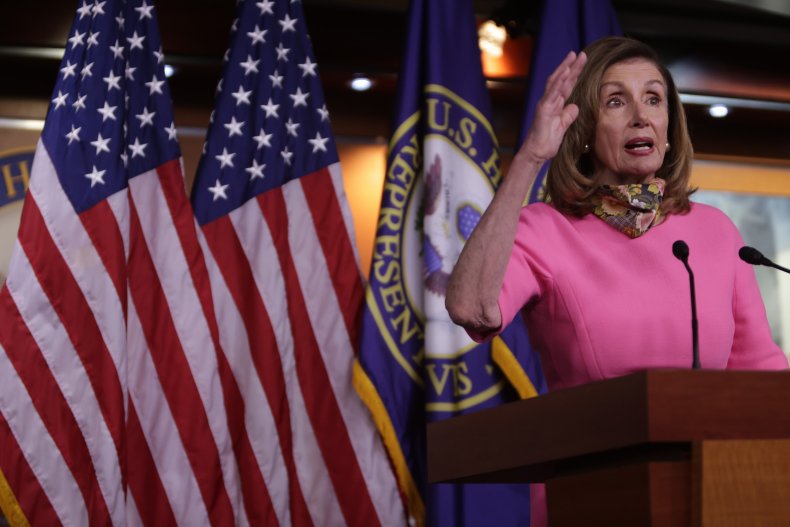 A group of moderate Democrats circulated a letter addressed to Pelosi and House Majority Leader Steny Hoyer on Thursday calling on the party to "continue bipartisan negotiations with our Republican colleagues and the Administration, so that we may deliver meaningful relief for the American people."
The letter, spearheaded by Rep. Josh Gottheimer, co-chairman of the Problem Solvers Caucus, and Reps. Abigail Spanberger and Dean Phillips, urged Democratic leaders to fix the stimulus issue before the November 3 election.
"It is essential that we send the Senate a compromise bill before the election that is reasonable and that can be signed into law by the President of the United States," the moderates wrote, according to a copy of the letter obtained by The Hill. "Passing a bipartisan COVID-19 relief package should be our number one priority in the coming days."
Newsweek reached out to Pelosi's office for comment.
Both sides of the political aisle blame each other for their inability to pass another stimulus package amid the coronavirus pandemic. Democrats have condemned the GOP for failing to provide sufficient funding and Republicans have accused Democrats of using COVID to advance their political agenda.
"The economic impact payments must be made because the rent must be paid," Democratic Rep. Al Green of Texas said during a Congressional hearing with Mnuchin and Federal Reserve Chairman Jerome Powell on Tuesday. "If we do not do this, we will put persons at risk of being evicted at a time when we are having a pandemic that is still taking lives in this country."
A recent Financial Times-Peterson Foundation poll found that 89 percent of American voters believed another stimulus bill was needed to offset the financial implications of COVID. Of those, 39 percent said that both parties are "equally responsible for the failure" to get it done. More than a quarter—26 percent—said Republicans are deserve more blame, while 23 percent said Democrats are more responsible.
Newsweek reached out to Pelosi's office for comment.