Mnuchin's Travel Costs Make 'Carson and the Others Look Like Pikers'
The controversy over how President Donald Trump's cabinet have used taxpayers' money to fly on private jets is not over. New documents obtained by a government ethics watchdog group detail how Treasury Secretary Steven Mnuchin spent nearly $1 million flying on military planes.
The documents released Thursday show that Mnuchin took eight trips on military aircraft between the spring and fall last year, costing a total of nearly $1 million. They were obtained through a lawsuit filed over a freedom of information request by Citizens for Responsibility and Ethics in Washington (CREW), a left-leaning government accountability non-profit.
"We FOIA'd Mnuchin travel docs & he makes [Secretary Ben] Carson and the others look like pikers—he blew over $1 million of your money flying military aircraft, with no apparent justification," tweeted Norm Eisen, CREW's board chair and a former Obama White House ethics lawyer. A "piker" is another name for a tightwad or cheapskate.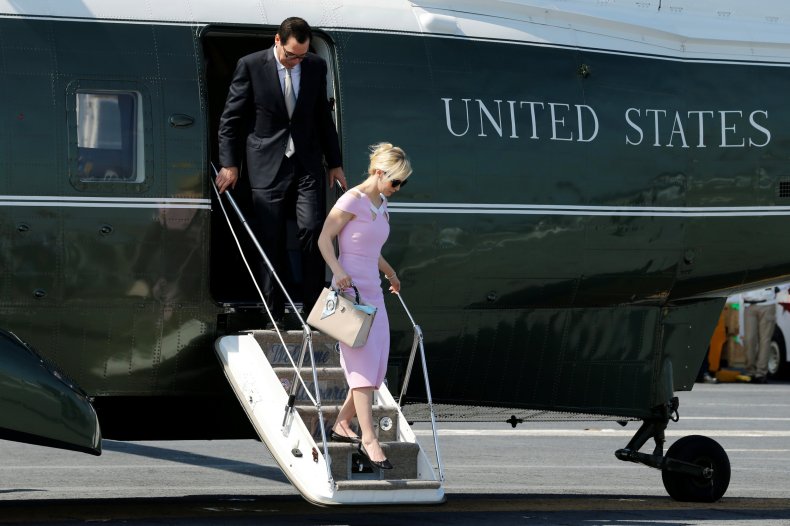 Eisen pointed out that Mnuchin's "predecessors flew commercial" during similar trips. The flights took Mnuchin to Europe, the Middle East, and throughout the U.S.—including an evening in Las Vegas, Nevada.
Several other Trump administration cabinet members and officials, including Secretary of Housing and Urban Development Dr. Ben Carson, Secretary of the Interior Ryan Zinke, and Secretary of Veterans Affairs David Shulkin, have all faced investigations examining how they spent taxpayer dollars.
Carson was recently forced to cancel an order for a $31,000 dining set for his office after its cost came to light. Shulkin was found in an inspector general's report last month to have violated ethics rules for improperly accepting tickets to the Wimbledon tennis tournament and subsidizing his wife's trip to Europe with taxpayer money.
Read more: Ryan Zinke spent $139K on doors—here are all the Trump officials accused of misspending taxpayer dollars
Last year former Secretary of Health and Human Services, Tom Price, was forced to resign after it was revealed he chartered private planes and military aircraft at a cost of $400,000 to taxpayers.
"Treasury Secretary Steven Mnuchin has billed taxpayers for the most expensive flight options available at every turn, appearing to never even consider flying commercial as his predecessors did," reads a CREW release put out Thursday.
Under government rules, cabinet members are supposed to fly commercial unless there is no other option.
In one email obtained by CREW, the Treasury's director of travel points out that a flight to Miami on a private G-IV jet will cost $26,953, but that no commercial flights could accomodate the Treasury's scheduling needs.
The watchdog group says that "none of the requests for White House Mission designation" made by the Treasury explain whether those flights were explicitly authorized by the president.
A Treasury spokesperson told The Telegraph that CREW's claims about Mnuchin's flights are false and a mischaracterization.
Mnuchin's flight with his wife Louise Linton on a military aircraft to Fort Knox before the solar eclipse last August is already being reviewed by the Treasury's Office of Inspector General.
"As part of an administration supposedly committed to draining the swamp," reads a CREW report, "why did the treasury secretary need a military jet to transport himself and his wife, when a readily available commercial flight would have saved thousands of dollars in taxpayer money and likely gotten them to their destination just as quickly?"