Mnuchin and Linton's Solar Eclipse Trip Got the Treasury Sued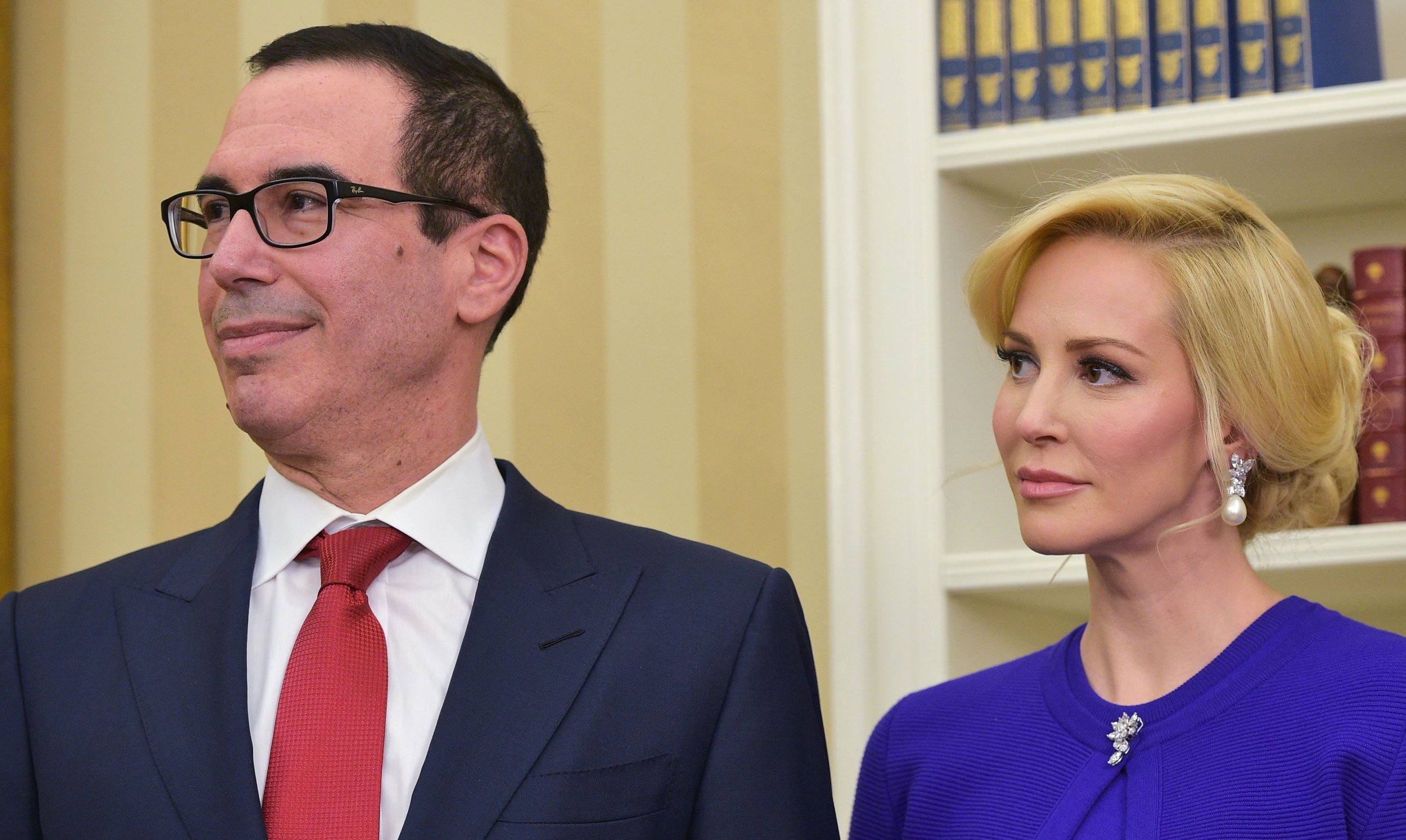 The Treasury Department has failed to provide information on Secretary Steve Mnuchin's high-profile use of a government plane while traveling with his luxury-loving wife to Kentucky last month to check out the solar eclipse and Fort Knox, a new lawsuit argued Monday.
Citizens for Responsibility and Ethics in Washington claimed in the suit that Treasury officials had failed to respond—at all—to the group's expedited Freedom of Information Act request filed August 23.
An expedited federal FOIA request requires a response of some kind within 10 days, though there are exceptions for "unusual circumstances," such as a high level of requests, according to the Department of Justice.
The August 21 eclipse trip gained notoriety when Mnuchin's wife, actress Louise Linton, posted a glamorous picture of herself and Mnuchin getting off a federal jet—with a caption that named each of the designer brands she was wearing, including Hermès, Tom Ford and Valentino.
Linton's post didn't draw much attention until an Instagram user in Oregon commented, "Glad we could pay for your little getaway. #deplorable." That prompted Linton to respond that she and her husband had contributed more to the government than her online critic.
"You're adorably out of touch," Linton said. "Go chill out and watch the new game of thrones. It's fab!"
Linton did not apologize until last week during an interview with Washington Life, saying the criticism she received was "deserved."
The couple had traveled to Lexington, Kentucky, where Mnuchin, a former Goldman Sachs executive, spoke at a lunch held by a local chamber of commerce. Following the lunch, which was also attended by Senate Majority Leader Mitch McConnell, Mnuchin and his wife then toured Fort Knox, the nation's gold-bullion depository, and later witnessed the solar eclipse that swept across the country.
The Treasury Department defended Mnuchin's use of the plane for an "official government trip" and also said it had received approval from the White House. But the treasury's Office of Inspector General announced on August 31 that it was reviewing the trip, according to The Washington Post.
A treasury spokesperson said the agency would not comment on the government watchdog group's pending litigation. But a source familiar with the FOIA request said the treasury's FOIA office had received the request and was responding. It is unclear if the office is. A spokesperson for the ethics group said the treasury had not answered the request, but a FOIA analyst at the treasury told Newsweek that no request from the group could be found—though it's possible the department's FOIA employees "are just backed up."
CREW Executive Director Noah Bookbinder said the request had definitely been filed—and for good reason.
"We filed ... because Americans deserve more information to determine whether there has been misuse of government resources," Bookbinder said in a statement Monday. "We're suing because the government has so far failed even to respond."
Citizens for Responsibility and Ethics in Washington is the group that sued to obtain visitor logs for Trump Tower, the White House and Mar-a-Lago, President Donald Trump's country club in Palm Beach, Florida, which he has frequently visited as president.
The Trump administration said it would release the White House visitor logs this Friday.