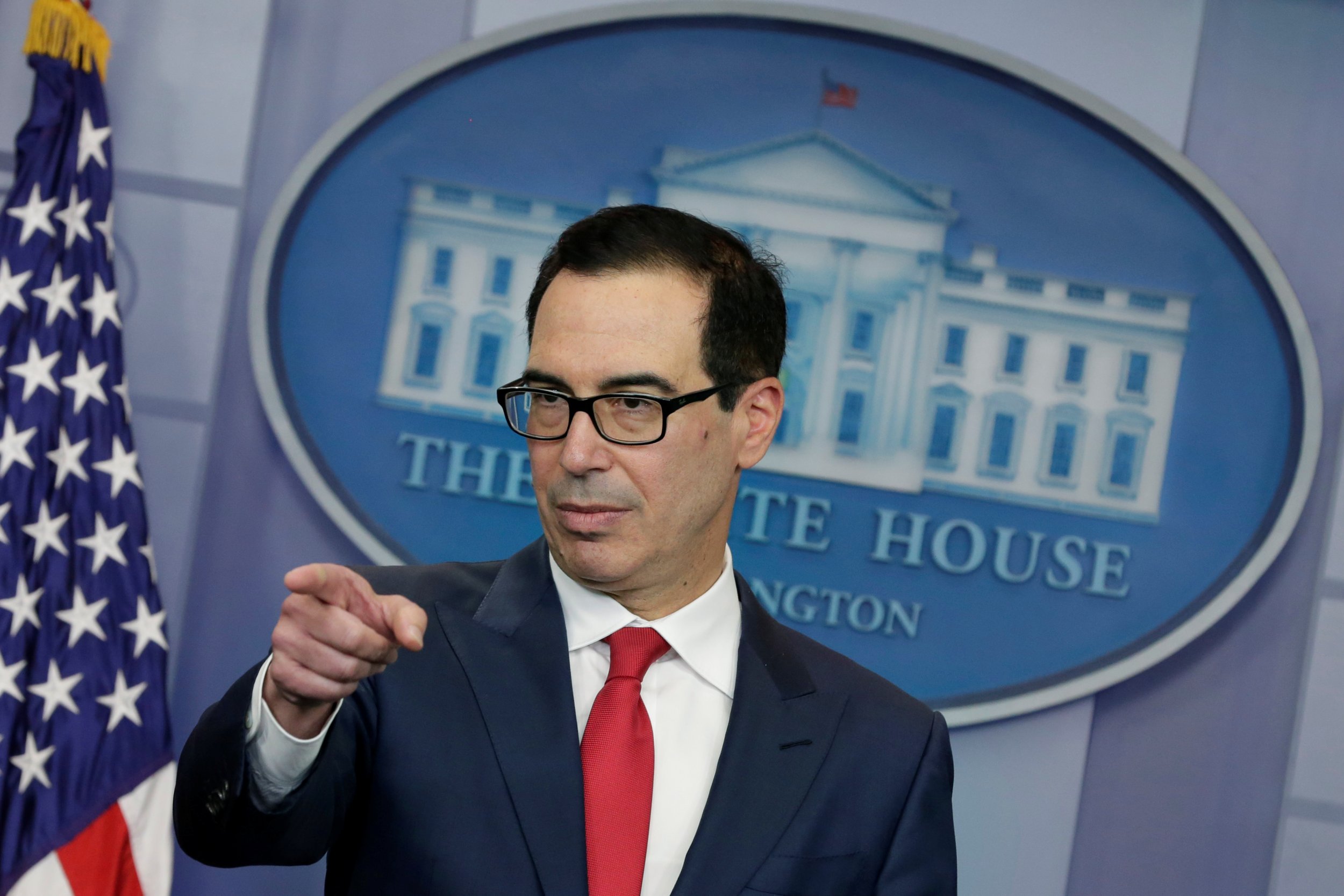 Treasury Secretary Steve Mnuchin said Sunday that it's a compliment to be compared to a James Bond villain. Bond villains, of course, are notorious for their connections to the Kremlin.
Mnuchin was responding to the online backlash that occurred after he and his wife, Louise Linton, posed with the first sheet of one dollar bills that featured the Treasury Secretary's signature. In official photos, Linton held the sheet of money while wearing elbow-length black gloves and a black trench coat, she stared straight into the camera while Mnuchin looked off into the distance with a mischievous grin. Some social media users said the pair looked rather villainous.
"I never thought I'd be quoted as looking like villains from the James Bond [franchise]. I guess I should take that as a compliment that I look like a villain in a great, successful James Bond movie," Mnuchin said on Fox News Sunday.
The most prevalent Bond villain, Ernst Stavro Blofeld, hopes to trigger a nuclear war between the United States and Russia. Another famous Bond villain, Auric Goldfinger, wants to detonate a bomb inside of Fort Knox to contaminate its gold reserves and cause a financial meltdown in the United States. In Die Another Day, Gustav Graves aims to help North Korea launch an attack on South Korea.
"I didn't realize the pictures were public and going on the Internet and viral, but people can do that," Mnuchin said Sunday. Mnuchin posed with the sheet of money for an AP photographer. The photographer, Jacquelyn Martin, countered that there were a number of videographers and photographers present, "it was pretty obvious it was a media op," she said Sunday morning on CNN's Reliable Sources.
Mnuchin, a former Goldman Sachs Executive and movie producer, has been behind a number of films with notorious villains like Suicide Squad, Batman v Superman: Dawn of Justice, and Mad Max: Fury Road. Linton is a Scottish actress.
The pair, who were married in June, have caused controversy by taking a government jet to Kentucky to view the solar eclipse this summer. Linton responded to criticism of the trip on Instagram by saying that she paid more in taxes and sacrificed more for her country than any of her detractors.
In June, the couple received flak for requesting a government plane to take them on their honeymoon trip to Europe.