Mo Brooks Alabama Senate Bid Leaked As Official Campaign Page Changes Reveal Run
Rep. Mo Brooks is planning to hold a rally with former President Donald Trump's advisor Stephen Miller on Monday, as changes to his official campaign page have all but confirmed he will be running for the Senate.
Following an update to the congressman's campaign Facebook page, followers are told to contact "email@mobrooksforsenate.com" with queries. The Mo Brooks for Congress website is also down for maintenance, but linking to the website on an instant messaging app shows a message that would further appear to confirm his plans for a Senate bid.
"Mo Brooks for U.S. Senate is under construction," the message reads. "Send a Proven Conservative Leader to Senate."
At the time of writing, the mobrooksforsenate.com address redirects to the website of an Indonesian ready mix and concrete pump supplier called IndoReadyMix.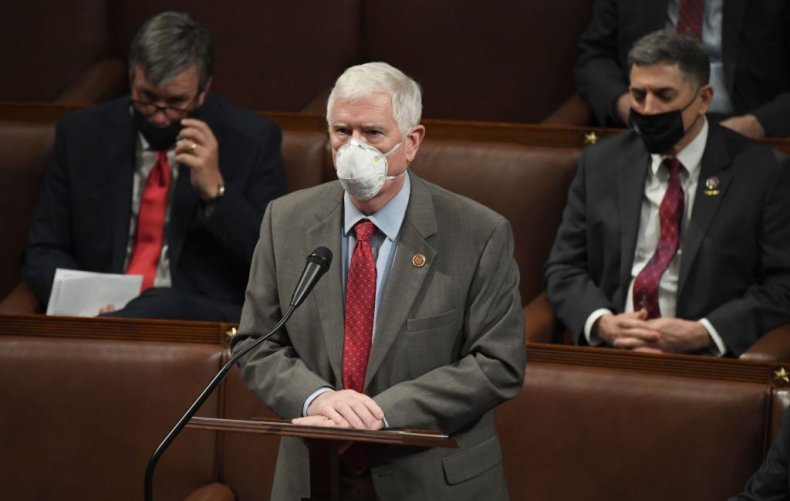 Newsweek has contacted the Mo Brooks campaign to confirm whether he will announce a Senate bid on Monday.
Posting on social media on Wednesday night, Brooks said he would be holding a rally at the Bullet and Barrel shooting range in Huntsville, Alabama, with a guest appearance from ex-Trump policy advisor Miller. "Please join Congressman Mo Brooks and special guest Stephen Miller for an exciting announcement," the event invitation read.
Speaking to the local news outlet AL.com this week, Brooks said he would be announcing whether he would be running for the Senate or remaining in the House of Representatives after the incumbent Sen. Richard Shelby (R) announced his plans to retire.
Sen. Shelby revealed in February that he would not seek re-election in 2022, making him the fourth conservative senator to announce his retirement ahead of the midterm elections.
"Although I plan to retire, I am not leaving today," the 86-year-old said at the time. "I have two good years remaining to continue my work in Washington. I have the vision and energy to give it my all."
Sen. Rob Portman (R-OH) revealed that he would also not be seeking re-election in 2022, joining Sen. Richard Burr (R-NC) and Pat Toomey (R-PA) among the ranks of Republican retirees.
It is believed that the retirements could cause issues for the GOP at the crucial 2022 midterms, which offer them a chance to overturn Democratic majorities in both the House and the Senate.
However, Sen. Shelby's retirement is unlikely to cause Republicans problems in Alabama. The incumbent comfortably held on to his seat at the 2016 election—beating his Democratic rival with almost two-thirds of the vote in the deep-red state.