Alabama's Mo Brooks is slipping in the Republican primary for Senate, according to a new poll.
The congressman is now in third place in the GOP race, the latest survey conducted by McLaughlin & Associates showed. Brooks had support from 17.6 percent of likely primary voters, trailing opponents Katie Britt and Mike Durant. Britt was in second place with 32 percent from likely voters, while Durant lead the pack with 33.8 percent support.
Brooks, who earned Donald Trump's endorsement last year, was ahead of the field just a few months ago. In a December survey from the same polling firm, Brooks had support from 31.4 percent of respondents while Britt had 26.2 percent support and Durant 16.6 percent.
The findings come as Trump mulls pulling his endorsement of Brooks. The former president has weighed into dozens of federal races ahead of the 2022 midterms, touting his picks as the best in political history.
But in an interview with The Washington Examiner on Tuesday, Trump said he was "disappointed" in Brooks's comments last August about the 2020 election. Brooks said at the time that voters should put 2020 behind them and look forward to the upcoming election cycles.
"If it meant what he sounded like, I would have no problem changing [my endorsement] because when you endorse somebody, you endorse somebody based on principle. If he changed that principle, I would have no problem doing that," Trump told the Examiner.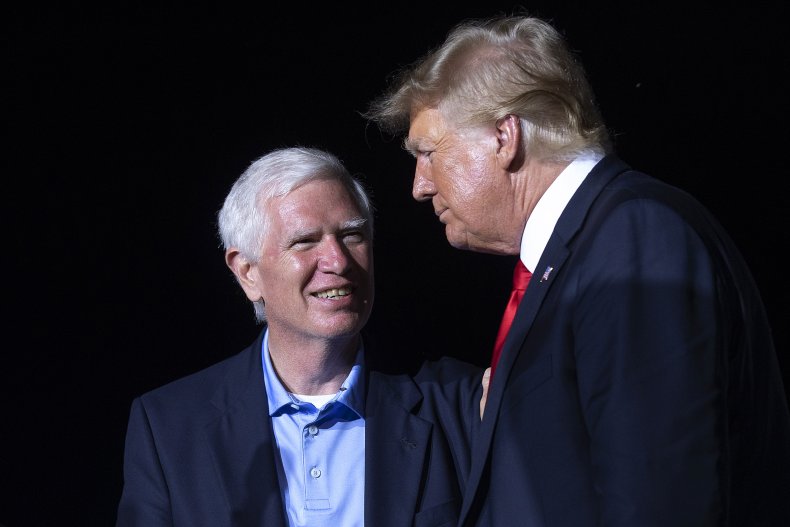 Brooks has been an avid supporter of Trump's baseless claims that the 2020 race was riddled with fraud. He was one of 147 Republicans who voted to overturn President Joe Biden's Electoral College victory.
Brooks also just dropped a new advertisement touting the fact that he spoke at the "Stop the Steal" rally before the January 6, 2021, riot at the U.S. Capitol. In the ad, Brooks rails against RINOs—"Republicans in name only"—and highlights Trump's endorsement.
"On January 6th, I proudly stood with President Trump in the fight against voter fraud," Brooks said in the ad.
When Trump publicly backed Brooks in April 2021, he praised the congressman as a "great Conservative Republican leader." "Few Republicans have as much COURAGE and FIGHT as Alabama Congressman Mo Brooks," Trump said at the time.
In a statement to Newsweek, Brooks spokesperson Will Hampson called the poll "bogus" and accused Britt's team of circulating in order to get on Trump's radar. The poll was commissioned by ForestPAC, the political arm of the Alabama Forestry Association, which has endorsed Britt.
"President Trump also knows Mo's position on 2020 has never changed: the 2020 election was fraught with voter fraud and election theft on a massive scale, and that Mo Brooks was the ONLY one in this race to stand with him on January 6th," Hampson said.
Hampson also said the campaign still has a fundraiser scheduled at Trump's Mar-a-Lago resort in early May.
The Republican primary for Senate in Alabama will take place on May 24.
The latest survey from McLaughlin & Associates questioned 500 likely Republican primary voters, who were interviewed between from March 10 to 13, 2022.
Update 03/18/22, 3 p.m. EDT: This story was updated with more information and background.