Mo Brooks Highlights Good Driving Record, Lack of Drug Use While Defending His Pre-Riot Speech
Republican Rep. Mo Brooks defended his remarks to Donald Trump's supporters at last week's "Save America" rally.
Amid national fallout from the rally and subsequent assault on the U.S. Capitol, Brooks issued a statement Tuesday refuting criticism of his character. In an effort to do that, the Alabama congressman cited his history of abstinence from mind-altering substances and clean driving record, describing himself as a "straight arrow or a 'square.'"
"Let me share a little about myself," Brooks said in the statement, titled, "Congressman Mo Brooks Rebuts Vicious & Scurrilous Fake News Media And Socialist Democrat Attacks."
"I have never smoked tobacco. I don't consume alcohol. I have never taken illegal drugs," the statement continued. "I have never been accused or convicted of any felonies or misdemeanors. In half a century of driving, I have never had a DUI, a reckless driving ticket or even a speeding ticket. I did once misjudge a traffic light and deservedly got a ticket, but that is it."
The statement went on to address accusations related to his rally remarks, which critics pinpointed as a contributory impetus that fueled listeners' insurrection. Brooks described such views as "reckless, defamatory, and deceitful."
Immediately preceding Wednesday's riot, the congressman told an enormous crowd of Trump's followers that "today is then day American patriots start taking down names and kicking ass" in his remarks during the "Save America" rally.
"Because today, Republican senators and congressmen have a simple choice," he added. "Today, Republican senators and congressmen with either vote to turn America into a godless, amoral, dictatorial, oppressed and socialist nation on the decline, or they will join us...or they will fight and vote against voter fraud and election theft and vote for keeping America great."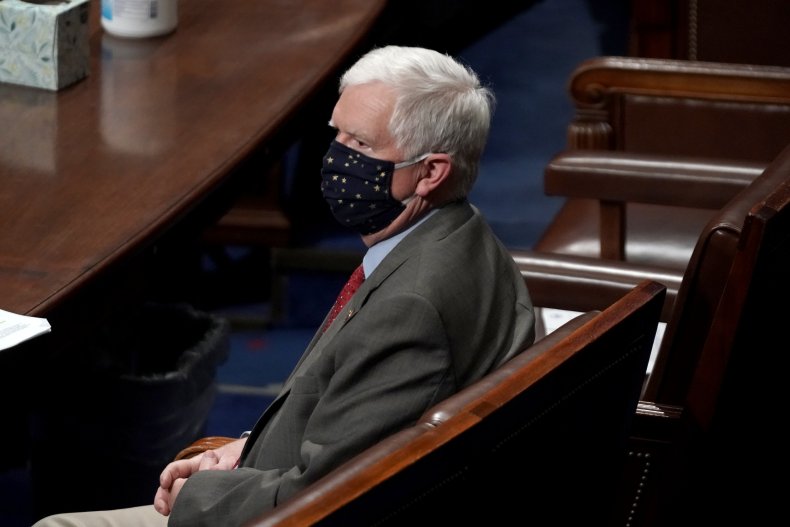 Trump's followers gathered in Washington, D.C., to attend Wednesday's rally as an act of protest against results of the presidential election. Following the event itself, thousands of attendees stormed the U.S. Capitol complex during a violent siege that led to five deaths and numerous injuries. Congress members, who had convened inside the Capitol that day to certify President-elect Joe Biden's Electoral College victory, were evacuated while the complex entered a lockdown.
Brooks—in addition to Trump, and other federal leaders who pushed to overturn results of the general election—confronted fierce backlash in the aftermath of Wednesday's uprising, from the public as well as his federal colleagues. House Democrats Debbie Wasserman Schultz and Tom Malinowski, of Florida and New Jersey, respectively, introduced a censure resolution targeting Brooks on Monday, which suggested that his speech "encouraged and incited violence against his fellow Members of Congress, as part of an assault on the United States Capitol."
Brooks denounced the rioters on Tuesday, echoing responses from prominent Republicans who endeavored to challenge Biden's election win. Many of them became subject to similar backlash, with political figures and civilians arguing that they, too, were responsible for instigating the Capitol attack.
Newsweek reached out to Brooks' office for further comment but did not receive a reply in time for publication.