Mo Brooks Makes McConnell the Enemy as He Begs for Trump's Re-Endorsement
Representative Mo Brooks, an Alabama Republican, issued a Sunday statement urging his supporters to help him convince former President Donald Trump to re-endorse his Senate campaign, arguing that Senate Minority Leader Mitch McConnell, a Kentucky Republican, was the real enemy.
Trump initially endorsed Brooks, a prominent promoter of claims that President Joe Biden's 2020 election win was fraudulent, but later rescinded the endorsement in March. The former president criticized Brooks for telling supporters that they should move on from the last presidential election and look to the future, claiming Brooks had become "woke." The Republican Senate hopeful was also polling in third place at the time.
Despite Trump withdrawing his endorsement, Brooks rebounded in the polls and ultimately came in second place in Alabama's Republican primary on May 24. Katie Britt, a former staffer of retiring GOP Senator Richard Shelby and the former CEO of the Business Council of Alabama, still pulled off a commanding lead, garnering nearly 45 percent of the vote compared with Brooks' 29.2 percent. The two Republicans will now face off head-to-head in a June 21 runoff.
"MAGA Nation, here is my story. Join me in asking President Trump to #ReEndorseMo so that we can send a message to Mitch McConnell by sending a real America First conservative to the Senate on June 21," Brooks tweeted Sunday.
In the statement included with the tweet, Brooks described Britt as a "RINO," an acronym meaning "Republican in name only." He suggested that Trump only rescinded his endorsement because the former president thought it would shield him from McConnell's attacks.
"I had President Trumps' endorsement at the beginning, but then Mitch McConnell spent millions on TV attacking me. At that time, it looked like our campaign was going nowhere, and sadly, President Trump pulled his endorsement," the Alabama lawmaker wrote.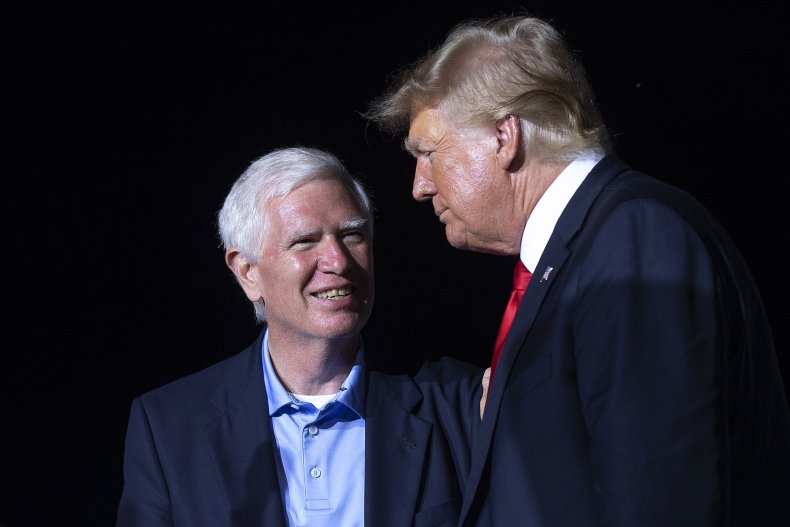 "But then funny thing happened: Mitch McConnell quit attacking us, our campaign SURGED and we made it into the runoff," Brooks continued, who added that he believed Trump "knew what he was doing." The Republican credited the former president with giving his campaign the "kick in the pants we needed."
Brooks floated the idea that Trump had actually been planning to "bait ol' Mitch into thinking we couldn't win and get Mitch to stop attacking us."
Newsweek reached out to a Trump spokesperson for comment.
In late March, Trump released a statement un-endorsing Brooks. He said the congressman "made a horrible mistake recently when he went 'woke' and stated, referring to the 2020 Presidential Election Scam, 'Put that behind you, put that behind you.'"
As Brooks highlighted, McConnell contributed millions to support his top opponent, Britt.
On April 1, the top Senate Republican's Senate Leadership Fund contributed some $2 million to Alabama's Future, a super PAC that backed Britt, according to Federal Election Commission (FEC) data. Brooks has long been a vocal critic of the Senate minority leader and has called his campaign stops "Fire McConnell" town halls, according to AL.com.