Mo Brooks Says 'Donald Trump Has No Loyalty,' Abandoned 'the MAGA Agenda'
Mo Brooks, a Republican U.S. Representative from Alabama, has denounced former President Donald Trump for having "no loyalty."
Brooks, previously known as a staunch ally of the former president, is currently facing a U.S. Senate GOP primary runoff election against Trump-endorsed Katie Britt. Trump withdrew his endorsement of Brooks in March as he was lagging in polls, while maintaining that he ditched Brooks because he had gone "woke" by urging Republicans to put 2020 election fraud claims "behind" them during an August 2021 rally.
Brooks slammed the former president for being disloyal during an interview published Wednesday by AL.com. The congressman, who repeatedly begged for his endorsement to be reinstated by Trump prior to the former president backing Britt last week, also said that Trump "abandoned" conservatives and "the MAGA agenda," and had endorsed candidates like Britt simply because they were leading in the polls.
"It's quite clear that Donald Trump has no loyalty to anyone or anything but himself," Brooks told AL.com columnist Kyle Whitmire. "He looked at who he thought had the best chance of winning and that's who he endorsed."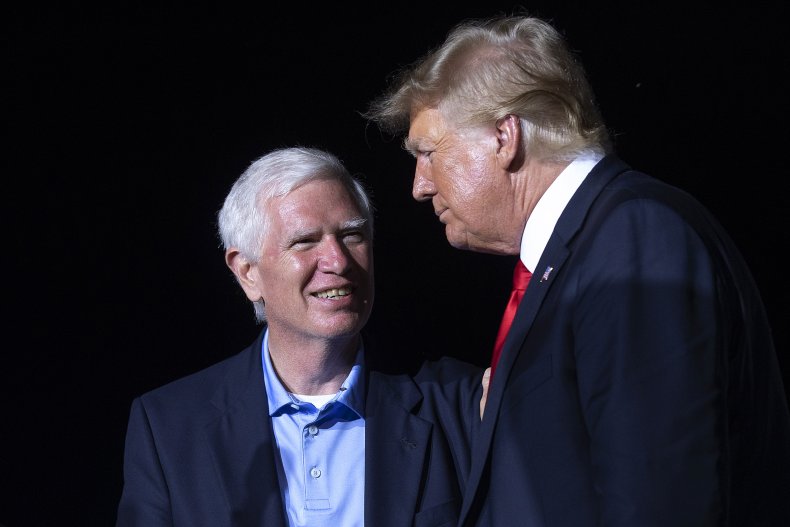 "It had nothing to do with philosophy of government other than that," he continued. "He abandoned the conservative movement and the MAGA agenda in order to try to improve the reputation of his brand."
Brooks advanced to the runoff despite Britt, a former staffer of outgoing Republican Senator Richard Shelby, receiving 100,000 more votes than him during last month's primary. Recent polls have shown him trailing Britt by double digits in the June 21 runoff.
The representative has cited Britt receiving support from Senate Minority Leader Mitch McConnell of Kentucky as evidence that his opponent is not the true "MAGA" candidate. After Trump issued his endorsement last week, Brooks accused the former president of being "conned" by McConnell.
"This is weird: last time Donald Trump talked about Katie Britt, he said she was unqualified for the Senate," Brooks said in a statement obtained by Newsweek. "Donald Trump is the only man in American politics who could get conned by Mitch McConnell twice in an Alabama Senate race. Let's just admit it: Trump endorses the wrong people sometimes."
Brooks remains a loyal supporter of the former president's false claims of a "stolen" 2020 presidential election, regardless of his recent statements against Trump and his urging fellow Republicans to drop the issue last year.
Days before Trump endorsed his opponent, Brooks challenged Britt to an abbreviated debate on Twitter. He said that the debate would consist of only two questions: whether the 2020 election was "stolen" from Trump and if Trump was the true winner.
The representative boasted that his answer to both questions would be "yes." Britt has said that she believes there was "fraud" in the election but has not said that she believes the contest was "stolen."
Newsweek reached out to Trump's office for comment.