Mo Brooks Says Trespassing Warrant Issued For Swalwell Investigator Who Served Lawsuit
Republican Alabama Representative Mo Brooks has announced that an arrest warrant for trespassing has been issued against private investigator Christian Seklecki. Seklecki was hired by Democratic California Representative Eric Swalwell to serve a subpoena against Brooks. The subpoena is part of Swalwell's lawsuit alleging that Brooks incited the January 6 insurrection at the Capitol.
On June 6, Seklecki drove behind the vehicle of Brooks' wife, Martha Brooks, as she pulled into their home garage, according to Mo Brooks. Seklecki then allegedly ran outside of his car and "illegally" entered Brooks' garage.
Mo Brooks posted surveillance camera footage of Seklecki serving the subpoena in a tweet posted on June 7. The video shows Martha Brooks confronting the investigator as he re-enters his car and then departs.
In addition to Brooks, Swalwell is also suing former President Donald Trump, Trump campaign lawyer Rudy Giuliani and Trump's son Donald Trump Jr. for allegedly inciting the insurrection through baseless claims of election fraud.
"Swalwell lied in his politically motivated, meritless lawsuit against President Donald Trump and me when he falsely claimed I incited the January 6th Capitol violence," Brooks said in a Wednesday statement. "Swalwell's team lied again when they denied their teammate illegally trespassed into my home. Well, the home security video, the Huntsville Police Department, the Madison County District Attorney's office, a warrant magistrate and an arrest warrant all say differently."
"Martha was scared to death when she discovered a stranger in our home hovering over her like a hawk!" Brooks continued. "Fortunately, the fright soon turned into anger and Martha chased Swalwell's teammate out of our house like a stray, scalded dog. You don't mess with Martha! I am proud as can be to have her as my wife!"
Brooks claimed that Seklecki committed an offense of 1st-degree criminal trespass and that the offense is punishable by a year in jail or a $6,000 fine.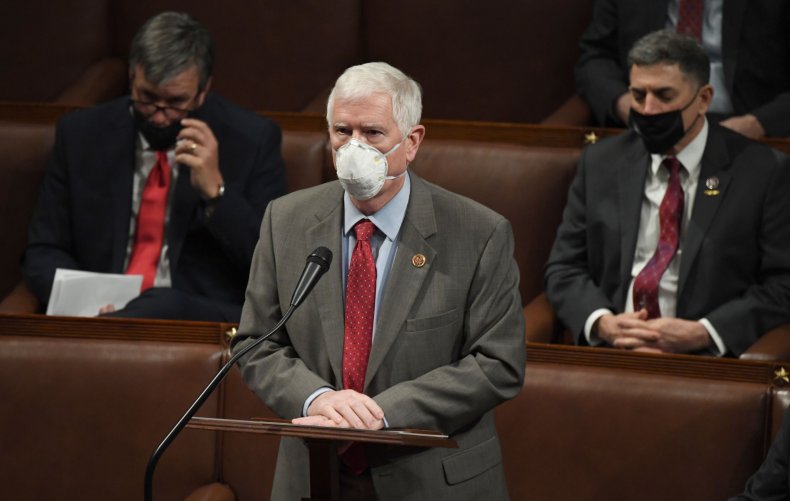 Swalwell told Punchbowl News on May 7 that Brooks was dodging being served a subpoena. Swalwell said he hired a private investigator, Seklecki, to track the congressman down.
Swalwell's attorney, Philip Andonian, disavowed Brooks' claim that Seklecki committed a crime.
"No one entered or even attempted to enter the Brooks house," Andonian told CNN. "That allegation is completely untrue. A process server lawfully served the papers on Mo Brooks' wife, as the federal rules allow."
"There was no truth to Mo Brooks' claim," Andonian wrote in an email to AL.com. "If Mo Brooks wants to challenge it in court then we look forward to getting his motion and taking it up with the judge...We maintain that the service was lawful and valid."
Brooks was possibly the first Republican congressman to challenge President Joe Biden's victory in the 2020 election. Brooks claimed in December that the election "was stolen by the socialists engaging in extraordinary voter fraud and election theft measures," Politico reported at the time.
In response, Swalwell sued Brooks, alleging that Brooks' baseless claims inspired Trump's supporters to mount an insurrection at the Capitol on January 6. Five people died during the insurrection and roughly 140 police officers were injured. The insurrectionists also stole computer equipment, potentially constituting a national security breach.
Over 60 court cases alleging that the election was stolen by fraud, filed by the Trump campaign and Republican officials, were dismissed or withdrawn from courts due to lack of evidence. Two former Trump Administration heads—former Attorney General William Barr and former head of the Cybersecurity and Infrastructure Security Agency Chris Krebs—have also said that there's no evidence that the election was stolen.
Newsweek contacted the Madison County District Attorney's office for comment.