The debate over who between Michael Jordan and LeBron James should be considered the greatest NBA player in history has rumbled on for over a decade and was forcefully reignited on Sunday night when James captured a fourth NBA title after leading the Los Angeles Lakers to a first championship in a decade.
James became the first player in history to be named NBA Finals MVP with three different teams and moved within two of both Jordan's tally of six NBA titles and his all-time record of six NBA Finals MVP crowns
Not everyone, however, is convinced LeBron deserves to be mentioned in the same breath as Jordan. Earlier this week, FOX Sports anchor Skip Bayless made clear he felt Jordan remained undisputedly the greatest player in history, an opinion former NBA player Marreese "Mo" Speights clearly agrees with.
"Just the messenger...Back then, we used to celebrate three-peats," Speights tweeted on Tuesday night, along with a side-by-side picture of Jordan and Kobe Bryant.
"Now kids are out there celebrating four titles in 10 tries and call it greatness."
Speights subsequently backtracked on his tweet, suggesting he meant no disrespect to James. He then turned his Twitter account to private, meaning his tweets are visible only to followers he approves.
"No shots to Bron he is one of the best players to ever touch the court [...] I have my own opinion though so i don't really care what the next person have to say."
The 16th overall pick of the 2008 NBA Draft, Speights spent 10 years in the league and faced James in consecutive NBA Finals with the Golden State Warriors.
Speights won his only NBA title as part of the Warriors team that defeated the Cavaliers 4-2 in the 2015 NBA Finals, but was on the losing side a year later as the Cavs became the only team in the history of the Finals to come back from a 3-1 deficit to win the title.
Speights played in just three games of the 2015 series, averaging three points per game in 5.3 minutes on the court. The Florida alumnus played in all seven games the following year, averaging two points in 4.7 minutes on the court.
James, meanwhile, led Cleveland in points, assists and rebounds with 35.8, 8.8 and 13.3 respectively as the Cavs lost the 2015 series in five games and was named Finals MVP a year later, when he finished the seven-game series with an average of 29.7 points, 8.9 assists and 11.3 rebounds per game.
Completing a three-peat is one of the few feats that has proved frustratingly elusive for James during his stellar 17 seasons in the NBA. The 35-year won back-to-back titles with the Miami Heat in 2012 and 2013 and reached two more NBA Finals either side of those triumphs and made four consecutive trips to the Finals during his second spell with the Cavs, only for Cleveland to come up against one of the greatest team in NBA history in the Warriors.
Bar his four seasons in Miami, James has arguably never had the supporting cast of the calibre Jordan and Bryant could rely on during their three-peats. MJ played alongside Scottie Pippen in each of his six title runs and could count on Dennis Rodman, Steve Kerr and Toni Kukoc in his second three-peat.
Bryant, meanwhile, won three titles in a row playing alongside Shaquille O'Neal in a Lakers team that also featured Derek Fisher, Robert Horry and John Salley, who won a combined 16 NBA titles between them.
Incidentally, Horry and Salley are the only two players along with James and current Lakers guard Danny Green to win the NBA title with three different teams.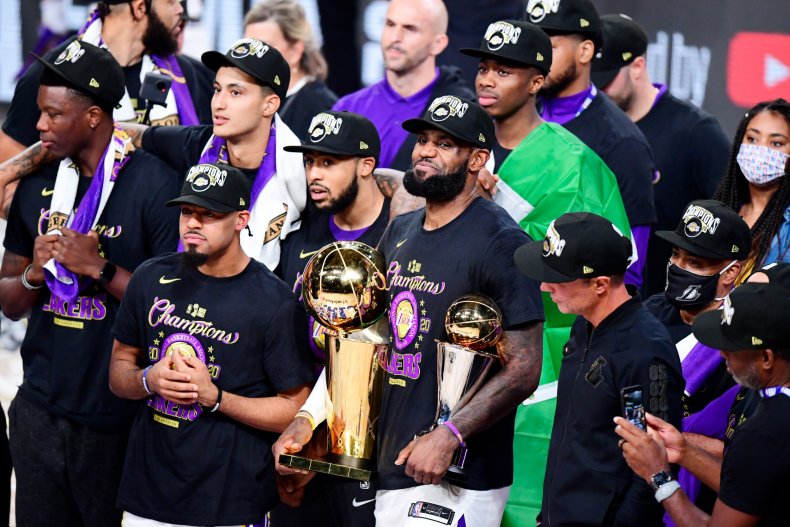 Uncommon Knowledge
Newsweek is committed to challenging conventional wisdom and finding connections in the search for common ground.
Newsweek is committed to challenging conventional wisdom and finding connections in the search for common ground.
About the writer
Dan Cancian is currently a reporter for Newsweek based in London, England. Prior to joining Newsweek in January 2018, he was a news and business reporter at International Business Times UK. Dan has also written for The Guardian and The Observer.