Mob Massacres 300 Crocodiles at Animal Sanctuary in Revenge for Local Man's Death
A group of villagers in Indonesia has massacred almost 300 crocodiles after storming a local animal sanctuary. The angry mob slaughtered the reptiles to avenge a local man killed by a crocodile last week, Reuters reported.
Killing a protected species in Indonesia can result in a fine or even a prison sentence. Local police said they could not stop the slaughter but may now press charges against those responsible.
The incident occurred near the town of Sorong in West Papua province. It's part of the New Guinea island, which is split between Indonesia and Papua New Guinea.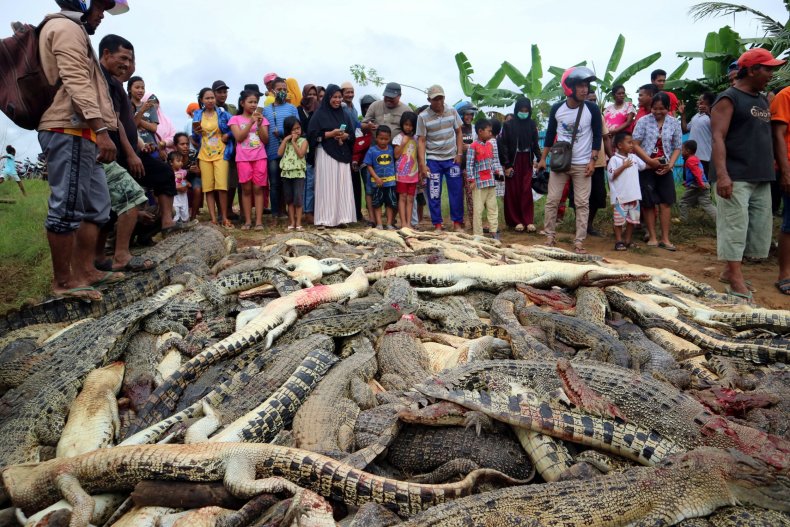 The ill-feeling began when a man was killed by a crocodile on Friday morning. According to the Jakarta Post, the man was searching for grass that his cattle could graze on, but strayed onto the grounds of the crocodile sanctuary.
Basar Manullang, the head of Indonesia's Natural Resources Conservation Agency in West Papua, told Reuters an employee heard someone shouting for help. Arriving at the scene he "saw a crocodile attacking someone." The employee was not able to save the man.
The victim's funeral took place on Saturday. After he had been buried, as many as 600 mourners armed themselves with a variety of weapons and marched on the sanctuary, Australia's ABC News agency reported. Wielding knives, shovels, hammers and clubs, the mob attacked the center's office before moving on to target the animals themselves.
All 292 reptiles were killed. Photographs released by Antara news agency showed the dead animals thrown onto a large pile of bloodied bodies as locals celebrated and took photos. Witnesses said the dead ranged from 6-foot-long adults to babies.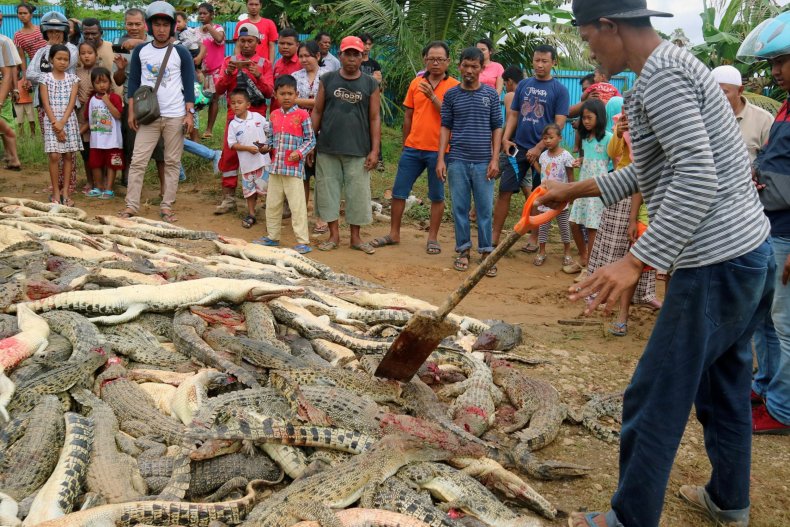 Police were said to have deployed 30 to 40 officers to the area but were powerless to control the mob. "We couldn't do anything," said Police Chief Dewa Made Sutrahna. "We were outnumbered. The situation was so tense."
Manullang said the farm had been given a license to breed protected saltwater and New Guinea crocodiles in 2013. The facility was used both for preservation and to harvest some of the animals. The license, which Manullang said took a very long time to obtain, was issued on the provision that none of the animals disturbed the wider community. "To prevent this from happening again, farming license holders need to secure surrounding areas," he said.
Manullang explained the organization was working with police to establish who was responsible for the killings. "The crocodile slaughter is obviously against the law," he said. "Crocodiles are God's creatures that need to be protected too."