Mobilized Russians Asking How to 'Surrender' Through Hotline: Official
A spokesman for Ukraine's military intelligence says that Russian men being rounded up for the Kremlin's war effort are already seeking to avoid the front lines by handing themselves over to Ukrainian authorities.
Andriy Yusov, spokesman for the Ukrainian Defense Ministry's intelligence directorate, told state television on Monday that recently mobilized Russians have contacted a hotline set up by Ukraine's security services asking to surrender, reports Ukrainska Pravda. Yusov's remarks follow other reports of challenges facing Russian President Vladimir Putin's plan to compel military service to shore up his military campaign in Ukraine.
"Now there are a lot of calls to the hotline from newly mobilized Russians or even from those who have not yet been mobilized," Yusov said during the broadcast, according to Pravda. "They call and say: 'If I am mobilized, what should I do, what should I do, how should I surrender?'"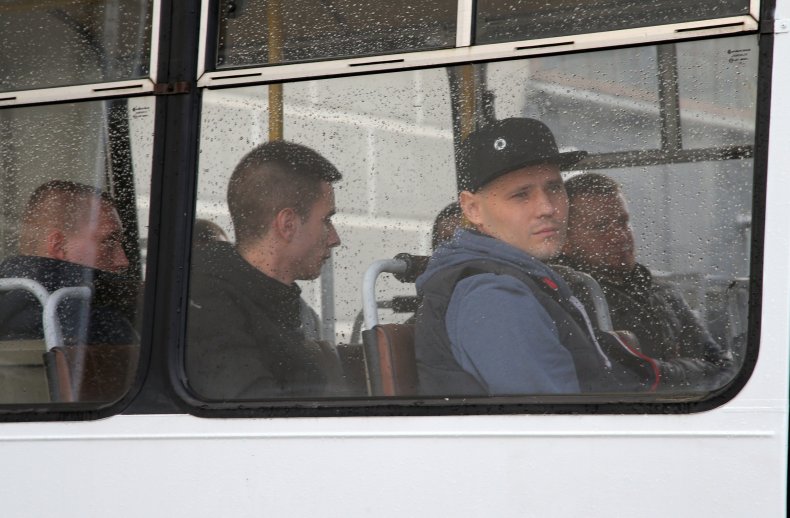 After Ukrainian forces successfully retook portions of the country in a counteroffensive this month, Putin announced a partial draft last week in a televised address. The draft applies to Russian citizens in military reserves or those who have served in the armed forces with "certain military specialties and relevant experience."
Yusov said Russia had already exhausted available conscripts in the Donetsk and Luhansk administrative districts, two areas under control by separatists friendly with the Kremlin. Russians are unmotivated to fight in Ukraine, and those who have been mobilized or have yet to be are calling the Ukrainian hotline, Yusov said.
The U.K.'s Ministry of Defense said in its update on the war Monday that mobilized men have begun arriving at bases as Russia now confronts "an administrative and logistical challenge to provide training for the troops."
"The lack of military trainers, and the haste with which Russia has started the mobilization, suggests that many of the drafted troops will deploy to the front line with minimal relevant preparation," the ministry said. "They are likely to suffer a high attrition rate."
The Institute for the Study of War (ISW), a U.S.-based think tank, said in its update Sunday that Putin's partial mobilization order will drum up more troops, but said it will do so "inefficiently and with high domestic social and political costs." The think tank said the newly mustered forces will not add substantially to Russia's military power, and Putin first needs to remedy "basic flaws in the Russian military personnel and equipment systems."
"Putin is unlikely to overcome fundamental structural challenges in attempting to mobilize large numbers of Russians to continue his war in Ukraine," the ISW said.
Kremlin spokesman Dmitry Peskov cryptically told reporters that there have been instances where the mobilization decree has been "violated," reports TASS, the Russian state-run news agency.
"We hope that the pace of change will increase, that all the mistakes will be corrected," he added.
Newsweek has reached out to the Russian Ministry of Defense for comment.