'Moby-Dick' Whale Bones Sought By Historic Estate for Herman Melville's 200th Birthday
Burton Constable Hall is looking for its whale bones. The country estate in Yorkshire County, England was built in the 1560s atop a 12th-century tower and is today a "building of exceptional interest" on the country's National Heritage list, which hosts tours and exhibitions, recreating Elizabethan England for visitors within its well-preserved interior and collections. The Hall achieved literary immortality in 1851, when Herman Melville described the skeleton of a sperm whale displayed on the grounds in Moby-Dick; or, The Whale. After years of neglect, the curators of Burton Constable are working to put the whale skeleton back together, calling on a century of souvenir seekers and scavengers to aid in its reconstruction.
In 1825, the body of a nearly 60-foot sperm whale washed ashore at Tunstall, on the Holderness Coast, a few miles from the Constable house. It was dissected on the beach by a celebrated local doctor, who presented his findings to the Royal Cambridge Philosophical Society.

In the era of Moby-Dick (and to this day), England's whales are "royal fish," claimed by the monarchy as royal prerogative. As Lord Paramount of the Seigniory of Holderness, Sir Clifford Constable held similar, subordinate powers. The whale skeleton was brought to the Burton Constable parklands, where it became a famous local attraction, joining Constable Hall's renowned cabinet of curiosities, which still holds early telescope technology, centuries-old camera obscura, geological specimens and an 18th-century hairball from a cow's stomach.
But it soon fell into disrepair, left to molder in a field. "After the skeleton's heyday in the 1830s and 1840s it seems to have been largely forgotten," Burton Constable Foundation Curator Philippa Wood told Newsweek. "The late John Chichester Constable, who sold the house to the Burton Constable Foundation, is recorded as being somewhat frustrated with the past treatment of the skeleton and the fact that the area was used for cattle. During the mid-to-late 20th century, local residents often came to look at the bones and remember playing on and around them."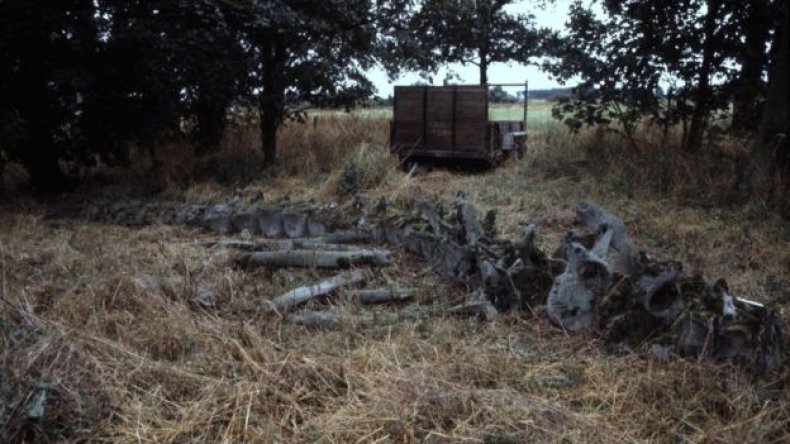 In 1995, the Burton Constable Foundation moved what remained of the skeleton to its current resting place in the stables. Now, to commemorate the 200th anniversary of Melville's birth, the Foundation hopes to restore the skeleton to how it was once displayed, calling on a generation of visitors to return any "souvenirs" that might still be in their possession. Missing are bones from the tail, the left flipper and eleven of 44 vertebrae. While 3D printing replacements is an option, the Burton Constable Foundation hopes to recover as many of the original bones as possible.
"We want to further conserve this historically-significant specimen for future generations," Wood told the BBC, restoring it to the same conditions as when Melville laid eyes on it. "We'd like anyone with bones in their safekeeping to return them."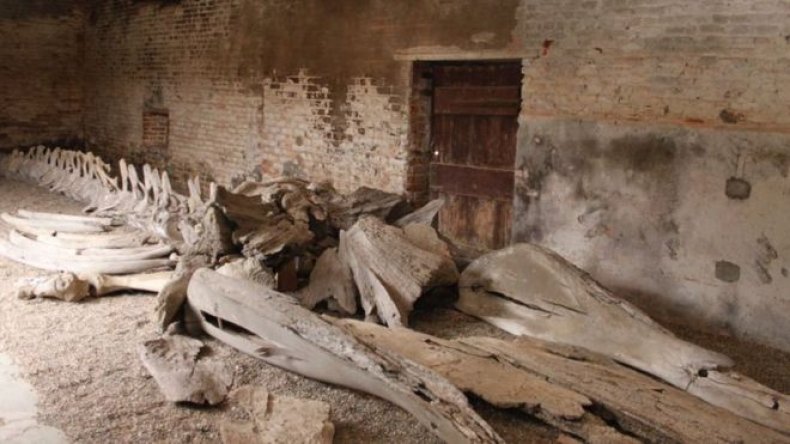 While Moby-Dick is based on true stories, like the albino sperm whale Mocha Dick, who eluded whaling vessels for decades before he was killed in 1838 (19 harpoons were recovered from his body), the Burton Constable Whale is the only non-fictional whale mentioned in Melville's novel.
In Moby-Dick, Ishmael describes his own examination of a sperm whale skeleton in the possession of a fictional king in the Solomon Islands, going so far as to tattoo the measurements on his right arm. But Ishmael urges the reader not to trust his measurements, citing "skeleton authorities you can refer to, to test my accuracy," including the Burton Constable Whale. Here's how Melville described the whale skeleton in its heyday:
"At a place in Yorkshire, England, Burton Constable by name, a certain Sir Clifford Constable has in his possession the skeleton of a Sperm Whale, but of moderate size ... Sir Clifford's whale has been articulated throughout; so that, like a great chest of drawers, you can open and shut him, in all his bony cavities—spread out his ribs like a gigantic fan—and swing all day upon his lower jaw."
There is some literary license at work in Melville's description of the iron frame on which the skeleton was once mounted. "The bones would have been on a fixed metal frame, which would have limited movement at most," Wood said. "It is therefore likely that it would have been a purely static display."
Wood believes the bones were mostly carried away by local residents, but told Newsweek, "We can't rule out the possibility of them having been taken further afield."
The restored Moby-Dick whale skeleton is just part of the planned Melville Bicentenary at the Elizabethan historical grounds, joining an exhibition by artist Caroline Hack of artwork inspired by Moby-Dick and historic British whaling, plus children's activities, storytelling sessions and a celebration, with a whale cake, on Melville's August 1 birthday.