Moby vs. Natalie Portman: Musician Slams Instagram Haters After Book Claims He Dated Actress as a Teenager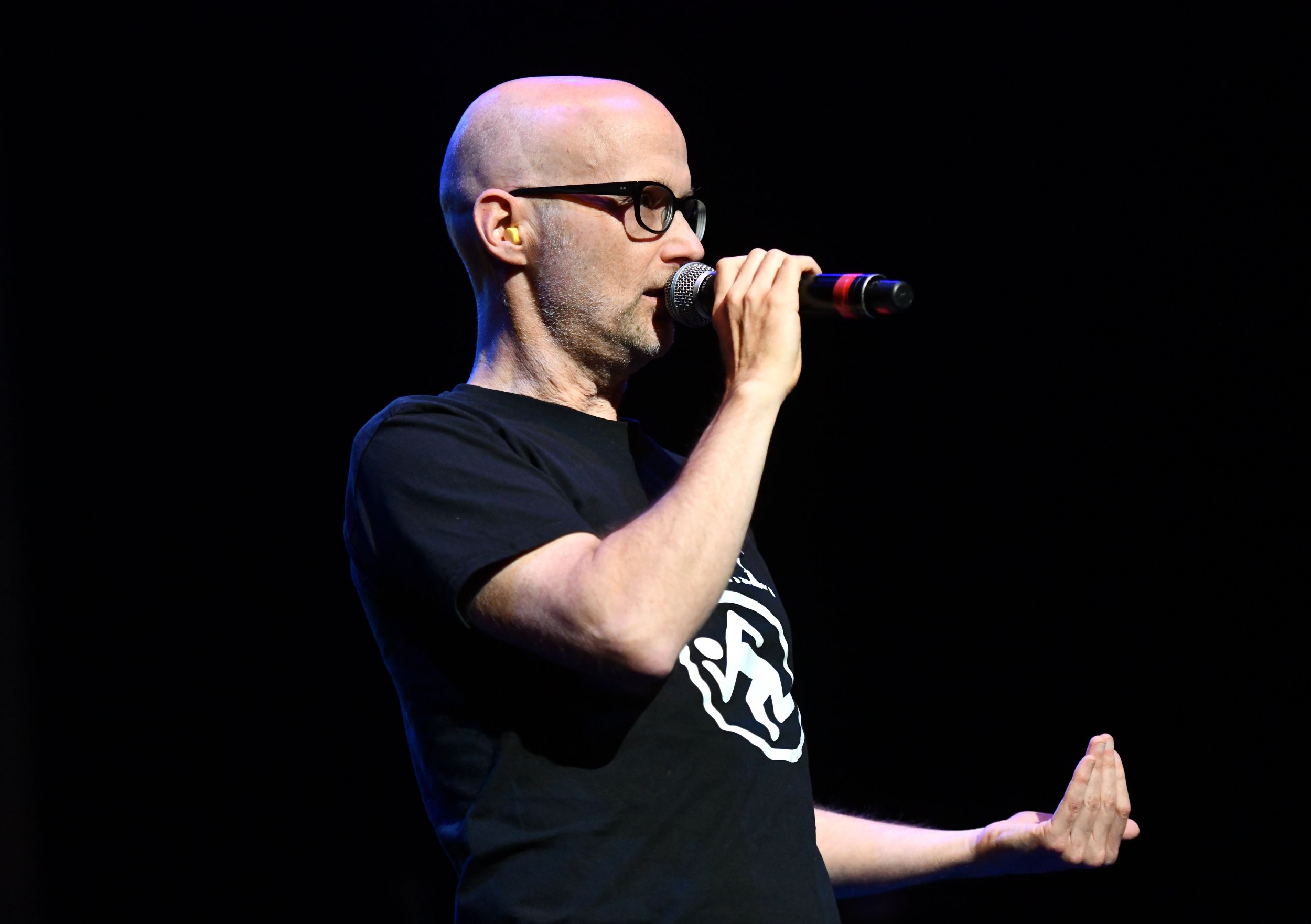 Musician Moby posted a message to his "trolls" on Instagram Thursday morning following backlash after Natalie Portman claimed they never dated. Moby, however, insisted they had a romantic relationship in 1999—albeit brief. Internet users were quick to jump on Portman's side after she negated claims from Moby that the pair had been romantically involved, calling him a "much older man being creepy." Moby's quick Instagram statement told negative commenters they're wasting their time with hate.
The post, which was just simple black letters on a white screen read: "Dear trolls, I just don't know if hating a stranger is the best use of your one, short life."
He also included a lengthy comment on the post, which held a similar message.
"Dear trolls, While I'm flattered by the attention, I just don't know if the best use of your time and your life is hating a stranger based on egregiously limited information," he explained. "I mean, when you are on your deathbed do you really want to think, 'at least I spent my time hating strangers on social media'?

It is of course your life, but I just have to assume there are better things to do with your time…but again, thank you for all of the attention, it's very flattering."
Moby's claim that the pair dated surfaced in his memoir, Then It Fell Apart, which was released on May 7. In his side of the story, he explained Portman, who was 20 at the time, was flirting with him in his dressing room. He was 33, according to The Washington Post. Portman, however, insisted there was a lack of fact-checking, as at the time she met Moby, she was only 18 and had just graduated high school in a tell-all interview with Harper's Bazaar.
To counter Portman's side, Moby posted a photo of the pair on Instagram, and commented that she'd lied about the lack of relationship. "I recently read a gossip piece wherein Natalie Portman said that we'd never dated. This confused me, as we did, in fact, date," he said. "And after briefly dating in 1999 we remained friends for years. I like Natalie, and I respect her intelligence and activism. But, to be honest, I can't figure out why she would actively misrepresent the truth about our(albeit brief)involvement. The story as laid out in my book Then It Fell Apart is accurate, with lots of corroborating photo evidence, etc."
Moby also posted a video of himself riding an underground train in Washington, D.C. on Monday, and told his followers he'd spent Wednesday lobbying for animal rights.