Mocking Rudy Giuliani's Voter Fraud Claims, Elizabeth Warren Insists to Katie Porter That Square Is 'a Circle'
Senator Elizabeth Warren, a Massachusetts Democrat, and Representative Katie Porter, a California Democrat, mocked the unfounded claims of widespread voter fraud made by President Donald Trump's lawyer Rudy Giuliani in a Wednesday video.
Although President-elect Joe Biden was declared the winner of the election more than two weeks ago, Trump still refuses to concede. The president and his legal team have alleged, without providing evidence to the public or in court, that Biden won through widespread election fraud. A growing number of prominent Republicans have come out against the claims, urging Trump to accept reality.
In a Wednesday video, Warren and Porter took aim at Giuliani—who previously served as the mayor of New York City—pointing out that he is urging Americans to disregard facts with his wild claims.
"Elizabeth and I are going to roleplay. I will play a neutral observer and Elizabeth will play Rudy Giuliani," Porter says in the clip, explaining the scenario she and the senator are about to act out. "Rudy, I'd like you to tell me what shape this is," the congresswoman says, holding up a small whiteboard with a sketch of a square.
"It's a circle," Warren replies emphatically, pretending to be Giuliani.
"Everybody says that this is a square," Porter tries to explain.
"They're wrong. They're lying," Warren insists, still playing Trump's lawyer. "If you take away the edges—it's a circle. So just erase them Katie. Erase them off your whiteboard."
After Porter explains that the edges are an integral part of the shape, Warren responds: "Look, the edges are a fraud. You can't count them. The edges are not legitimate. Just erase them."
Newsweek reached out to Giuliani's firm for comment, but did not immediately receive a response.
Although Giuliani has not provided evidence to back the Trump campaign's claims of widespread fraud, he has argued that votes should be thrown out—particularly in cities with large Black populations.
"These ballots were all cast basically in Detroit that Biden won 80-20," Giuliani said during a press conference last week, discussing Michigan. "So you see it changes the result of the election in Michigan, if you take out Wayne County."
But considering Detroit and the county where it's situated are an integral part of Michigan, there is no legal basis to throw out the votes of Wayne County.
Michigan's results were formally certified on Monday.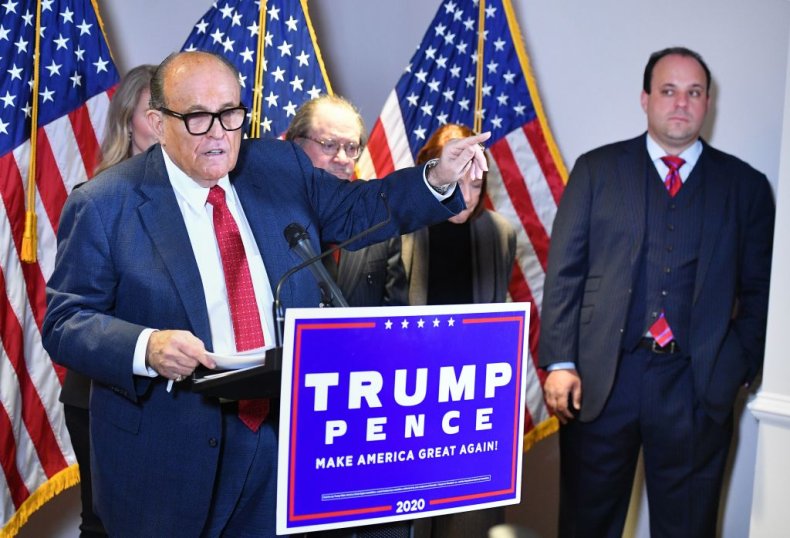 Trump's legal team's claims and legal actions since the election have been widely criticized, even by some of the president's close allies and personal friends.
Former New Jersey Governor Chris Christie, a supporter of the president who helped him prepare for his September debate against Biden, told ABC News This Week on Sunday that the Trump campaign's legal team has become a "national embarrassment." Geraldo Rivera, a friend of Trump and a correspondent-at-large for Fox News, described Giuliani's claims as "silly stuff" and "from the far side of the moon."