Watch: Man Stands Behind President with 'Very Stable Genius' T-shirt
President Donald Trump unleashed a slew of grievances against Democrats and the news media during a campaign rally in Las Vegas, Nevada, on Thursday night. The crowd sported the usual MAGA hats, but there was also a new Trump line on display.
One attendee standing behind the president, who has not been identified, watched Trump's speech while sporting a grey "very stable genius" T-shirt.
CNBC White House reporter Christina Wilkie shared an image of the man on Twitter, pointing out that it was "unclear" whether the man was wearing the tee "ironically."
The man did not appear to be wearing the t-shirt to mock the president: the video shows him applauding and waving a Make America Great Again sign.
Trump has used the term to describe himself on multiple occasions over the past year. In January, the president responded to reports attacking his mental stability with a series of tweets, where he called himself a "very stable genius."
"Now that Russian collusion, after one year of intense study, has proven to be a total hoax on the American public, the Democrats and their lapdogs, the Fake News Mainstream Media, are taking out the old Ronald Reagan playbook and screaming mental stability and intelligence," Trump wrote.
"Actually, throughout my life, my two greatest assets have been mental stability and being, like, really smart," the president continued. "Crooked Hillary Clinton also played these cards very hard and, as everyone knows, went down in flames. I went from VERY successful businessman, to top T.V. Star…"
The president added: "... to President of the United States (on my first try). I think that would qualify as not smart, but genius... and a very stable genius at that!"
In July, six months later, Trump called himself a "very stable genius" again during a press conference after the NATO summit in Brussels.
When asked by a reporter whether he will tweet out comments about his meeting with international leaders on Air Force One, the president responded: "No, that's other people that do that. I don't. I'm very consistent… I'm a very stable genius."
On Thursday, at the Las Vegas campaign rally, Trump defended Brett Kavanaugh, his Supreme Court nominee who has been accused of sexual assault, bragged about the performance of the stock market and encouraged his Nevada supporters to re-elect Senator Dean Heller.
"We started out, we weren't friends. I didn't like him, he didn't like me!" Trump said. "But as we fought and fought and fought, believe it or not we started to respect each other, then we started to like each other, then we started to love each other."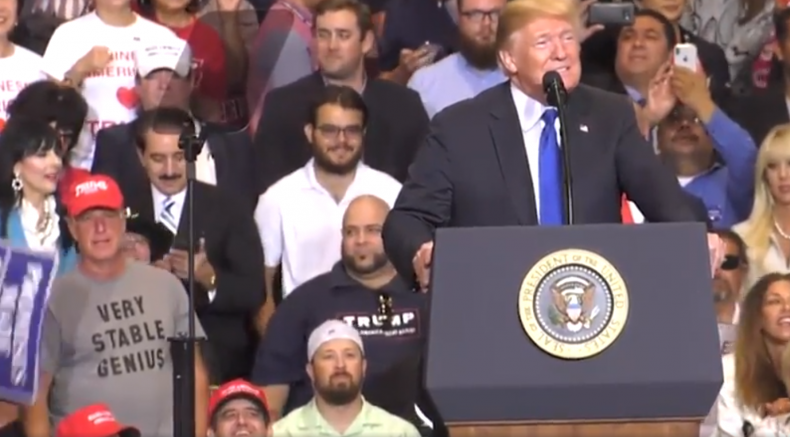 Correction: 9/21; 9:30 a.m.: An earlier version of this story incorrectly suggested that the man in the t-shirt was mocking President Trump. The video does not appear to support that interpretation.