Model's Video on Lack of Black Hair and Makeup Artists Watched 2.4M Times
Model Leomie Anderson has urged designers to hire more Black hair and makeup artists, after revealing she had to do her own makeup at New York Fashion Week in a video that has gone viral.
The runway favorite, who became Victoria's Secret's first Black British Angel in 2019, took to TikTok on Monday to share behind-the-scenes footage of herself preparing to walk in the Christian Cowan presentation that took place in September.
In the clip, the London-born star, 28, documented the issues she faced with hired professionals who appeared unable to style her hair and makeup to satisfaction.
"The realities of being a Black model during Fashion Week," Anderson wrote, as she drew attention to the makeup that had just been done, adding: "I asked who could do black makeup. Why do I look like I work in the mines???"
Stating that she looked "clapped"—British slang for unattractive—with the finished makeup, she then showed herself removing it from her face as she spoke to a person off camera.
"I told him this wasn't my color," she explained in the accompanying screen caption. "He is TRASH."
Next, Anderson showed somebody doing her hair as she said in the caption: "Ouch girl you're hurting me."
Showing a team drying her tresses, Anderson then went on to explain that she was "told to wash my hair. No one dried it until last min."
Returning to her makeup, Anderson wrote that a "white leader" attempted to fix it, though she eventually took over and did it herself.
"Good try girl but I felt ugly af," said Anderson "Redid my whole face in 10 minutes. Can't go out sad."
She then showed herself hitting the runway, as she wrote: "Yes I ate it up like I always do. But by the time I walked the runway I wanted to go home. Please hire more black hair and makeup artists so we don't have to go through this."
Anderson initially shared the video on her TikTok account on Sunday, before posting it on Twitter, where it clocked up more than 2.4 million views at of time of writing.
Captioning her Twitter post, Anderson wrote: "Being a black model is doing other people's jobs and not being paid for the extra work."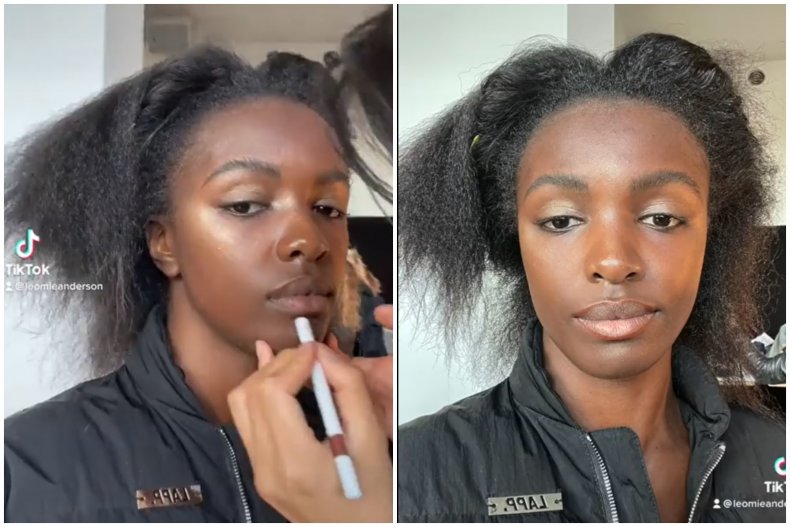 One Twitter user reacted to the post by accusing Anderson of "excessive complaining," while stating that "they got the job done at the end of the day."
"If I didn't have my makeup kit with me, the job wouldn't have been done!" Anderson responded. "I don't mind who sees it as long as it makes them rethink the teams they pick when hiring black models, that's literally the entire point of the video and I'm at a point in my career where I can do that."
Another person challenged that the issue lies less with hiring Black hair and makeup professionals and more with recruiting artists who can work with all types of skin and hair.
"I agree but I was whistling that tune for over ten years and it's still rare to find a non black person who can do our hair and makeup. I still feel anxious sitting in a non black chair because of this and it's just not nice to feel like you're playing Russian roulette at work," the model wrote back.
Anderson—who has walked for such fashion houses as Giorgio Armani, Moschino, Ralph Lauren, Oscar de la Renta, and Burberry, among others—has previously spoken about the difficulties Black models face in the industry.
"There are more opportunities for Black models today," she told The Guardian in an interview published in May. "When I started it was an isolating experience, you really felt alone.
"But often the motivation of brands or companies is tokenism, or the fear of being called out. Ticking a diversity box isn't good enough. That's presentation, not structural change.
"Black women are asked to do a lot of free labour, to speak up on everything. Some days I don't feel like it. I'm a human being, not a machine, but that doesn't mean I don't care."